Salida Colorado is in the heart of the Rockies, located along the Arkansas River. It has the distinction of having the largest historic district in the state, which intrigued me.
There are so many things to do in Salida, CO, that you need more than one visit, in multiple seasons, to do it all – and you'll want to do it all.
So without further adieu, here are more than 26 things to do in Salida, Colorado, some from our most recent trip, others on my bucket list.
COOLEST PLACES TO STAY IN SALIDA, COLORADO
HISTORIC DOWNTOWN SALIDA, COLORADO
The spell was cast the moment we parked on F Street, which is the main thoroughfare of this mountain town. The numerous art galleries caught my eye, whereas the comic book shop grabbed my teen son's attention.
EXPLORE THE QUIRKY SHOPS
Forget the standard gift shops, Downtown Salida has funky stores you won't see elsewhere. You'll find everything you don't need at the F Street Five and Dime.
There are three bookstores, including Fantasy Games and Comics, which doubles as a gathering spot for weekly magic nights and Dungeon and Dragons events.
Another unique outlet in downtown is Howl Mercantile. Just like an old time general store, this place has everything – gifts, coffee, ice cream, outdoor rental equipment and even an Airbnb!
GET INSPIRED BY LOCAL ARTISTS
Salida was named one of the first creative districts in Colorado, and there is evidence everywhere. Stroll the two-dozen artist-owned art galleries located downtown.
For something really immersive, visit during the Second Saturday Gallery Art Tour, which features artists' receptions, openings and live demonstrations.
CREATE YOUR OWN WORK OF ART
Motivated to tap into your inner creative? Don't worry. Salida's got you. Riveting Experience Jewelry has everything you need and expert instruction to make your own unique bracelet or necklace.
Maverick Potter is a family owned gallery and studio where you can not only see more than 30+ local and regional artist's work, you can also take a class to create your own treasure.
DOWNTOWN MURALS
In between all the unique shops, you'll find several murals on the brick walls. They depict town history, popular activities like whitewater rafting, and plain old advertisements.
PLAY OLD SCHOOL VIDEO GAMES
Need a place to keep the kids busy while you wait for dinner? Check out Fun Street Family Arcade – from skeeball to pinball and everything in between, this place is guaranteed to bring out the kid in you.
GO ON A PROGRESSIVE DINNER
Salida has no shortage of restaurants, so plan to sample a few.
Cocktails are at Wood's High Mountain Distillery tasting room for locally distilled whiskey, gin, vodka, and more.
Move on to The Fritz on E. Sackett Ave. for tapas on the patio. I can't recommend a menu item as it changes often.
Save room, your next stop is Amica's for a wood fired pizza or if you are with friends, split the HUGE calzone.
Finish the evening with a step back in time and a milkshake at the counter of the old fashion Salida Pharmacy and Fountain.
TAKE A WALK ALONG THE ARKANSAS RIVER
Salida is located along the Arkansas river (or Ark) and you can take its paths to Riverside Park. At Riverside Park you'll find the normal park amenities like open fields, playground and benches, but there is also a bouldering wall – how very Colorado.
HANG OUT AT THE BEACH
Who says you need to be near an ocean for the beach. Salida has their very own beach area right along the Riverwalk path. Grab a lunch from Sweeties sandwich shop, a book from All Booked Up and enjoy a day near the water.
GO FOR A HIKE
You don't have to go far to find awesome hikes. The Chamber of Commerce has a trail guide for options right in town including the popular Tenderfoot Hill or S Mountain – which you can't help but notice from downtown.
Up for something more strenuous? Hike the Sawatch Range in Chaffee County. It has the most 14ers in the state.
GO BACK IN TIME
Rainy day? No worries, a trip to the Salida Museum, which is just off F Street will keep everyone entertained, and you'll learn a bit about this Rocky Mountain town.
PERFECT DAY TRIPS FROM DOWNTOWN SALIDA COLORADO
WINE A LITTLE
There a two wineries near Salida, both with magnificent views. Visit Vino Salida on the weekends for live music or visit their events page for wine classes.
Mountain Spirit Winery offers tours as well as five acres to roam as you sip your beverages.
SOAK IN A HOT SPRING
Rejuvenate with the healing power of hot springs. There are five within an hour including one right in the center of town next to the Chamber of Commerce. We stayed nearby at the Mt Princeton Hot Springs Resort, which offered a more rural experience.
TAKE A DRIVE
If you don't want to hike up S Mountain, you can drive. Brave the narrow, dirt road up Spiral Drive for spectacular views of the entire town of Salida as well as the valley below.
Be sure to stop and take a close look at the colorfully painted tree alongside the road, it is a piece of art that was created by Curtis Killom, a local artist and business owner.
Unfortunately, I didn't make it to the top, apparently I have issues driving on narrow roads with huge drop offs – I've got the hike on my list for next time.
SHOOT THE ARK – WHITE WATER RAFTING
One of the most popular things to do in Salida CO in summer is white water rafting. Explore this area of Colorado with a trip down the Arkansas River.
Peak season is mid-May through Labor Day with the highest water in June and the swiftest water levels through mid-August.
LEAVE THE RAFT, GRAB A KAYAK
For fun on the Arkansas River right in downtown Salida consider a kayak run at the 1,200-foot long Salida Whitewater Park. In summer you'll also see stand-up paddleboards and body boards at the park.
CATCH A BIG ONE
In addition to being a hot spot for white water rafting, the Arkansas River is known for incredible fishing. Near Salida is a 28-mile stretch called Gold Medal Water, a prime spot for trout fishing.
FLY THROUGH THE TREES
Captain Zipline is on my list for my return visit. I always look for ziplines that also have adventure courses and this one looks like a heart pounder.
The course has been recognized as one of the best in the USA by the likes of Outside Magazine, National Geographic and USA Today.
VISIT BROWNS CANYON NATIONAL MONUMENT
Browns Canyon became a National Monument in 2015. It is part of the Sawatch Range and encompasses more than 21,500 acres, including the San Isabel National Forest where we went snowmobiling and dog sledding.
On my bucket list, a horseback riding tour where we might see big horned sheep, black bears, elk and more! I love seeing wildlife.
EXPLORE ON TWO WHEELS
You may find more bikes in Salida than cars. That's because there are 350 miles of bike trails, ranging from easy to black diamond.
SPEND SOME TIME IN NEARBY BUENA VISTA, CO
Buena Vista is another magnificent mountain town that sits on the Arkansas River. It is about a half hour from Salida and although smaller, has a similar community vibe. Insider tip: Go on Saturdays for the applesauce donuts from Lobacks. YUM!
GET OUT IN THE SNOW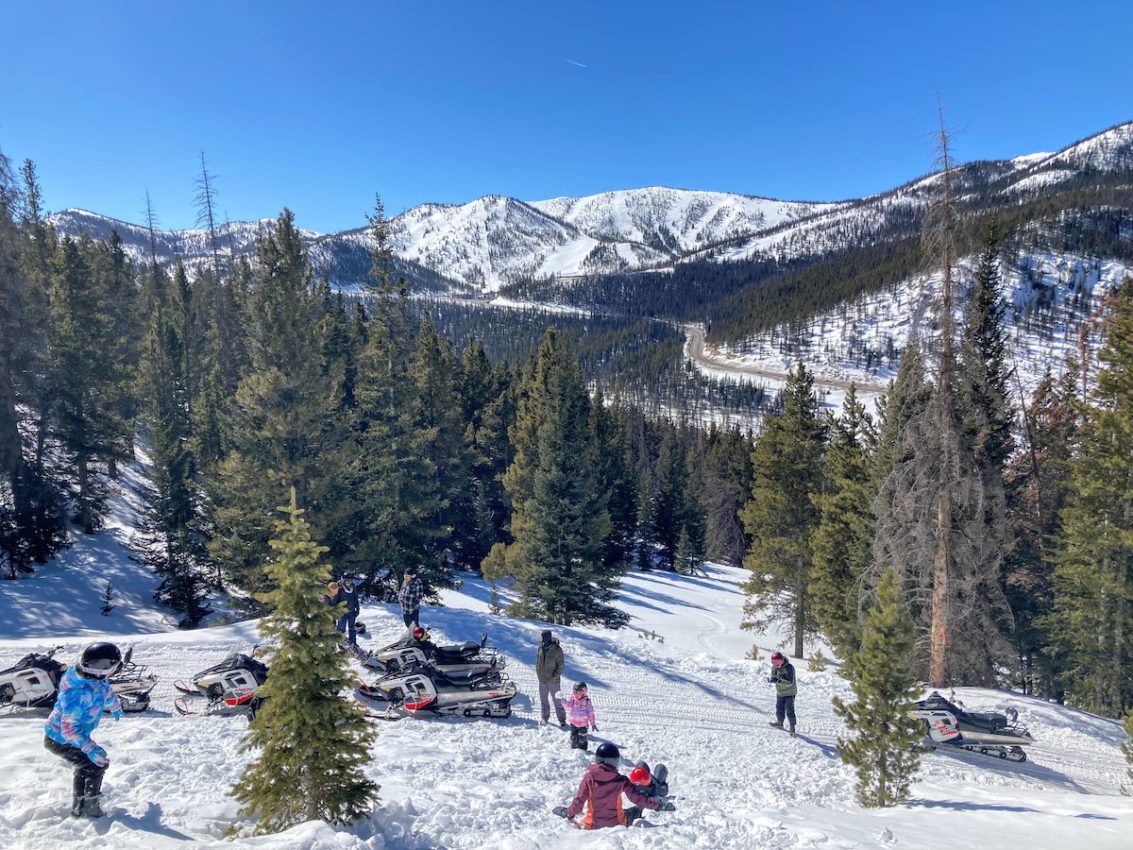 Of course one of the most popular things to do in Salida CO in winter is get out in the snow. Monarch Mountain Ski Resort located along Monarch Pass is the main attraction, and is great for all skill levels. It's also the reason we discovered this gem of an area.
REV THINGS UP
There is plenty to do off the slopes too. Take a tour of Isabel National Forest by snowmobile with the experienced guides at Monarch Snowmobile Tours. The tour is a combination of scenic excursion with sweeping mountain views as well as a ride by an old mine. Speed demons, don't worry, there is time to test your skills in an open glade.
LET THE DOGS OUT
Prefer something a little less mechanical – how about a dog sled ride! Monarch Dog Sled not only offers dog sled rides, but you can also meet the 10th generation Alaskan huskies and learn a bit about the history of the sport. Our tour even including a meet and greet with some adorable puppies!
EXPLORE THE LOCALS HAUNTS
One of the hidden gems in the area is Old Monarch Pass Road. When Highway 50 was put in, this became a favorite destination for local snowshoers and cross-country skiers.
PRACTICE YOUR LUTZ
Another great winter activity is ice-skating. In the winter you'll find locals ice-skating on Frantz Lake. Visit Ramps and Alleys in downtown Salida to rent ice skates, then spend the afternoon gliding with a mountain view.
MORE INFORMATION FOR YOUR TRIP TO COLORADO
Latest posts by Sue Rodman
(see all)