Dayton, Ohio is a great place to visit for a variety of reasons. There are plenty of things to see and do in the city, and it is a great place to experience a variety of different cultures.
With museums, historical parks, tourist attractions, outdoor adventures, and more, Dayton is full of fun. Here are 16 things to do in Dayton Ohio you're not going to want to miss.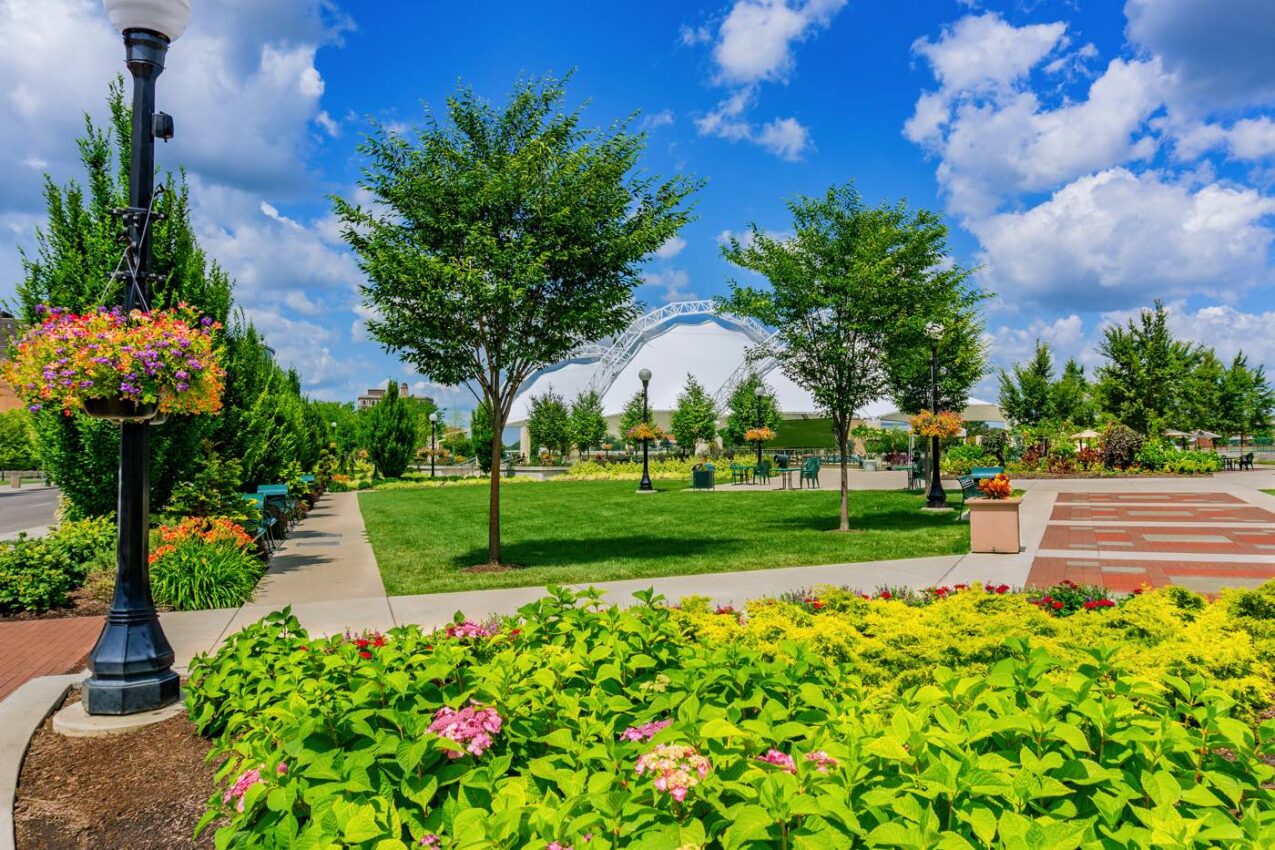 NATIONAL MUSEUM OF THE U.S. AIR FORCE
The National Museum of the United States Air Force is located at Wright-Patterson Air Force Base. The museum features over 350 aerospace vehicles and missiles, and thousands of artifacts across 19 acres of indoor exhibit space.
Visitors can ride an airplane simulator, enjoy a film in the Air Force Museum Theater, refuel their stomachs at the museum cafe, and pick out a souvenir to take home in the gift shop. All guests will learn about military aviation history, explore interactive exhibits, and see restored aircraft up close.
HUFFMAN PRAIRIE FLYING FIELD INTERPRETIVE CENTER
The Huffman Prairie Flying Field Interpretive Center is dedicated to the Wright Brothers and their accomplishments in developing the world's first practical airplane. The exhibits focus on their work at Huffman Prairie in 1904 and 1905, and their flying school, which started in 1910. The informative film, Wright Brothers On Great White Wings, is also shown in the auditorium.
After you visit the Interpretive Center, take a walk to the Wright Memorial on Wright Brothers Hill. The Hill is a 27-acre designed landscape honoring Orville and Wilbur Wright. There is a 17-foot pink granite obelisk commemorating their first powered flight from the top of a hill. From there, visitors can look out and see sweeping views of Dayton.
THE DAYTON ART INSTITUTE
The Dayton Art Institute is ranked as one of the top 10 best art museums in the United States for children. The museum's collection contains more than 20,000 objects spanning 5,000 years.
In 2005, the museum became one of 11 galleries in the U.S. to host The Quest for Immortality: Treasures of Ancient Egypt, the most extensive collection of ancient artifacts ever to travel outside Egypt. This is an impressive feat for any museum!
In addition to its impressive exhibits, the Art Institute hosts a plethora of workshops and classes for youth and families. Additionally, they frequently host intimate concerts on their grounds. A visit here is one of the best things to do in Dayton Ohio for the whole family.
BENJAMIN AND MARIAN SCHUSTER PERFORMING ARTS CENTER
The Schuster Performing Arts Center is an impressive arts center owned and operated by the Victoria Theatre Association. The acclaimed Dayton Philharmonic, the Dayton Opera, and the Dayton Ballet rent the building for their performances.
The center encompasses three significant performance spaces: Mead Theater, Mathile Theater, and the Kettering Wintergarden. The Kettering Wintergarden includes a spectacular six-story glass atrium worth visiting, even if you aren't attending a performance.
DAYTON AVIATION HERITAGE NATIONAL HISTORICAL PARK
The Dayton Aviation Heritage National Historical Park is a great place to visit if you're interested in learning about the history of aviation. The park features a variety of exhibits and activities that are sure to educate and entertain visitors of all ages.
One of the highlights of the park is the Wright-Dunbar Interpretive Center, which tells the story of the Wright Brothers and the African American poet, Paul Laurence Dunbar. The center features a variety of interactive exhibits, as well as a film about the Wright Brothers' history.
Another highlight of the park is the Huffman Prairie Flying Field. This field is where Orville and Wilbur Wright tested out their early flying machines. Today, the field is still used by aviation enthusiasts and is a popular spot for picnics and other outdoor activities.
Whether you're a history buff or just looking for a fun place to visit, the Dayton Aviation Heritage National Historical Park is sure to please.
BOONSHOFT MUSEUM OF DISCOVERY
The Boonshoft Museum of Discovery is the perfect place for a family-friendly outing. There are plenty of hands-on activities to keep everyone entertained, and the educational exhibits are fascinating for all ages.
The museum is full of fun exhibits the kids will love, including Splash!, Hall of the Universe, Explorers Crossing, and more.
The Discovery Zoo is also a big hit with the kids, and the staff is always on hand to answer any questions you might have.
CARILLON HISTORICAL PARK
Carillon Historical Park is a great place to visit if you're interested in learning about the history of technology and innovation. The open-air park contains a variety of historic sites, including buildings, exhibits, and a miniature railway.
You can learn about the early settlers of Dayton, see how transportation has changed over time, and discover how inventions have shaped our world.
There is a series of education centers, including the Wright Brothers Aviation Center. The Aviation Center is a must-see for anyone interested in aviation history! The park offers a plethora of educational programs for all ages, making it a great place to learn about our nation's past.
FIVE RIVERS METROPARKS
The Five Rivers MetroParks is a regional public park system and a great place to enjoy the outdoors.
There are bike rentals available, so that you can explore the parks at your own pace. There are also numerous hiking trails, so you can get some exercise while taking in the scenery.
Additionally, the Five Rivers MetroParks offers educational programs that can teach you about the local flora and fauna. Be sure to stop at some of the conservatories and educational facilities along the way.
DAYTON DRAGONS BASEBALL GAME
There are few things more quintessentially American than baseball, and Dayton is home to one of the coolest Minor League Baseball teams in the country: the Dayton Dragons. A visit to Dayton wouldn't be complete without taking in a Dragons game, especially since the team plays in one of the unique stadiums in baseball.
Day Air Ballpark, formerly known as Fifth Third Field, is modeled after classic ballparks like Fenway Park and Wrigley Field. The intimate setting and old-school feel of the ballpark make it a must-visit for any baseball fan.
AMERICA'S PACKARD MUSEUM
If you're interested in classic cars, then a visit to America's Packard Museum is a must. This museum houses an impressive collection of over 50 vintage Packard automobiles, dating from 1900 all the way up to 1956. You'll also find a variety of other automotive memorabilia on display, including gas pumps, Model T trucks, and more.
Whether you're a die-hard car enthusiast, or simply enjoy learning about America's automotive history, a visit to America's Packard Museum is sure to be enjoyable.
AULLWOOD AUDUBON CENTER
There are plenty of activities to keep you busy when visiting the Aullwood Audubon Center!
The nature center and sanctuary offer 8 miles of walking trails, where you can view wildlife and learn about the local ecosystem. The educational farm is a great place to learn about sustainable agriculture practices, and the farm discovery center is perfect for kids.
There are also plenty of events and programs offered throughout the year, so be sure to check the calendar before you visit.
PNC 2ND STREET MARKET
PNC 2nd Street Market is located in the historic district of downtown Dayton. The market offers a variety of locally grown produce, baked goods, prepared foods, flowers, and other gifts. It is open year-round, with different vendors depending on the season.
The market is a great place to find unique gifts or treats for yourself. There are many talented artisans and craftspeople who sell their wares at the market, so you're sure to find something special.
The market is reminiscent of quaint European farmers' markets and is a great place to grab a bite to eat. Several prepared food vendors offer a variety of cuisines, so you're sure to find something to your taste. This market gives more famous markets like Pike's Place and the Reading Terminal a run for their money!
SUNWATCH INDIAN VILLAGE/ARCHAEOLOGICAL PARK
The SunWatch Indian Village/Archaeological Park is located on the Great Miami River in Dayton, Ohio. Visitors can tour the archaeological site, which includes a replica of the village that the Native people, known as the Fort Ancient people, inhabited. The park also features a museum with exhibits on the history and culture of the Fort Ancient people.
In addition to the archaeological site and museum, the SunWatch Indian Village/Archaeological Park also offers a variety of educational programs. These programs include classes on topics such as basket weaving and flintknapping, and lectures and demonstrations.
RIVERSCAPE METROPARK
Riverscape Metro Park is a great place to enjoy the outdoors right in Downtown Dayton. The park has a variety of amenities and activities to keep visitors of all ages entertained.
There are plenty of places to relax and take in the scenery, including landscaped gardens, flower pots, hanging baskets, and reflecting pools. For those looking for a more active experience, the park also has a Link bike share program and is host to year-round activities like summer concerts, ice skating, recreation programs, and community festivals.
Whether you're looking to relax or stay active, Riverscape Metro Park is the perfect place to enjoy some time in nature, right in the heart of Downtown Dayton.
OREGON DISTRICT
The Oregon District is a historic neighborhood in Dayton home to unique shops, bars, restaurants, coffee shops, and art galleries. The district is also known for its beautiful architecture, including a mix of Victorian-style homes and businesses. Visitors to the Oregon District can enjoy exploring the neighborhood's many different shops and businesses, while taking in the sights of the district's beautiful buildings.
Additionally, the Oregon District is home to a number of theaters that offer visitors the opportunity to see a variety of different performances. The Dayton Theater Guild, for example, provides a variety of different theatrical productions throughout the year. The Neon movie theater is another popular destination in the Oregon District, where visitors can enjoy watching independent and art house films.
The Oregon District boasts a number of different restaurants, offering visitors a chance to sample a variety of global cuisines. Some of the district's most popular restaurants include Thai 9, which offers Thai cuisine, and Lily's Dayton, which serves a variety of American dishes. Visitors to the Oregon District can also enjoy a variety of different bars and nightlife options, including the Blind Bob's bar, which is a popular destination for live music.
Overall, the Oregon District is a great place to visit for its unique shops and businesses, beautiful architecture, and lively atmosphere. Whether you're looking to explore the neighborhood's many different shops, see a theatrical performance, or simply enjoy a night out on the town, the Oregon District has something to offer everyone.
JOHN BRYAN STATE PARK
About 30 minutes east of Dayton, you'll find the picturesque John Bryan State Park. This state park is full of activities and fun year-round.
Here, you'll find a limestone gorge, a National Natural Landmark, that was cut by the Little Miami State and National Scenic River. You can take in the amazing views of the gorge from some of the 10 hiking trails found here.
In addition to hiking, there's also a launch area just outside the park for kayak and canoe access to the river. You'll also find playgrounds and campgrounds here.
John Bryan State Park is also popular with rock climbers for its public climbing and rappelling area.
MORE INFORMATION FOR YOUR TRIP TO OHIO
YOU MIGHT ALSO ENJOY
WHERE TO STAY IN DAYTON OHIO
Follow us here: Facebook | Twitter | Instagram | Pinterest | YouTube | MSN | TripAdvisor | Flipboard
All articles belong to 365 Atlanta Family LLC, and all photos belong to us as well, unless otherwise noted. It's all copyrighted. Please don't repost anything elsewhere without asking me first. All rights reserved. This site uses cookies to enhance your experience.
We make no guarantees of any price listed on our site. We are not responsible for content on external web sites linked from ours, including linked resources, an external blog post, any partner site, hotel property sites, or affiliate sites. We only write about places we love in an attempt to help you in your adventures, but we can't guarantee you will love them, too.
Posts may contain affiliate links at no cost to you. Several of our trips are also compensated by the respective tourism boards for the city or state we are visiting. This never impacts how we share the destination with you – opinions are always our own and we pride ourselves on that. We do not sell links or accept unsolicited guest posts under any circumstances. Don't even ask.
United States Copyright, 365 Atlanta Family, LLC
View our Privacy Policy | Subscribe to our Newsletter | Contact Site Owner | View Terms & Conditions | About Us
Latest posts by Cait Kontalis, Staff Writer
(see all)