Sitting between the Mississippi and Missouri Rivers lies the Midwestern state of Iowa. This state is most famous for its picturesque rolling plains and heartwarming cornfields.
The capital city of Des Moines has a treasure of historic landmarks too, such as the State Capitol Building with its gold dome, the Art Center of Des Moines, Pappajohn Sculpture Park and lots more.
Ready to explore this amazing state? Here are 21 of the best things to do in Iowa.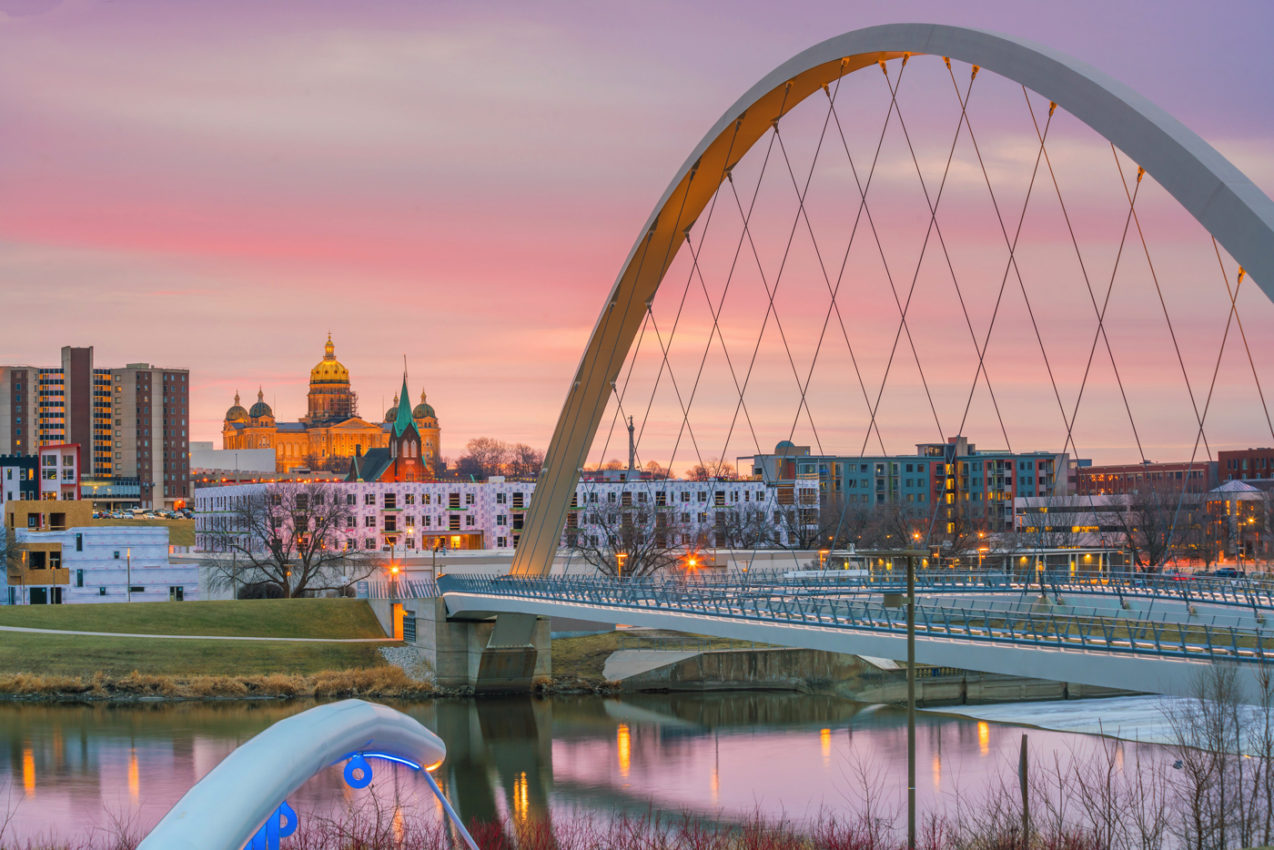 Maquoketa Caves State Park
Looking for one of the best and most unique outdoor attractions? Then head to Maquoketa Caves State Park in Maquoketa, IA, where you'll find more caves than any other state park.
Hiking trails, geological formations, stunning forests with an abundance of natural beauty, and dozens of picnicking spots are some of the many activities here. It's the perfect place for adventure, fun and relaxation.
National Mississippi River Museum & Aquarium
Part aquarium and part museum, the National Mississippi River Museum and Aquarium has been welcoming visitors and locals since the 1870s. At this attraction, you will find a wide range of activities to participate in.
The facility is home to animals like the bald eagle, American alligator, snapping turtle and lots more. In addition to the beautiful creatures, you'll find captivating exhibits, including the Blacksmith Shop, The Barge Theater, and the Backwater Marsh.
We think booking one of the special tours offered here is one of the best ways to experience this amazing place.
National Czech Slovak Museum & Library
Do you want to learn about the unique culture and history of Slovak and Czech? Well, the best way to do is at the National Czech Slovak Museum and Library in Cedar Rapids. The mission of this facility is to present, preserve, and transcend the exquisite cultural and historical tales of Slovak and Czech, through active engagement and innovative experiences.
Special events that the facility hosts is best way to see up close the lifelong learning, cultural connections and community building efforts for Slovak and Czech. There's a unique self-discovery experience awaiting here for visitors for all ages. Once you hear the tales of community, family, identity and freedom that their generations have built, you will feel as you have stepped back into a page of history.
Herbert Hoover National Historic Site
President Herbert Hoover's story is nothing less than inspirational, as are his public service works. This man committed his life to his community, serving them with honesty, hard work and usefulness to give them a world of opportunities they had never known before.
Come visit Herbert Hoover National Historic Site and take a step back in time and learn all you can about of the most remarkable presidents of the United States. A child of humble beginnings, he went on to accomplish great things in his time. Peruse through the exhibits, natural areas and historic building that commemorate his life.
You'll also find the Presidential Library and Museum on the grounds of the Historic Site, so you can learn more about the 31st President of the United States.
High Trestle Trail
The High Trestle Trail is a paved, 25-mile trail that connects five Iowa communities and four counties. The former rail line is a great place to hike, bike, and explore the natural beauty in Iowa.
One of the highlights of this trail is a former railroad bridge that spans the Des Moines River. This 0.5-mile bridge is 13 stories high, and features special lighting and six overlooks — so you can stop and take in the amazing views. The High Trestle Trail Bridge is the fifth largest in the world!
Taking a walk or bike ride on the High Trestle Trail is a must-do activity in Iowa.
Field of Dreams Movie Site
"If you build it…they will come."
One of the most popular activities when visiting Iowa is a visit to the Field of Dreams movie site in Dyersville, IA. The famous 1989 baseball fantasy movie starring Kevin Costner was filmed here, and now it's open for you to explore — for free!
Walk around the baseball field, take a guided home tour, visit the concession stand, and grab a souvenir at their gift shop.
A 30-minute guided tour of the Lansing Family Farm House is a must. You'll learn about the history of the family, and how it ended up becoming a movie set for the Kinsella family for Field of Dreams.
Roller Coaster Road
Do you enjoy riding roller coasters at your favorite theme parks? Well then here's something that will take your fantasy to another level. Experience a real-life roller coaster road in Iowa, which is exactly what its name says it is.
If you never thought it possible to fly over the hills in your car before, you will believe it possible after a drive over the Roller Coaster Road here. Roller Coaster Road is located in Northeast Iowa in Allamakee County, and it's a dirt road that will take you up and down, again and again — while enjoying the beautiful Iowa scenery.
Do remember to wear your seatbelt nice and tight before you drive into one of the bumpiest rides of your life!
Iowa 80 Trucking Museum
The Iowa 80 Trucking Museum has been one of the most famous attractions in Iowa since 1984. Locals and visitors alike flock here to see what the largest truck stop in the world is all about.
We wouldn't be wrong to describe the museum as a small city in itself, where travelers and drivers alike marvel and gaze open-mouthed at the variety of trucks here. You can also enjoy the shopping and dining choices at this facility, as well as the gym, movie theater, and library among its other amenities.
American Gothic House
Fans of artist Grant Wood, pop culture, and art will find the American Gothic House a dream.
This top attraction is most famous as the background in Grant Wood's famous painting, "American Gothic." While having an uninteresting and simple look from a distance, the Dibble House inside earned quite a lot of fame when Grant Wood made it the star feature of his painting in 1930.
Make sure to stop by the visitor center next door, which includes an exhibit gallery and gift shop.
Grotto of the Redemption
West Bend is home to an incredible attraction — The Shrine of the Grotto of the Redemption. Precious stones are the star features, which you will see embedded in the nine separate grottos the attraction is comprised of.
A local pastor and his assistants handcrafted the gems and precious stones to help create the West Bend grotto. Regardless of which religion or denomination visitors belong to, they come from far and wide to see how one man with a vision accomplished something so beautiful.
The Bridges of Madison County
Surrounded by lush greenery everywhere, The Bridges of Madison County is a scenic adventure that awaits you just 30 miles southwest from Des Moines. Covered Bridges Scenic Byway stretches for more than 82 miles, and is one of the best means of touring the bridges and the surrounding natural beauty.
Madison County is the covered bridge capital of Iowa, and this area was made famous by the book and movie, The Bridges of Madison County.
Take a self-guided tour, or take a guided, 2-hour tour and learn more about the history of the bridges, the movie production, and local historical information.
Amana Colonies
Sprawling across 26,000 acres of land, the Amana Colonies came into being in the 19th century. It comprised of seven villages, which today are the top history-learning sites of Iowa. The Amana Colonies include a museum, where you will find scores of books, documents, and other data narrating tales about culture and heritage of the people.
You can also enjoy hearty family-style meals here, or shop at the delightful artisan shops in Amana Colonies.
Effigy Mounds National Monument
Effigy Mounds National Monument is one of the most sacred and sentimentally valued places for American Indians. You will find preserved mounds at this attraction, which a number of Americans consider Holy and sacred.
The monument itself associates with 20 cultural American Indian sites, offering visitors an opportunity to contemplate and pay homage to the people and the meaning of the mounds.
Read More: EFFIGY MOUNDS NATIONAL MONUMENT
Columbus Junction Swinging Bridge
If you are weak-kneed you may want to think twice about treading onto this bridge. But if you have an insatiable hunger for adventure and thrill, then this bridge that swings eight stories high, will give you plenty of that.
The Columbus Junction Swinging Bridge has a long and interesting history, featuring the Tisor brothers behind it. People say that the bridge you see today is the third one that had to be overhauled for travelers to safely cross over the ravine. As the stories go, there is the tale of a love-sick maiden and her grief of unrequited love attached with the bridge, and that her mournful cries often haunt at night around the bridge area.
Fenelon Place Elevator
Operating since 1893, Fenelon Place Elevator is the world's steepest and shortest railroad, exclusive only to the State of Iowa. The Fenelon Place Elevator stands at a height of 300 feet only, but even then, it offers mesmerizing views of the Mississippi River.
Not only are the views worth the trip and ideal for your holiday album, but the trip itself is tons of fun. You could stop by the Conference Center and the famous Best Western Plus Dubuque Hotel for some more sightseeing too.
Des Moines Art Center
Art lovers must not miss a chance to visit Des Moines Art Center. This facility is a combination of displays of modern art, sculptures, and paintings, and has been a local favorite since 1948. You will love the retro theme of the Art Center, all thanks to Richard Meier, Eliel Saarinen and I.M Pei, who were the geniuses behind the magnificent international style.
The Art Center's building itself is an extraordinarily artistic delight. While you're here, be sure to capture the artistic structure in your pictures as well as admire the architecture and art offerings by Eva Hesse, Auguste Rodin, Grant Wood and more.
Read More: 18 THINGS TO DO IN DES MOINES EVERYONE WILL LOVE
Blank Park Zoo
Animal exhibits are an exquisite experience and the place to have a wild adventure with your family in Iowa is at the Blank Park Zoo. At this zoo, you can view gorgeous creatures like rhinos, have a chance to feed some lovely giraffes, and learn about the facility's efforts to preserve animals.
The best part of visiting the zoo is that part of your visit's proceeds goes to a fund the zoo collects for the protection of animal population.
Okoboji
The town of Okoboji is where you can find an Iowan mecca of fun and learning relating to the environment. It is home to the Dickinson County Nature Center, where you will find tons to do and see, like engaging in interactive exhibits, visiting the live animal ambassadors, and more.
Over here, you can explore the wonderful features, such as the rehabilitated trumpeter swans, moved trails, geocaching, a nature playscape and more.
Buffalo Bill Museum
If you would love to get a deep insight into the key elements and the top highlights of the region's early days, you will find it at the Buffalo Bill Museum. The museum features a one-room school house, and also the riverboat that underwent restorations earlier on.
The museum offers a deep insight into the iconic elements of life on the Mississippi River and the frontier. You will find interesting information to peruse through on the lives of the famous Iowans, displays on life in the 1800s, and lots more.
Ledges State Park
A trip to Iowa's most unique and absolutely gorgeous nature destinations is an absolute must while you're visiting this side of the state. Ledges State Park is a paradise for outdoor and hiking enthusiasts, with a four-mile long trail system, that winds through scenic overviews and steep slopes.
The sandstone ledges are exquisitely beautiful, as they stand tall and proud at a height of hundred feet above the Des Moines River. From being an ideal destination for day time picnickers to offering the most fantastic hiking trails for adventure lovers, this park is the perfect pick.
Boone & Scenic Valley Railroad
Mainly a heritage railroad, Boone & Scenic Valley Railroad also runs passenger excursions that take visitors around the area. The excursions happen on vintage trains, while the museum here has a range of lectures and exhibits to offer.
There is also a dining car where you can enjoy a selection of delicious treats, while watching the wooded area greenhouses and corn fields around.
Iowa FAQ
What are some fun things to do in Iowa?
Iowa has quite a few things that many travelers and visitors will enjoy! Maquoketa Caves State Park, the Iowa State Capitol, Herbert Hoover National Historic Site, and the High Trestle Trail are some of the most popular things to do in Iowa.
What is Iowa best known for?
Iowa is best known for its corn and pork production, political caucuses, and the Iowa State Fair.
Is there anyone famous from Iowa?
One of the most famous people to be born in Iowa was Johnny Carson. The late-night host and comedian was born in Corning, Iowa, in 1925. President Herbert Hoover was also born in Iowa, and you can learn more about him at the Herbert Hoover National Historic Site in West Branch, IA.
MORE INFORMATION FOR YOUR TRIP TO IOWA
Follow us here: Facebook | Twitter | Instagram | Pinterest | YouTube | MSN | TripAdvisor | Flipboard
All articles belong to 365 Atlanta Family LLC, and all photos belong to us as well, unless otherwise noted. It's all copyrighted. Please don't repost anything elsewhere without asking me first. All rights reserved. This site uses cookies to enhance your experience.
We make no guarantees of any price listed on our site. We are not responsible for content on external web sites linked from ours, including linked resources, an external blog post, any partner site, hotel property sites, or affiliate sites. We only write about places we love in an attempt to help you in your adventures, but we can't guarantee you will love them, too.
Posts may contain affiliate links at no cost to you. Several of our trips are also compensated by the respective tourism boards for the city or state we are visiting. This never impacts how we share the destination with you – opinions are always our own and we pride ourselves on that. We do not sell links or accept unsolicited guest posts under any circumstances. Don't even ask.
United States Copyright, 365 Atlanta Family, LLC
View our Privacy Policy | Subscribe to our Newsletter | Contact Site Owner | View Terms & Conditions | About Us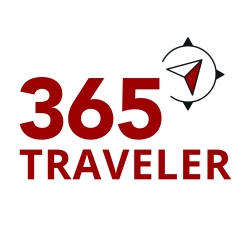 Latest posts by Sa Bal, Staff Writer
(see all)