Missouri is a deeply underappreciated part of the United States. The "Show Me State" has so much to offer, from amazing tourist attractions to outdoor adventures, parks, and museums, there is a myriad of things to do in Missouri.
With tons of personality, natural sights that will enchant you, like the Missouri River, and unforgettable destinations, this Midwestern hub is a gem. See for yourself how unique this middle-of-the-country state can be.
Here are 22 things to do in Missouri that you and your crew are going to love.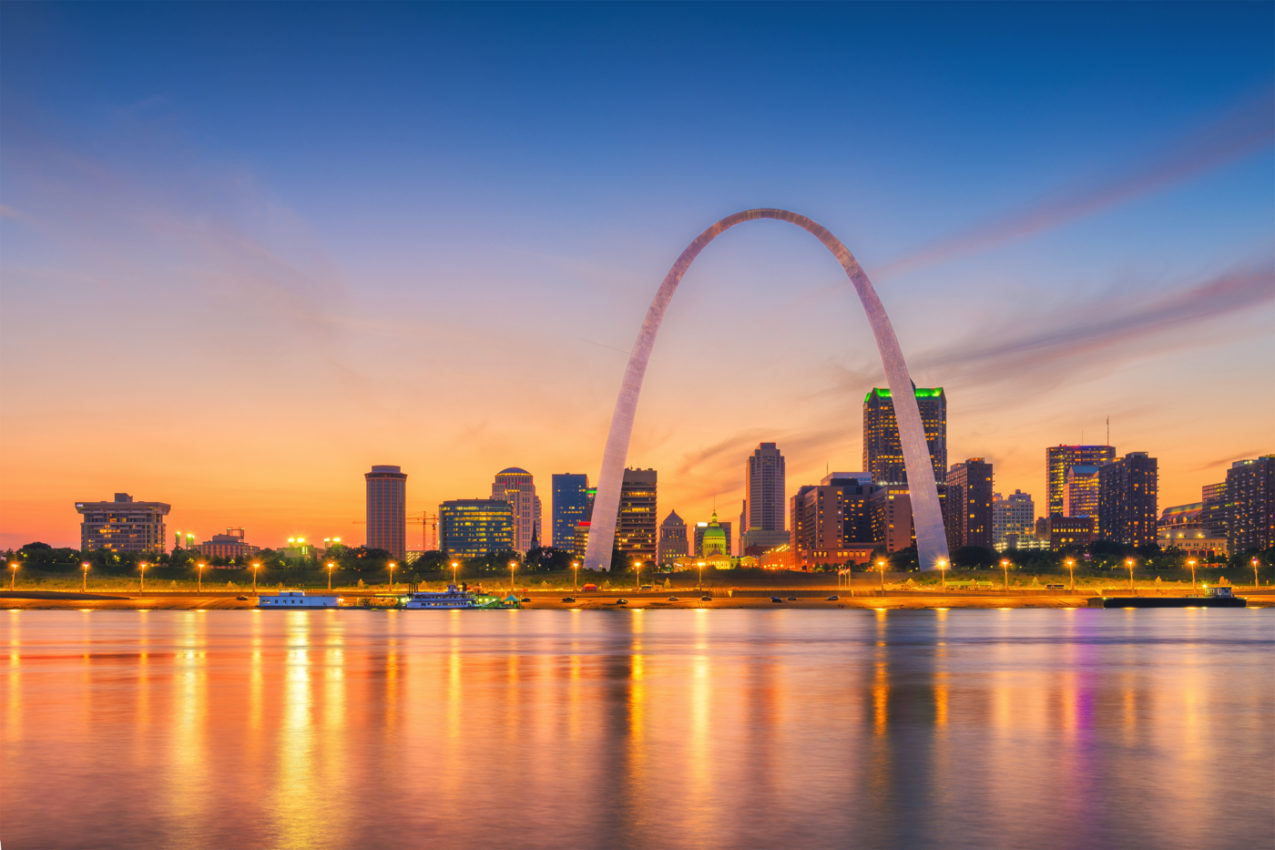 GATEWAY ARCH NATIONAL PARK
Located along the banks of the Mississippi River, St. Louis is known for a lot of things. Most specifically, the city is known for the state's tallest structure, the Gateway Arch, which sits over 600 feet tall. Originally named the Jefferson National Expansion Memorial, Gateway Arch National Park is a monument to the country's Westward expansion at the top of the 19th century.
Completed in 1965, the arch site refers to it as a "symbol of national identity and an iconic example of mid-century design." Guests can ride a tram to the top of the arch to see the city of St. Louis and beyond. You can even see the neighboring state of Illinois from that vantage point.
Make sure to explore the Gateway Arch Museum, located in the Visitor Center, and visit the reflection ponds to the north and south of the arch. A visit here is one of the best things to do in Missouri.
Read More: 27 FUN THINGS TO DO IN ST LOUIS YOU CAN'T MISS | GATEWAY ARCH NATIONAL PARK – EPIC GUIDE
LAKE OF THE OZARKS
Missouri might not have oceanfront access, but you'd never know it from the beaches at Lake of the Ozarks. As one of the Midwest's favorite lakeside destinations, this area is known for its lodging, watersports, state parks, and an absolute smorgasbord of food.
With festivals throughout the year, live entertainment spots, and recreation, you'll be hooked. (Fishing pun intended.)
Details: 109 Horseshoe Bend Pkwy, Lake Ozark, MO 65049 | Website
ST. LOUIS FOREST PARK
Just because St. Louis is a big city, doesn't mean you have to leave nature behind. The metropolis is known for St. Louis Forest Park, an urban park and a nationwide favorite.
The 1300-acre park hosts millions of guests every year, easily making it one of the top urban parks in the country. It's so big, in fact, that many beloved city institutions reside within its acreage.
From The Muny to the Saint Louis Science Center and the Missouri History Museum, these iconic locales are part of what makes Forest Park so spectacular. Not to mention the gorgeous natural environment, walking paths, yearly festivals, and events. This is a perfect spot to escape the hustle of the city without even leaving its limits.
Read More: 27 FUN THINGS TO DO IN ST LOUIS YOU CAN'T MISS
KATY TRAIL
A big favorite, particularly for distance bicyclists, the Katy Trail is over 235 miles of trail throughout Missouri. More than half of that follows in the footsteps of Lewis and Clark's expedition along the Mississippi River.
This iconic trail is a way to see so much of the nature the state has to offer on a peaceful pathway. Bike Katy Trail says the path is perfect for hikers, runners, or any kind of bicycle rider. Traveling on horseback is permitted on two sections: Sedalia to Clinton and Tebbetts to Portland.
Details: Website
HERMANN WINE TRAIL
Believe it or not, there are a bunch of wineries located around Hermann, Missouri. Seven of these family-owned wineries came together to create the Hermann Wine Trail, which hosts year-round tastings with special pairing events throughout the year. Such events have included Wild Bacon Wine Trail, Holiday Fare Wine Trail, and (an obvious coupling) Chocolate Wine Trail.
Wineries included in the trail are Adam Puchta Winery, Bias Winery, Curling Vine Winery, Dierberg Star Lane Tasting Room, G. Husmann Wine Company, Hermannhof Winery, and Röbller Vineyard. Participants must be 21 years of age or older to attend.
Details: 150A Market St, Hermann, MO 65041 | Website
CITY MUSEUM
A former International Shoe Company warehouse was given new life when it was transformed into the renowned City Museum in St. Louis. An amalgamation of children's playground, funhouse, architectural delight, and artistic wonder, this museum is a place where everyone can embrace their creativity. The history of St. Louis and neighboring areas are literally embedded in this city institution.
City Musuem is one of the best places to explore for the whole family. Artists and designers repurposed pieces of discarded materials from old cities, and used it to build tunnels, slides, secret passageways, bridges and castles. You'll even find a Ferris Wheel here!
Everywhere you look there is something new to discover–that's why you'll be hard-pressed to find a map of the place. Tickets are available online or at the door, with add-ons depending on other activities you might want to do at City Museum, including entry to Pinball Hall.
Details: 750 N 16th St, St. Louis, MO 63103 | Website
Read More: 27 FUN THINGS TO DO IN ST LOUIS YOU CAN'T MISS
KC BBQ
Kansas City, which is not in Kansas, is known for having a foodie scene like no other. KC BBQ is a staple for restaurant junkies everywhere, because it is unlike any other BBQ. Unlike other places, KC BBQ is special, because it's a mashup of different kinds of meat proteins, not just one particular kind like pork or beef.
And no, it isn't the same as St. Louis BBQ. They are different and quite proud of it.
Read More: 12 PHENOMENAL THINGS TO DO IN KANSAS CITY
ELEPHANT ROCKS STATE PARK
Unlike other state parks in Missouri, Elephant Rocks State Park is known primarily for one thing — elephant-shaped boulders. (Shocking, we know.) These enormous rocks are granite, which the state parks site says is something geologists are fascinated by, because the boulders are lined up as if they are elephants on parade.
Rock climbers love this park, so do fishermen, and just general park goers. There are areas for picnicking, a playground, and even a Braille Trail for guests with visual disabilities. That trail even features a former railroad engine house, or what's left of it anyway, to show visitors a piece of the quarrying and railroad history of the region.
Details: 7390, 7406 MO-21, Belleview, MO 63623 | Website
ST. LOUIS CITYGARDEN
Right in the heart of downtown St. Louis is the St. Louis Citygarden, a two-block sculpture park. With ample green space, a splash pad, and other water features to watch, this part of downtown is a spot to relax.
Hop along the stepping stones or marvel at the magnificent sculptures throughout the park, either way, you'll enjoy some time away from crowded sidewalks.
Details: 801 Market St, St. Louis, MO 63101 | Website
MARK TWAIN BOYHOOD HOME
In the preservation of celebrated author Mark Twain's legacy, several museums honor his work. The Mark Twain Boyhood Home, for example, is open for tours, along with other buildings like the Becky Thatcher House and the Huckleberry Finn House.
A single ticket can be purchased for all the museum properties.
Details: 120 N Main St, Hannibal, MO 63401 | Website
ST. LOUIS ZOOLOGICAL PARK
One of the most visited attractions in the region, the St. Louis Zoological Park is a fun adventure for everyone. It is home to over 14,000 animals from a wide range of environments around the world. Plus entry to the Saint Louis Zoo is always free.
Since it opened in 1910, the zoo has been a beloved part of the community in St. Louis and beyond. The zoo is driven by a mission of conservation, management, and recovery with a tagline that indicates their priority is "Animals Always."
Details: 1 Government Dr., St. Louis, MO 63110 | Website
NELSON-ATKINS MUSEUM OF ART
Located in Kansas City, the Nelson-Atkins Museum of Art is free to explore. There are works from the present day dating back thousands of years ago. The museum first opened in 1933 and is home to over 40,000 works of art. It's one of the best art museums in Missouri, and is especially known for its collection of Asian art.
Among their collections, includes funerary items of lady Meret-it-es, which includes two coffins and over 300 statues of her servants, John Singer Sargent's "Mrs. Cecil Wade," Georgia O'Keeffe's "Apple Blossoms," and Wassily Kandinsky's "Rose with Gray."
Details: 4525 Oak St, Kansas City, MO 64111 | Website
Read More: 12 PHENOMENAL THINGS TO DO IN KANSAS CITY
HA HA TONKA STATE PARK
As a natural space, Ha Ha Tonka State Park is a fascinating find. Whether you're looking to go hiking, fishing, swimming, kayaking, or spend some time outdoors, this park is a place with a lot to explore.
There are caves to see, a natural bridge to cross, one of the state's largest springs, and the ruins of a stone castle. From Ha Ha Tonka State Park you can also see the Lake of the Ozarks. Talk about the "Show Me State!"
Details: 1491 Missouri D, Camdenton, MO 65020 | Website
MISSOURI BOTANICAL GARDEN
Henry Shaw first opened the Missouri Botanical Garden in 1859 as a way to share the gardens with the public. This National Historic Landmark is dedicated to sharing "knowledge about plants and their environment in order to preserve and enrich life."
With lots of gardens to choose from, there is plenty to see here — whether you're a Victorian Garden sort of visitor or someone who would rather hang out by the Koi Fish.
Details: 4344 Shaw Blvd, St. Louis, MO 63110 | Website
HARRY S. TRUMAN PRESIDENTIAL LIBRARY AND MUSEUM
Since 1957, the Harry S. Truman Presidential Library and Museum has been a place of learning with a focus on President Truman's administration and life. Among the museum's collections are seven million pages of his papers, that include work-related papers, as well as letters to his family and diary-like pieces.
Also located in Independence, MO is the Harry S. Truman National Historic Site. The location includes the Truman Home and Farm. They also have over 50,000 artifacts related to President Truman and his family, some of which are even available to view online.
Details: 500 W US Hwy 24, Independence, MO 64050 | Website
POWELL GARDENS
When it comes to gardens in Kansas City, Powell Gardens is the city's botanical garden. There are nearly 1000 acres of hills, meadows, and plant collections for the public to enjoy. Much of the plant life is native to the area, which means things are often changing with the seasons.
The garden is even home to the largest collection of public buildings, designed by Frank Lloyd Wright protégé, E. Fay Jones.
Details: 1609 NW US Hwy 50, Kingsville, MO 64061 | Website
MERAMEC STATE PARK
Like many of Missouri's parks, Meramec State Park is a scenic retreat with activities for everyone–whether they're outdoorsy or more glamping-style travelers. Rock climbing, fishing, boating, and hiking await you at Meramec. There are gorgeous caves to explore, over a dozen miles of trails to wander, and even nearby motels/cabins, if you aren't interested in camping.
One place you must visit while at Meramec is Fisher Cave. It's a natural marvel with countless calcite deposits. Take a tour with one of the park's naturalists to get the full experience of the wonders of the cave and other landmarks in Meramec.
Details: 115 Meramec Park Drive, Sullivan, MO 63080 | Website
BRANSON SCENIC RAILWAY
Enjoy the beauty of the Ozark Mountains from the comfort of a vintage passenger train along the Branson Scenic Railway.
In just under two hours, you can relax as you glide through the mountains and natural wonders of Missouri. Passengers are welcome to wander the train, so definitely check out the viewing cars with domed windows where you can see a broad vista all around you.
Read More: 28 BEST THINGS TO DO IN BRANSON MO FOR FAMILY FUN
NATIONAL WORLD WAR I MUSEUM AND MEMORIAL
Said to be the foremost institution dedicated to preserving and sharing the knowledge from WWI, The National World War I Museum and Memorial is all about helping everyone understand the war with a dedication to equity. The museum and memorial are one of the top attractions in Kansas City, as well as one of the top-ranked museums in the country.
Formerly known as the Liberty Memorial Museum, the museum opened in 1920 as a way to collect items associated with WWI from all over the world. Now their collection has grown to over 350,000 objects, and is considered one of the largest Great War collections in the world.
Details: 2 Memorial Dr., Kansas City, MO 64108 | Website
MISSOURI CIVIL WAR MUSEUM
Another museum that's worth a visit is the Missouri Civil War Museum, located in St. Louis.
Located at Jefferson Barracks, you'll learn about Missouri's role in the Civil War, and see exhibits featuring weapons, uniforms, equipment, and more.
The museum aims to honor the thousands of men and women who made the ultimate sacrifice.
Details: 222 Worth Road, St. Louis, Missouri 63125 | Website
MIZUMOTO JAPANESE GARDEN
Springfield, Missouri is a place that centers a small-town feel, with a lot for visitors to do despite its petite size. The oldest attraction within the Springfield Botanical Gardens, for example, is the Mizumoto Japanese Garden. At just under eight acres, the garden includes a koi lake, moon bridge, and meditation garden, as well as traditional landscaping and tea house.
Seasonal hours vary and the garden is largely closed during the winter months.
Read More: 17 FANTASTIC THINGS TO DO IN SPRINGFIELD MO
SILVER DOLLAR CITY
Near Branson, Missouri is Silver Dollar City — a family-friendly excursion complete with theme parks, water attractions, and even a showboat! Take to the water on the Branson Belle for a show, food, and views of Table Rock Lake. Or spend some time in nature staying in Silver Dollar City Campground where cabins, RV sites, or campgrounds are waiting for you.
Besides the water park options, the theme park has a wide variety of rides, as well as other activities to keep everyone in your party happy. Silver Dollar City's theme park is centered around the 1880s, so there are appropriate entertainment options, as well as craftspeople to learn from or observe throughout your day.
Details: 399 Silver Dollar City Pkwy, Branson, MO 65616 | Website
MORE INFORMATION FOR YOUR TRIP TO MISSOURI
YOU MIGHT ALSO ENJOY
Follow us here: Facebook | Twitter | Instagram | Pinterest | YouTube | MSN | TripAdvisor | Flipboard
All articles belong to 365 Atlanta Family LLC, and all photos belong to us as well, unless otherwise noted. It's all copyrighted. Please don't repost anything elsewhere without asking me first. All rights reserved. This site uses cookies to enhance your experience.
We make no guarantees of any price listed on our site. We are not responsible for content on external web sites linked from ours, including linked resources, an external blog post, any partner site, hotel property sites, or affiliate sites. We only write about places we love in an attempt to help you in your adventures, but we can't guarantee you will love them, too.
Posts may contain affiliate links at no cost to you. Several of our trips are also compensated by the respective tourism boards for the city or state we are visiting. This never impacts how we share the destination with you – opinions are always our own and we pride ourselves on that. We do not sell links or accept unsolicited guest posts under any circumstances. Don't even ask.
United States Copyright, 365 Atlanta Family, LLC
View our Privacy Policy | Subscribe to our Newsletter | Contact Site Owner | View Terms & Conditions | About Us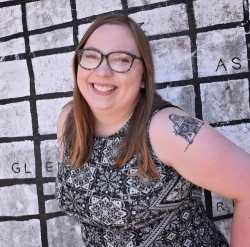 Latest posts by Amanda Finn, Staff Writer
(see all)