Set between the rugged Santa Ana Mountains and over 40 miles of beautiful Pacific Coast, Orange County is an oasis in Southern California full of culture, art, history, entertainment, and scenic nature sights.
Popular SoCal destinations like Anaheim, Newport Beach, Santa Ana, and Fullerton are just a few places to check off your bucket list when visiting Orange County. In addition, you'll find Los Angeles to the north and San Diego to the south.
With some of California's top beaches, fun theme parks, and historical districts retracing the state's past, these are some of the amazing things to do in Orange County.
IRVINE
PRETEND CITY CHILDREN'S MUSEUM
Adulting comes sooner rather than later at the Pretend City Children's Museum. The world gets a lot smaller in this interactive mini-city where kids get to be the grown-ups for the day with tasks like pumping gas at the gas station, getting a car repaired in the auto shop, paying a visit to the doctor's office, or going to work.
Details: 29 Hubble, Irvine, CA 92618 | Website
ORANGE COUNTY GREAT PARK
The former airbase-turned-sporting complex and green space make Orange County Great Park one of the top things to do in Orange County. Take a ride on the hot air balloon for views overlooking Orange County from 400-feet in the air or play on its soccer and baseball fields.
Details: 8000 Great Park Blvd, Irvine, CA 92618 | Website
IRVINE SPECTRUM CENTER
The Irvine Spectrum Center is a multiplex with something for everyone. Grab a few Cuban bakery treats at Havana before shopping till you drop at major retailers like Nordstrom and Anthropologie. Dinner at Cucina Enoteca is best experienced with bucatini all'amatriciana paired with waiter-recommended wine.
End the night with a ride on the great wheel, taking you up 100-ft for panoramic views.
Details: 670 Spectrum Center dr., Irvine, CA 92618 | Website
IRVINE REGIONAL PARK
Exploring the 160 acres of Irvine Regional Park can be done on foot, where you'll find nature trails through the diverse landscape or spot wildlife at the Orange County Zoo. Alternatively, take a ride on the Irvine Park Railroad to expedite your trip to the next attraction.
Details: 1 Irvine Park Rd, Orange, CA 92869 | Website
NEWPORT BEACH
NEWPORT BEACH
Immerse yourself in the laid-back coastal atmosphere flowing throughout Newport Beach. Explore the local culture in venues like the Orange County Museum of Art, join the anglers lining Newport Beach Pier, or catch waves at The Wedge.
Details: Newport Beach, CA 92660 | Website
CORONA DEL MAR STATE BEACH
Corona Del Mar is a true gem in Orange County with a family-friendly beach setting. Lay out on the warm golden shores, serve up game-winning tosses during a round of beach volleyball, or go for a dive in the flourishing cove.
Details: Corona del Mar, CA | Website
BALBOA ISLAND
The artificial Balboa Island is no mirage as you sail into the port aboard the island ferry. Stroll the boardwalk with scenic views of the ship wading gently in the harbor or explore the shops and dining in Balboa Village.
Details: Balboa Island, Newport Beach, CA 92662 | Website
OC BREWERY TOURS
Guided OC Brewery Tours gives you an automatic designated driver to truly indulge in the region's craft spirits. Tour Orange County, California via popular breweries like Brewheim, Bottle Logic Brewing, Four Sons Brewing, and The Bruery.
Details: Website
LAGUNA BEACH
CRYSTAL COVE STATE PARK
From untouched wilderness landscapes to a 3.2-mile stretch of sandy beach, Crystal Cove State Park is an outdoor lover's haven. Discover marine life left behind in the tide pools during low tide, or explore the Crystal Cove Historic District of Beach Houses.
Details: 8471 N Coast Hwy, Laguna Beach, CA 92651 | Website
VICTORIA BEACH
Mansions perched on the coastal cliffs overlook Victoria Beach. Descend the steep stairs where your feet will soon be met with powdery white sand slipping gradually into the clear blue Pacific Ocean. Walk to the end of the beach to see the iconic Pirate Tower set against the cliffside.
Details: 2713 Victoria Dr., Laguna Beach, CA 92651 | Website
HEISLER PARK
Paved trails wind along the cliffside at Heisler Park offer sweeping views of the Pacific. You'll stroll past decorative benches before reaching Picnic Beach below.
Details: 375 Cliff Dr., Laguna Beach, CA 92651 | Website
PACIFIC MARINE MAMMAL CENTER
Conservation efforts have sprung up all around California, and the Pacific Marine Mammal Center does its role in protecting the ocean ecosystem. The sea lion rehabilitation center cares for these creatures, and visitors are welcome to see them.
Details: 20612 Laguna Canyon Rd, Laguna Beach, CA 92651 | Website
SAN CLEMENTE
SAN CLEMENTE PIER
The Pacific Ocean lays endlessly before you while standing at the end of the San Clemente Pier, which juts over 1,200-ft from the shore. Step across the historic wooden planks that make up the pier as water rushes below you and seagulls circle overhead, waiting for someone to drop food.
Details: San Clemente, CA 92672 | Website
SURFING HERITAGE AND CULTURAL CENTER
See why Orange County earns its position as one of the world meccas for surfing. The Surfing Heritage and Cultural Center preserves San Clemente's long history in the sport. See how surfboards evolved over the years, see boards from iconic surfers like John John Florence and Carissa Moore, or attend one of the local events it frequently hosts.
Details: 110 Calle Iglesia, San Clemente, CA 92672 | Website
SAN CLEMENTE COASTAL TRAILS
Historic train tracks laid long ago are now accompanied by the San Clemente Coastal Trail running parallel to them to give bikers and walkers the same coastal vistas. Use points of interest like T-Street Beach, San Clemente Piece, and Calafia Beach as checkpoints along the 2.3-mile route.
Details: San Clemente Pedestrian Beach Trail, San Clemente, CA 92672 | Website
ANAHEIM
DISNEY CALIFORNIA ADVENTURE PARK
Experience the thrill at Disney California Adventure Park. Themed sections line Pixar Pier, Cars Land, and the Avengers Campus, bringing your favorite Disney films to life in one of California's top amusement parks.
Details: 1313 Disneyland Dr., Anaheim, CA 92802 | Website
DISNEYLAND PARK
Space Mountain, Indiana Jones Adventure, and the Incredicoaster are just a few of the many reasons to visit the original Disneyland Park in Anaheim. With a day full of rides, attractions, and Disney character appearances, you'll understand why it's the 'Happiest Place on Earth.'
Details: 1313 Disneyland dr., Anaheim, CA 92802 | Website
ADVENTURE CITY
Thrill-seeking families visiting Anaheim can uncover one of its hidden gems at Adventure City. Speed along the tracks of the Freeway Coaster or experience the full power of gravity on the Drop Zone, and more when you visit one of the best family-friendly theme parks in Orange County.
Details: 1238 S Beach Blvd, Anaheim, CA 92804 | Website
ANAHEIM PACKING DISTRICT
The Anaheim Packing District is the Netflix of food halls with over 50 different options. Texas-style ribs from Jav's Bar-B-Q, Thai specialties like coconut fried chicken from White Elephant, and a couple of scoops of double chocolate from Han's Homemade Ice Cream mean plenty of delicious food for everybody's tastes.
Details: 440 S Anaheim Blvd, Anaheim, CA 92805 | Website
MUZEO MUSEUM AND CULTURAL CENTER
Stunning art is always on display at the Muzeo Museum and Cultural Center. Browse exhibitions of contemporary works or traditional cultural pieces. Be sure to check the program schedule to catch events like live music or workshops.
Details: 241 S Anaheim Blvd, Anaheim, CA 92805 | Website
DANA POINT
DANA POINT HARBOR
Your gateway to the sea lies at Dana Point Harbor. Some people prefer to enjoy views of the waterfront, while others immerse into the environment with whale watching tours or fishing excursions.
Details: Dana Point, CA 92629 | Website
SCENIC PACIFIC COAST HIGHWAY
Rocky coastal views and grassy cliff sides create spectacular views from the driver- and passenger-side while cruising along the Scenic Pacific Coast Highway — one of the most popular stretches of road in the United States.
This 620-mile stretch of Highway 1 that goes north to Mendocino County provides hours of beautiful vistas, your favorite car tunes, and guilt-free road trip snacking.
Details: Website
DOHENY STATE BEACH
Doheny State Beach is well on the beaten path, with more than one million visitors every year. The perfect SoCal beach setting is filled with amateur surfers catching their first major waves, kids building better-than-average sandcastles, and the cool ocean breeze timed perfectly right when you need it most.
Details: 25300 Dana Point Harbor dr., Dana Point, CA 92629 | Website
SALT CREEK BEACH PARK
Nature lends a hand at creating the ideal surfing beach thanks to a small reef altering the waves as they roll into shore. When you need a break from the water, enjoy a picnic at the shaded tables or play a round of horse on the beachfront basketball courts.
Details: 33333 Pacific Coast Hwy, Dana Point, CA 92629 | Website
DAY TRIP TO CATALINA ISLAND
Jump on the Catalina Express to arrive at the enchanting Catalina Island. Dock at Avalon, where you'll explore the charming port town. Tour around the Wrigley Memorial Botanical Garden, trek to the Two Harbors, or encounter wild bison during a bison expedition.
Details: Website
HUNTINGTON BEACH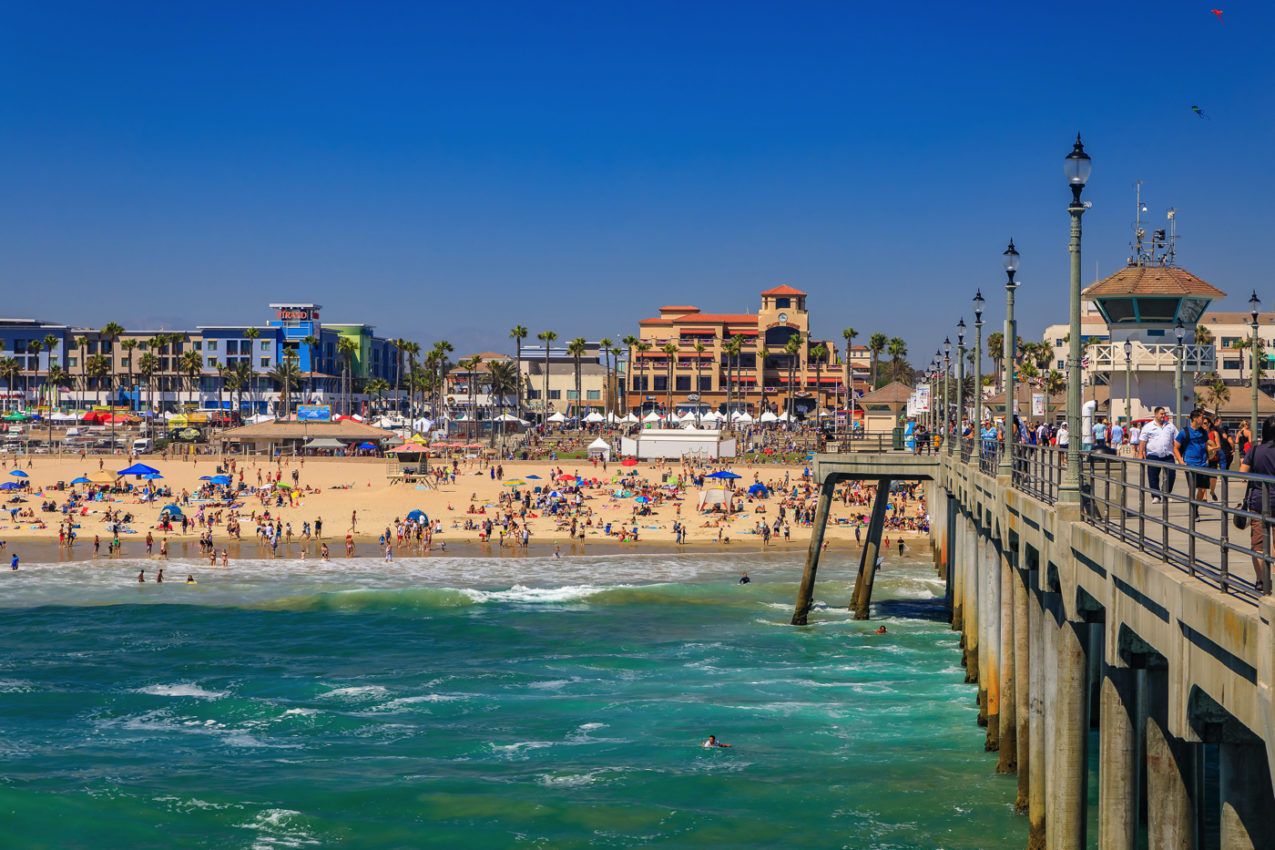 HUNTINGTON BEACH PIER
The light poles lining the Huntington Beach Pier create the ultimate optical illusion while converging at the red-roofed Ruby's Surf Diner at the end of the 1,850-ft long pier. Enjoy the pleasant atmosphere with people on one end snapping selfies against the ocean backdrop or others casting their fishing lines.
Details: California 92648 | Website
HUNTINGTON STATE BEACH
Nicknamed Surf City USA, surfers of all skill levels can be seen wading in the water at Huntington State Beach, waiting for their chance to hang ten while riding into shore. This iconic beach has 2-miles of shoreline, so there's plenty of room to sunbathe in the California sunshine.
Details: 21601 Pacific Coast Hwy, Huntington Beach, CA 92646 | Website
BOLSA CHICA ECOLOGICAL RESERVE
Covering 1300 acres, Bolsa Chica Ecological Reserve has diverse landscapes of wetlands to salt marshes. Visit during the summer for the best time to see endangered birds like the California Least Tern or peak into the waters to see stingrays swimming beneath the footbridge.
Details: 18000 CA-1, Huntington Beach, CA 92648 | Website
INTERNATIONAL SURFING MUSEUM
With the largest surfboard in the world hanging outside and an artistic surfing mural, the International Surfing Museum captivates visitors the moment they arrive. Explore exhibitions about surfing history, learn about Duke Kahanamoku's role in modern surf culture, and see a collection of different surfboards.
Details: 411 Olive Ave, Huntington Beach, CA 92648 | Website
SAN JUAN CAPISTRANO
MISSION SAN JUAN CAPISTRANO
Pursuits of spreading religion led to establishing Mission San Juan Capistrano in 1776, in what would later become known as Orange County. Worn walls of the arched Spanish-style buildings reveal their age as visitors tour the chapels and grounds to see religious art and sculptures.
Details: 26801 Ortega Hwy, San Juan Capistrano, CA 92675 | Website
ZOOMARS AT RIVER STREET RANCH
The sound of farm animals rustling in the hay and announcing their presence as if hidden behind the red façade of the Zoomars River Street Ranch. Feed the happy goats, scurrying guinea pigs, and lazy llamas in the petting zoo, saddle up the kids for a pony ride, or enjoy the other onsite activities.
Details: 31791 Los Rios St, San Juan Capistrano, CA 92675 | Website
LOS RIOS HISTORIC DISTRICT
Listen up for any oncoming trains before venturing to the other side of the tracks in San Juan Capistrano to visit Los Rios Historic District. Tattered buildings sit alongside occupied historic homes in this lush neighborhood dating back to the late 1700s.
Details: 31831 Los Rios St, San Juan Capistrano, CA 92675 | Website
SANTA ANA
SANTA ANA ZOO
Whether keeping watch for the elusive ocelots in Amazon's Edge, watching lemurs leap from bamboo branches, or satisfying your need for touch in the petting zoo, the Santa Ana Zoo is a fun day out with the family with over 120 species from Central and South America.
Details: 1801 E Chestnut Ave, Santa Ana, CA 92701 | Website
BOWERS MUSEUM
Expertly curated galleries inside Bowers Museum organize its 100,000 objects into displays allowing you to walk through 50 years of Disney archives, admire California Plein-air masterpieces, and other rotating exhibits that always give visitors a reason to return.
Details: 2002 N Main St, Santa Ana, CA 92706 | Website
LYON AIR MUSEUM
The jumble murmur of docents giving passionate explanations of the restored WWII aircraft echo throughout the hangar repurposed as the Lyon Air Museum. See vintage planes from aviation's golden era, and other rare automobiles polished for photos alongside history-buffs who appreciate their value.
Details: 19300 Ike Jones Rd, Santa Ana, CA 92707 | Website
DISCOVERY CUBE ORANGE COUNTY
There is no need to look for mile markers on Interstate 5 because the giant black cube protruding from the Discovery Cube Orange County Museum is the perfect indication to take the next exit. Kids will have hours of educational fun at this hands-on science venue with more than 100 activities.
Details: 2500 N Main St, Santa Ana, CA 92705 | Website
COSTA MESA
SOUTH COAST PLAZA
Beeps from successful transitions ring throughout the South Coast Plaza. Splurge a bit of your vacation budget by shopping in the West Coasts' largest shopping plaza with over 270 stores ranging from designer brands to department stores and more.
Details: 3333 Bristol St, Costa Mesa, CA 92626 | Website
ORANGE COUNTY MUSEUM OF ART
With its state-of-the-art facilities soon to open, art-lovers are highly anticipating the upcoming experience at the Orange County Museum of Art. Its temporary exhibitions rotate 4,500 works of art in its collection, showcasing the beauty and artistic perspectives of the Pacific Coast.
Details: 1661 W Sunflower Ave, Santa Ana, CA 92704 | Website
OC FAIR
With fun kids' rides, a petting zoo, and games, the OC Fair is one of the most anticipated summer events in Costa Mesa. But the grounds are never quiet, with 150 year-round events including industry trade shows, the Costa Mesa Speedway, and the Heroes Hall of Exhibitions.
Details: 88 Fair Dr., Costa Mesa, CA 92626 | Website
NOGUCHI GARDEN
Did you know that you can experience all of California in one place? The Noguchi Garden is an artist-designed Japanese-style garden featuring elements of the Golden State-like redwood trees, desert terrain, or leaping across the simulated river stream.
Details: 611 Anton Blvd, Costa Mesa, CA 92626 | Website
BUENA PARK
KNOTT'S BERRY FARM
Becoming one of California's top amusement parks isn't the typical trajectory for a small berry farm, but over 100 years of success proves that anything is possible.
Get your heart-racing on California-themed rides like the Silver Bullet, GhostRider, and Calico Mine Ride. Snap selfies with Snoopy and the Peanut Gang in a character meet and greet. Fuel up for your next adventures at the Mrs. Knott's Chicken Dinner Restaurant, where the signature meal is always juicy fried chicken finished off with a flavor-bursting bite of homemade boysenberry pie.
Details: 8039 Beach Blvd, Buena Park, CA 90620 | Website
FULLERTON
FULLERTON ARBORETUM
Lush greenery fills the air with fresh scents of nature's best cologne inside the Fullerton Arboretum. Stroll through this 26-acre landscape that transports you away from the busy Orange County, CA setting into a tranquil natural setting surrounded by various trees and colorful flowers.
Walking paths extend along the lakefront for scenic vistas. Sit on the grassy fields for a few relaxing moments, and be sure to take lots of photos in an attempt to capture its beauty best experienced in person.
Details: 1900 Associated Rd, Fullerton, CA 92831 | Website
LAGUNA LAKE PARK
On a quiet Sunday afternoon in Fullerton, Laguna Lake Park is a go-to destination for families and friends. Hang up your 'Gone Fishing' sign and cast a line out to see whether the Bluegill or Channel Catfish will bite first.
This 28.5-acre part has plenty of green space for dogs to run around when they're not occupied attempting to intimidate the lake's abundance of quacking ducks.
Details: 3120 Lakeview Dr., Fullerton, CA 92835 | Website
ORANGE
ORANGE COUNTY ZOO
The Orange County Zoo brings the wild to you in this ample zoo space.
First, visit the mountain lions during feeding time to see them go from sleepy to playful at the first sign of meat. Next, wind along the paths to see the beauty of the brown bear with the likeliness of the bear adorning the California flag. Lastly, step inside the cages of the petting zoo to touch your favorite, gentle animals.
Details: 1 Irvine Park Rd, Orange, CA 92869 | Website
OLD TOWNE ORANGE
Historic buildings dating back to the 1800s house antique shops filling Orange's downtown historic district. Referred to as Old Towne Orange, this district is excellent for shopping in the Orange Circle Antique Mall, enjoying views of the fountain centerpiece of the Plaza Square Park, and events throughout the year like the International Street Fair.
Details: Orange, CA 92866 | Website
MORE INFORMATION FOR YOUR TRIP TO CALIFORNIA
WHERE TO STAY IN ORANGE COUNTY
Follow us here: Facebook | Twitter | Instagram | Pinterest | YouTube | MSN | TripAdvisor | Flipboard
All articles belong to 365 Atlanta Family LLC, and all photos belong to us as well, unless otherwise noted. It's all copyrighted. Please don't repost anything elsewhere without asking me first. All rights reserved. This site uses cookies to enhance your experience.
We make no guarantees of any price listed on our site. We are not responsible for content on external web sites linked from ours, including linked resources, an external blog post, any partner site, hotel property sites, or affiliate sites. We only write about places we love in an attempt to help you in your adventures, but we can't guarantee you will love them, too.
Posts may contain affiliate links at no cost to you. Several of our trips are also compensated by the respective tourism boards for the city or state we are visiting. This never impacts how we share the destination with you – opinions are always our own and we pride ourselves on that. We do not sell links or accept unsolicited guest posts under any circumstances. Don't even ask.
United States Copyright, 365 Atlanta Family, LLC
View our Privacy Policy | Subscribe to our Newsletter | Contact Site Owner | View Terms & Conditions | About Us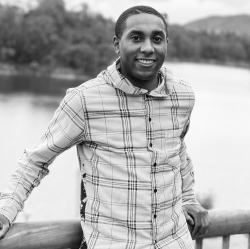 Latest posts by Bryan Shelmon, Staff Writer
(see all)