Welcome to 'America's Finest City' — a place where scenic ocean beaches collide with a historic seaport and waterfront. A place where you'll find an abundance of wildlife from the land and sea. And a place where fun is only just a short drive away from one of the local theme parks and entertainment venues.
San Diego nearly sits on the United States-Mexico border in Southern California. This location makes it a melting pot of cultures, with perfect weather, and easy access to visiting Los Angeles or Tijuana.
Ready to take a trip to San Diego? Here are 59 things to do in San Diego to add to your California bucket list.
MOST POPULAR ATTRACTIONS IN SAN DIEGO FOR A FIRST VISIT
BALBOA PARK
First-time visitors to San Diego can cross off several of their must-see attractions and activities in one place while visiting Balboa Park. This sprawling 1,200-acre cultural park near Downtown San Diego features the famous San Diego Zoo, the San Diego Museum of Art, the Japanese Friendship Garden, and a collection of other attractions that make it one of the most visited attractions in San Diego.
Alternatively, if you fancy a stroll in the flawless San Diego weather, there are lots of grass spaces and walking routes winding throughout the famous park.
SAN DIEGO ZOO & SAFARI PARK
The animal kingdom unfolds before your eyes as you make your way through the San Diego Zoo. Ranking as one of the top zoos in the U.S., the San Diego Zoo does an excellent job exhibiting its more than 650 species.
Themed habitat areas create the ideal viewing experience. Enter the savannah, which teleports you to East Africa to see cheetahs, giraffes, and elephants. Journey into the desert where camels and tortoises roam. And trek through the tropical rainforest to see slithering anacondas and native Mexican kinkajou.
The safari park offers a unique way to get up close to lions, rhinos, and giraffes via a 30-minute safari ride on a tram.
Read More: Three Days in San Diego: Awesome Itinerary for SD Fun!
USS MIDWAY MUSEUM
A trip to The Marina District showcases San Diego's maritime legacy. Adjacent to Seaport Village, the historic USS Midway Museum sits dormant at the docks on North Embarcadero's Freedom Park, retired from its former role as an aircraft carrier ship.
Now used as a floating museum, visitors can explore all parts of the ship to discover its history as the longest-serving carrier ship. The deck features a collection of vintage aircraft for climbing into their cockpits, head to the top for views sitting in the captain's seat, or explore below the deck to see crew life for more than 225,000 people who served on it.
JAPANESE FRIENDSHIP GARDEN
The thoughtful design of the Japanese Friendship Garden bridges the cultural gap between San Diego and Yokohama, its Japanese sister city. Many elements are incorporated into this authentic cultural garden inspired by its Asian counterpart.
Taste authentic Japanese food at the entrance café before wandering around the paved trails around the garden. You'll see bonsai trees symbolizing harmony in nature, vibrant orange fish swimming in the koi ponds, and the rippled sand of the rock garden. During the spring, you'll even get to see the beautiful flowers sprouting during the Cherry Blossom Festival.
SAN DIEGO BOTANIC GARDEN
The mild San Diego climate makes it a unique place for rare and exotic plants to grow. Discover some of these natural wonders and beauties inside the San Diego Botanic Garden.
Home to more than 4,000 plants, you'll feel like a plant expert by the time you leave. You'll see the colorful blue hues of the sapphire tower plant, learn about how Native Americans used the Torrey pine tree for its healing powers, and time your visit right for the rare bloom of the corpse flower, which only happens every four or five years.
BIRCH AQUARIUM
Become one of the nearly half-million annual visitors to the Birch Aquarium, located on the campus of the Scripps Institution of Oceanography. Its hilltop location provides a fantastic view of the institute's mission of preserving the Pacific Ocean, while inside, you'll see why!
Birch Aquarium is home to nearly 400 different species, such as sea dragons, starfish, and jellyfish. Step into the Hall of Fishes to see the diversity of the Pacific Ocean's ecosystem by learning about more than 60 different habitats within it.
CARLSBAD FLOWER FIELDS
Lay your eyes on an ocean of colorful flowers painting the Carlsbad Flower Fields. For over 85 years, these expansive fields have been cultivated into one of the largest fields in the U.S. But don't wait too long to visit, because it's only open from March to May when the flowers bloom.
Floral scents fill the air as you take pictures of the decorative Tecolote Giant Ranunculus flowers. The flower field presents new thematic designs every year for more than 70 million flowers, coloring the entire spectrum of the rainbow.
LEGENDS GALLERY
San Diego is a hotspot for artists and collectors alike, presenting more than 120 art galleries, museums, and other art venues. However, the artwork displayed inside the Legends Gallery stands out for those looking for a taste of the best art in Southern California.
We all grew up reading about the imaginary worlds created by Dr. Seuss in his books, and now you get to see them come to life through art as one of the gallery's most popular exhibited artists.
SAN DIEGO MUSEUM OF ART
If you want to see masterpieces created by art's old masters, visit the San Diego Museum of Art. As the oldest museum in San Diego County, this museum has displayed some of the best works of art since opening in 1926.
Stop by the San Diego Museum of Art during your visit to Balboa Park to admire original art from Monet, Matisse, Rubens, and other masters. It has dedicated exhibitions for Spanish art, Asian art, European art, and the outdoor May S. Marcy Sculpture Garden.
WATERFRONT PARK
Grab your towel and get ready for a few hours of leisure at San Diego's Waterfront Park. Because whether you plan on laying it out on the grass to sunbathe or use it to dry off from playing in the water, it's something you'll be glad you brought along for your first-time visiting.
Enjoy the San Diego skyline and bay views while catching the mist from water jets shooting along the waterfront while the kids play on the ocean blue playscape.
FREE THINGS TO DO IN SAN DIEGO
TORREY PINES STATE NATURAL PRESERVE
Save a few bucks by enjoying free outdoor recreation at Torrey Pines State Natural Preserve. Just be sure to leave it in better condition than when you arrived. Establishing the state park helped preserve three square miles on the San Diego coast with unique views and landscapes for those curious to explore it.
Keep your eyes peeled while on nature hikes through the preserve to see the Pinus Torreyana, the rarest pine tree, or take the Beach Trail, which leads down steps to the sandy coastline.
MISSION BEACH BOARDWALK
Mission Beach is one of the popular beaches in San Diego, with people out in the water enjoying swimming and other water activities. But you don't have to get sandy to enjoy the coast. The Mission Beach Boardwalk extends between Mission Beach and Pacific Beach, offering the same scenic coastal views.
Enjoy the 6-mile loop path of the boardwalk as you see bikers weaving between joggers and skaters all out enjoying a beautiful day.
CABRILLO NATIONAL MONUMENT
San Diego's modern skyline rising about its pristine coastline makes it a photogenic city. Get one of the best viewpoints at the Cabrillo National Monument, a landmark statue marking where the first European set foot on what would become San Diego.
The polished 14-ft limestone statue towers over the San Diego Bay at Point Lomo Peninsula. Take one of the coastal hiking trails for spectacular views of the San Diego skyline and the Old Point Loma Lighthouse.
MISSION BASILICA SAN DIEGO DE ALCALA
The best way to kickstart your checklist of seeing all 21 Spanish missions in California is by starting with the earliest mission established in 'The Californias,' Mission Basilica San Diego de Alcala. Located in present-day San Diego, it's a place to uncover its rich history for free.
The pure white walls and Spanish architecture are only a reconstruction of the original Mission Basilica San Diego de Alcala, built in 1769. However, you can still see unique features like the five bells, Spanish-style arches, and 46-ft tall wall.
HIKE THE SLOT CANYON AT ANNIE'S CANYON
The colors of the walls inside Annie's Canyon seem to change colors depending on the time of day. However, in the best lighting, you can see the orange and tan stripes decorating these sandstone cliffs as you squeeze your way along the Annie's Canyon Trail (ACT).
The ACT hiking trail starts near Solana Beach in San Elijo Lagoon Ecological Reserve to see the canyon carved out by thousands of years of rainfall.
MURAL HUNTING IN CHICANO PARK
Latin culture shows its true colors in Chicano Park, the world's largest collection of outdoor murals. More than 100 artistic works showcase creativity from Chicano artists and reflect on past social and political issues of the Chicano Mexicanos in their struggle for freedom.
Take a walk around the park to see works like the Tree of Life, Sueño Serpiente, and Corazon de Aztlan. When you've got your eye's worth of free art, grab tacos at Las Cuatros Milpas to treat yourself to authentic Mexican food.
HIKE THREE SISTERS FALLS
The challenging hike to the Three Sisters Falls is no walk in the park, but one of San Diego's top waterfalls is waiting for you at the end of it.
Three Sisters Falls elevates 150-ft above the pool at the bottom, with giant rocky cliffs rising on their side. Its name derives from the three-tier cascade, creating part of its visual appeal. The best time to visit the falls is right after a rain shower. And feel free to jump in the water if you need a refresher before making the two-mile hike back.
SAN DIEGO SCENIC DRIVE
One of the best ways to appreciate San Diego's beauty is by going for a scenic drive around town. So, whether you want to go sightseeing around San Diego County or travel the Southern California coastline, there's a scenic drive for you.
Travelers love taking the 59-Mile Scenic Drive, which lets you see many of the best areas in San Diego, from Point Loma, Harbor Drive to La Jolla. It's also an excellent start location for the Pacific Coast Highway to ride nearly the entire length of California.
HIKE CUYAMACA PEAK
In San Diego, it won't cost a thing to feel like you're at the top of the world. So, if you've got the stamina to make it to the top of Cuyamaca Peak, you'll achieve that from the second-highest peak in San Diego County.
What makes the 5.5-mile hike to Cuyamaca Peak are the panoramic views of the entire region. Its high prominence gives perfect views overlooking San Diego, the Channel Islands floating in the Pacific Ocean, and even Mexico.
SUP AND LISTEN TO HUMPHREY'S BY THE BAY
Melodic tunes of world-renowned rock bands, indie rock artists, and heavy metal groups can be heard ringing from the famous Humphrey's by the Bay theater.
Located on San Diego's waterfront, this outdoor venue opens its seasonal concert series from April to October. But while other tourists try to secure tickets for one of the 1,450-seats, those in the know will go directly to the waterfront. You can eavesdrop on all the musical talent from your stand-up paddleboard or kayak.
SHOPPING, DINING, AND PEOPLE-WATCHING
GASLAMP QUARTER
As soon as you pass beneath the iconic Gaslamp Quarter sign, the historical district's lively energy engulfs you. As San Diego's shopping, dining, and nightlife hub, it's a must-visit place for a lively atmosphere day or night.
More than 100 restaurants, bars, and nightclubs are established in historical buildings expending for 16 blocks in Downtown San Diego, giving you plenty of options. Enjoy fine dining or casual eateries before getting the night started with drinks and dancing.
OLD TOWN SAN DIEGO
Travel back to the wild west era when visiting Old Town San Diego for one of the most unique shopping and dining experiences. The antique shops and western-style diners preserve the heritage of San Diego's oldest neighborhood, which looks much like it did when it was founded in 1769.
When done browsing the shops, visit the Whaley Museum to learn about the California Gold Rush History or book a stay at the historic Old Town Inn.
LIBERTY PUBLIC MARKET
The aisles of the Liberty Public Market are always buzzing with locals and tourists looking for the freshest foods, crafts, and other unique goods sold by more than 30 vendors.
Park your car at Liberty Station and walk to the market to buy fresh produce from local farmers, the day's catch from fishermen, and ready-to-eat goods like pastries or pasta to satisfy your hunger pains.
NORTH PARK
Did you really visit San Diego if you didn't snap a selfie in front of the "Greeting from San Diego" mural in North Park? But since you made the journey to this historic-turned-trendy neighborhood, you may as well take time to explore what makes it such a hipster hotspot.
North Park is one of San Diego's most walkable neighborhoods. Enjoy international dining cuisines or local creations in bright dining spaces with large windows for watching San Diego urbanites stroll past. You'll see old friends enjoying coffee in the cafes or shopping in the North Park Farmers Market.
Plan a trip back to North Park for the nightlife scene with live music at The Observatory or check out the local bars.
SATURDAY 'MERCATO' STREET MARKET
Inspired by the homeland, Little Italy's 'Mercato' Street Market has become the largest in San Diego County, with more than 200 vendors every Saturday. So, not only will you be supporting California's hard working farmers, artisans, florists, etc., but you won't find fresher, more delicious food anywhere else!
Don't party too long in the Gaslamp District on Friday night because the 'Mercato" Street Market starts early at 8 a.m. But it creates a fun shopping experience with live music and vendors excited to talk about their products. Meet the farmers who picked their vegetables and fruits to sell, artisans who dedicated hours to their crafts, and fishermen who presented their latest catch.
CEDROS AVENUE DESIGN DISTRICT
You'll instantly get inspired while touring the Cedros Avenue Design District. En route to Solana Beach, make a stop in the district to see one of the most popular and creative shopping areas in San Diego.
A walk down Cedros Avenue Design District feels like a curated gallery—large shop windows displaying the latest in chic fashion, staged showrooms exhibiting possibilities from interior design studios, and cafes where local architects give their clients updates on the latest projects.
With 85 shops, you'll find plenty of unique items, from clothing, jewelry, furniture, and more.
SAN DIEGO BUCKET LIST EXPERIENCES TO ENJOY
CATCH A PADRES GAME
Seats behind Homeplate in Petco Park give one of the best vantage points for watching the MLB San Diego Padres as they make home-run hits against the Downtown San Diego skyline backdrop.
Every day is a great day to join up to 42,445 fans for an exciting ball game. Every season, the home team puts on a show as they compete to win the World Series, the only baseball team in California yet to achieve this feat. But one thing for sure is that from opening day to the end of the season, the SD Padres will give plenty to cheer about!
SEE A SHOW AT THE OLD GLOBE THEATRE
Summer and winter visits to San Diego mean that you'll have the opportunity to see one of the world-class shows happening at the Old Globe Theatre. As California's oldest professional theater, it's brought talent and the best plays to the stage since opening in 1935.
Old Globe Theatre is located in Balboa Park, inviting everyone from families to its kid-friendly shows or couples looking for a romantic date night full of culture. It schedules 15 plays every season, achieving a Tony award and other nominations.
FLY WITH TORREY PINES GLIDERPORT
There are no strings attached to the colorful kites and parachutes soaring above Torrey Pines Gliderport because their aerial machines take their fliers high in the sky along with them. Reserve a flight session and get ready for a bird's eye view overlooking the San Diego coastline when you're ready to brave the skies.
Knowing that the Torrey Pines Gilderport has been operating for nearly a century calms your nerves as you get ready to take off from 300-ft above sea level in a thrilling paragliding and hang gliding experience.
DRIVE THE PACIFIC COAST HIGHWAY
San Diego is the perfect location to start a road trip on the iconic Pacific Coast Highway. It's near the beginning of a 790-mile coastal highway extending the length of California and beyond. Exploring all the highway's attractions can take weeks, or stay local in San Diego County to see its most beautiful coastal locations.
Set your GPS to California US Route 101, and you" cruise through San Diego, Carlsbad, and La Jolla, enjoying views of the rugged coast the entire journey.
GO ON A WHALE WATCHING CRUISE
Forget about the little fish swimming around your feet at the San Diego beaches, because you'll encounter the largest creatures swimming beneath the surface slightly further offshore.
Book a group or private whale watching cruise, where your seafaring captain guides you to see blue whales, gray whales, and more swimming in abundance in the warm waters during migration.
GOAT YOGA AT SUGAR SWEET FARM
Yoga sessions at Sugar Sweet Farm always have a special guest accompanying the hour-long sessions—goats! That's right, baby goats are the key you've been looking for to unlock your chakras, as their hooves dig gently into your back while attempting to hold a downward doggy or planking position.
Goat yoga is the bucket list item you never knew you needed, and thanks to Sugar Sweet Farms, this unique experience will be the most talked-about activity during your trip.
CATCH A SUNRISE AT MOUNT SOLEDAD LOOKOUT
The sun rising from behind the National Veterans Memorial cross atop Mount Soledad is an iconic sight for travelers looking for unique viewpoints in San Diego. With the perfect timing, you can see this bucket list view during your trip.
You'll reach the summit of Mount Soledad in approximately 20-minutes from downtown San Diego. The trip takes you to an 820-ft elevation, where you'll have a panoramic sunrise view of the sun casting its glow over the San Diego Skyline, La Jolla, and the Pacific Ocean.
AND SUNSET AT POINT LOMA LIGHTHOUSE
With Point Loma Peninsula jutting out into San Diego Bay, you'll have an unobstructed view of the sunrise over the ocean. Keep your camera handy because the historic Point Loma Lighthouse looks even more picture-perfect between 6-7 am when the sun peeks over the horizon.
With the sun now up, it's an excellent time to read the plaque at the Cabrillo National Monument and wait for the museum in the lightkeeper's house to open for the day.
SNORKEL LA JOLLA COVE & UNDERWATER PARK
Have you ever wanted to swim with sharks? Well, now you can when you visit the Matlahuayl State Marine Reserve.
Guided snorkeling tours equip you with a wet suit and snorkeling gear before submerging into the water at La Jolla Cove. Kick your flippered feet to navigate around unique underwater rock formations and see the vibrant marine life like leopard sharks, Garibaldi, barracudas, sea lions, and more.
SPEND THE WEEKEND ON CORONADO ISLAND
Enjoy views from the Coronado Ferry as you make the 15-minute trip to Coronado Island. This offshore gem feels like a getaway within a getaway as you reach the laidback resort island.
Book a stay at the historic Hotel Del Coronado and spend your days hanging on the island's beaches, shops, dining, and admiring views of San Diego.
SAN DIEGO ATTRACTIONS WITH KIDS IN TOWN
CHILDREN'S POOL BEACH
Did you know that the Pacific Ocean has a kid's section? Thanks to a concrete seawall built in 1931, Children's Pool Beach was formed along the La Jolla coastline. But the temperate water conditions have attracted new residents to the beaches!
Seals and sea lions have claimed Children's Pool Beach for their own. As a result, it's become a popular spot for watching wildlife instead of swimming in the water.
Read More: 17 BEST THINGS TO DO IN LA JOLLA FOR COASTAL FUN
MARITIME MUSEUM OF SAN DIEGO
The collection of historic boats and submarines floating in the San Diego Bay Harbor have seen their fair share of water adventures. Now used as the Maritime Museum of San Diego, kids live out their seafaring dreams by climbing aboard the vessels to imagine life at sea.
The famous Star of India is a must-see, and walk the deck of the Berkeley ferryboat to see exhibitions about San Diego's US Navy history and the onboard MacMullen Library.
SEAWORLD SAN DIEGO
Kids always learn about the wonders of the ocean in school. But now, they can meet their favorite sea animals in person at SeaWorld San Diego. Located in Mission Bay Park, it combines a theme park with an aquarium experience.
Sea lions flop around during their entertaining live performances or see high-jumping orcas leap from the water. Kids even have a chance to swim with dolphins, and, if tall enough, can go for a wild ride on the Manta roller coaster.
BELMONT PARK
Enjoy views of Mission Bay before plunging down the drop of the historic Giant Dipper roller coaster. This ride and more than a dozen others have kept families entertained for nearly a century at Belmont Park. It's one of the best amusement parks for kids to enjoy while strolling the boardwalk.
You only pay for what you ride, and you might even get lucky at the carnival-style games to win prizes.
SAN DIEGO SAFARI PARK
Adventuring through San Pasqual Valley in the back of an open-air vehicle feels more like being in the Asian or African savannahs. The San Diego Safari Park creates this unique viewing experience to see animals roaming freely like giraffes, rhinos, elephants, birds, and others.
You'll have a guide pointing out all your kid's favorite animals and sharing lots of information about them. Visit during the spring to also check out the seasonal Butterfly Jungle.
SOUTH BAY DRIVE IN THEATER
The double featured movies playing at the South Bay Drive-In Theater mean that kids no longer have to choose between two films and instead get to see both!
As the last drive-in theater in San Diego, kids can experience one of the pleasures of the simple days of packing into your car, parking in front of one of three large screens, and enjoying a nighttime screening of modern and classic films.
FLEET SCIENCE CENTER
Kids can get hands-on with learning in the Fleet Science Center, located in Balboa Park. They'll stay engaged for hours, exploring 100+ exhibitions about science's greatest wonders.
Follow the journey of the cells in the body, see how electricity works, explore the universe in the planetarium, or give them a taste of the real world in Kid City. Check the programming for screenings inside the larger-than-life IMAX movie screen.
LEGOLAND
LEGOs help everyone build their imagination, but LEGOLAND takes it a step further and turns these miniature bricks into life-size creations. Travel north to Carlsbad to visit the LEGOLAND theme park and resort, created entirely of LEGOs!
Kids' minds will be blown as they explore a LEGO village and see model displays of LEGO Star Wars, LEGO Dinosaurs, and walk inside a LEGO castle. In addition, there are more than 60 amusement park rides and LEGO-themed shows to keep entertained, even if you decide to stay in the resort for a couple of nights.
SAN DIEGO NATURAL HISTORY MUSEUM
Visiting the San Diego Natural History Museum lets you time travel as far back as the prehistoric era. Opened in 1874, it's double in size from its original exhibition space, providing ample room for much of its eight million specimens and artifacts on display.
The dinosaur exhibition is always a favorite for kids who get to see animals from their history books exhibited in full-sized models and fossils. The museum also provides details about native California flora and gemstones.
SAN DIEGO AIR AND SPACE MUSEUM
The large gallery spaces inside the San Diego Air and Space Museum miraculously hold an impressive air and spacecraft collection. Kids can explore all things flying, whether soaring the skies or blasting off into space.
Retrace the history of some of the world's greatest flying missions with exhibits on the "Spirit of St. Louis" replica aircraft, the command module from the Apollo 9 space mission, and even interactive activities like taking off in the flight simulator.
SAN DIEGO TOURS YOU CAN'T SKIP
KAYAK THE LA JOLLA SEA CAVES
Erosion from powerful ocean waves and high tides have eventually carved themselves into a series of caves. Led by an expert, you can soon be embarking on a journey deep into a 75-million-year-old sandstone cliff.
If walking through the Sunny Jim Cave was impressive, take a kayak tour of the remaining six La Jolla Sea Caves, only accessible by water. You'll float through the dark entrances where there's just enough natural light to see the unique rock formations inside.
Read More: 17 BEST THINGS TO DO IN LA JOLLA FOR COASTAL FUN
SAN DIEGO BAY CRUISES
When the horns blow, you'll feel a slight motion signaling that you're finally leaving the dock on an exciting cruise in San Diego Bay. As one of the top tours, charter boat companies offer unique cruises to experience San Diego in new ways.
Cruise the bay coastline to see landmarks like the Point Loma Lighthouse and USS Midway. Charter a private yacht to plan the perfect date night cruise with a loved one. Or go for a sunset cruise to see the scenic San Diego skyline at golden hour.
MICRO BREWERY TOUR
With more than 90 local breweries showcasing their signature styles and flavors, San Diego earns its nickname as a 'capital for craft beer.' There is no need for a designated driver, because your expert tour guide will have you covered while taking you around select breweries in an open-air safari-style van.
See behind the scenes of top breweries like Karl Strauss Brewery, Port Brewing, and The Lost Abbey before enjoying savory sips of handcrafted flavors.
SAN DIEGO DINNER CRUISE
San Diego is one of California's top foodie destinations. It's home to Michelin-starred restaurants and cultural dining districts, like Little Italy. However, nothing embodies the San Diego spirit as much as a dinner cruise.
Watch as San Diego's waterfront illuminates at night while enjoying a chef-prepared multi-course dinner of fresh seafood and other local California dishes. Share a toast at sunset with a complimentary glass of wine and relish in the night with live entertainment right on the ship.
OLD TOWN TROLLEY TOUR
For more than 35 years, the Old Town Trolley Tour has given tourists the complete run-down of San Diego. So, put down the guidebooks and let your guide narrate the two-hour trip, providing interesting facts and stories about top districts and landmarks.
The hop-on, hop-off tour includes nearly a dozen stops, taking you to Oldtown, the Gaslamp Quarter, Seaport Village, Balboa Park, and more.
Be sure to take advantage of tour packages for admission discounts to museums and other local attractions.
TIDE POOL ADVENTURE TOURS WITH BIRCH AQUARIUM
Countless tide pools found along the San Diego coastline present a unique ecosystem for smaller sea creatures to inhabit. However, during the winter's lower-than-usual tide, the water washes away, and all that's left are marine life ready to be explored by tourists.
Join Birch Aquarium in bringing their marine life exhibitions into the real world. A guide accompanies you on the tide pool adventures in its artificial Tide Pool Plaza to point out all the extraordinary marine life thriving in them.
CITY LIGHTS GUIDED NIGHT TOUR
If you think San Diego is a scenic waterfront city during the day, wait until you see it at night. Trolly rides take you on a two-hour journey past more than 100 landmarks to see the colors they dawn at night.
Witness the neon lights illuminating the lively streets of the Gaslamp Quarter, admire the patriotic colors shining from the USS Midway, try to count how many orange balls glow over the Coronado Bridge and even the twinkling lights from Tijuana across the border in Mexico.
OUR FAVORITE BEACHES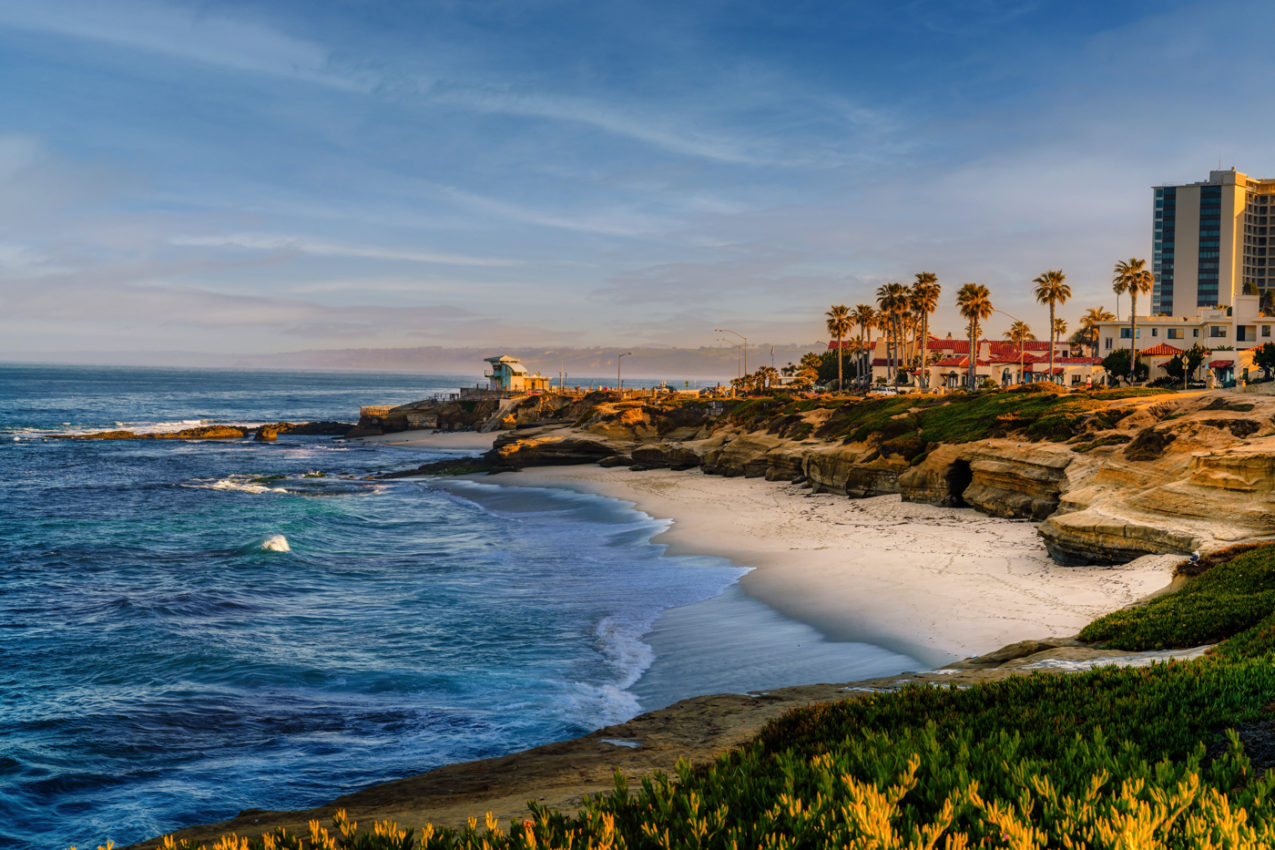 SUNSET CLIFFS NATURAL PARK
The western coastal cliffs on Point Loma Peninsula perfectly face the setting sun. Named for its views of the colorful natural phenomenon, Sunset Cliffs Natural Park is a go-to place during the evening.
Grab a spot on the bluff overlooking Luscombs Point or cozy up on the sandy Break Beach and watch as the sky transforms into a burst of colors before ushering in the nighttime.
MISSION BEACH/PACIFIC BEACH
It seems like the action never stops at Mission Beach and Pacific Beach. These two adjacent beaches attract the surfing crowd, during the morning and afternoon, to catch perfect waves rolling in from the Pacific Ocean.
At night, the expansive boardwalk is a popular nightlife hangout spot with lots of bars and restaurants, creating a lively atmosphere. It will feel like a beach part that never ends!
CORONADO BEACH
With the historic Hotel Del Coronado mere steps away behind you and frontal views of the rich blue waters of the Pacific Ocean, what's there not to love about Coronado Beach?
Escape the crowded beaches of the mainland and catch a ferry to Coronado Island to find one of the best local beaches. Sink your feet in the fine, speckled sand before going for a refreshing swim in the calm waters.
LA JOLLA SHORES
Whether you're looking for water or land activities, you'll find it all and more on the La Jolla shores. Travel north of San Diego until you reach the crescent-shaped coastline with warm sand stretching for a mile long.
The waters of the La Jolla Bay are perfect for swimming, surfing, or kayaking to the nearby La Jolla Water Caves. When you've had your fix of water fun, sunbathe on the vast beach, stroll on the Scripps Institute of Oceanography pier, or play a few rounds of tennis at the onsite sporting facility.
LA JOLLA COVE
There are numerous beautiful things to see when visiting the beach at La Jolla Cove. Sunbathing in the quaint cove provides views of the towering sandstone cliffs rising from either side. You'll hear a call of the wild as sea lions atop the bluffs bark in harmony with seagulls calling from overhead.
Depending on the season you visit, you'll have different experiences. For example, surfers can be seen flocking to the beach during the summer when the waves are at their prime. However, if you want to feel the warmth of the Pacific Ocean, it's advised to wait until the fall.
DEL MAR CITY BEACH
Arrive early at Del Mar City Beach, because parking can be hard to come by. But only when you step foot onto the beautiful golden sand beach, you'll immediately understand why.
Del Mar City Beach is one of the most scenic beaches you'll find when you visit San Diego. The beach stretches for more than two miles, bordered by the turquoise ocean waters and the grassy bluffs with palm trees and picnic tables.
MORE INFORMATION FOR YOUR TRIP TO CALIFORNIA
YOU MIGHT ALSO ENJOY
WHERE TO STAY IN SAN DIEGO
Follow us here: Facebook | Twitter | Instagram | Pinterest | YouTube | MSN | TripAdvisor | Flipboard
All articles belong to 365 Atlanta Family LLC, and all photos belong to us as well, unless otherwise noted. It's all copyrighted. Please don't repost anything elsewhere without asking me first. All rights reserved. This site uses cookies to enhance your experience.
We make no guarantees of any price listed on our site. We are not responsible for content on external web sites linked from ours, including linked resources, an external blog post, any partner site, hotel property sites, or affiliate sites. We only write about places we love in an attempt to help you in your adventures, but we can't guarantee you will love them, too.
Posts may contain affiliate links at no cost to you. Several of our trips are also compensated by the respective tourism boards for the city or state we are visiting. This never impacts how we share the destination with you – opinions are always our own and we pride ourselves on that. We do not sell links or accept unsolicited guest posts under any circumstances. Don't even ask.
United States Copyright, 365 Atlanta Family, LLC
View our Privacy Policy | Subscribe to our Newsletter | Contact Site Owner | View Terms & Conditions | About Us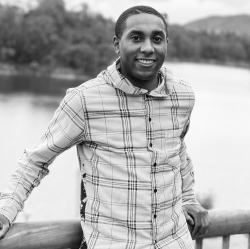 Latest posts by Bryan Shelmon, Staff Writer
(see all)