Despite being one of the states known as a generally hot, dry place, Texas has a surprising number of magnificent waterfalls. The Lone Star State is home to some beautiful waterfalls that shouldn't be missed.
During your next trip to Texas, make time to see one of these awesome waterfalls. Whether you're looking for a popular waterfall with a swimming hole, or you're on the hunt for a hidden waterfall — we've got the perfect one for you.
Take these cascading marvels as a sign that a trip to Texas can always be bigger and better. Here are 24 waterfalls in Texas that you've got to see.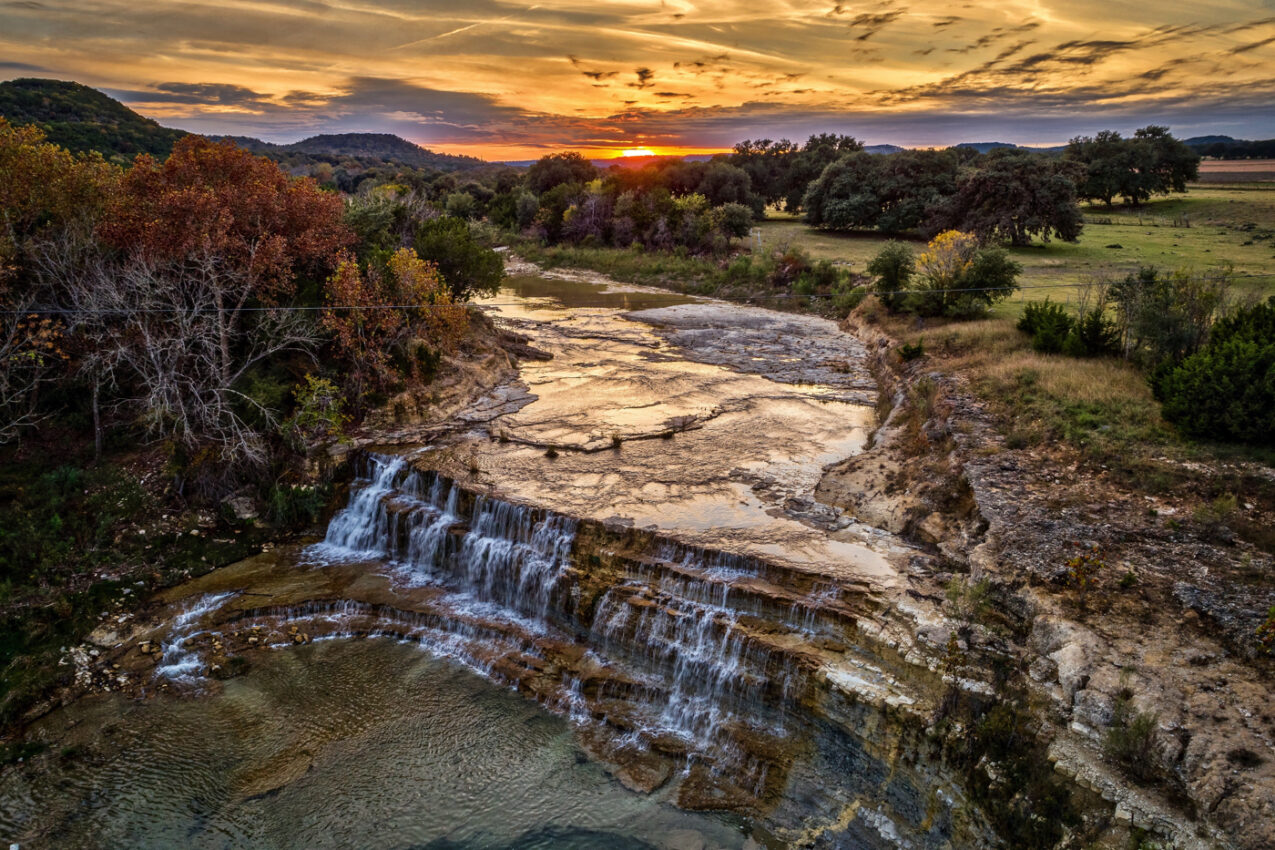 DOLAN FALLS
Location: Devils River State Natural Area, Del Rio, Texas
Dolan Falls is one of the more secretive waterfalls in this list. Why? Because it's particularly hard to get to. It's in the naturally rugged Devils River State Natural Area, which makes accessing the falls a journey in itself.
Getting to the falls involves a one mile hike to the river, followed by a half mile paddle down the river, which is not for amateur paddlers. Only experienced paddlers should try to make their way to the falls, since the rapids here are ranked Category IV and V throughout the year.
Still, should you brave the journey, the falls are a splendid piece of the Texan landscape. Plus, since they're in a protected natural area, the waters surrounding the falls are clear and utterly gorgeous.
Note: The nearby Dolan Falls Preserve is not open to the public. Make sure to head to the Devils River State Natural Area to access the falls.
PEDERNALES FALLS
Location: Pedernales Falls State Park, Johnson City, Texas
Unlike Dolan Falls, getting to Pedernales Falls is a much easier feat. In less than 20 minutes, you can walk to the waterfall area through the Texas state park.
These falls might look inviting, but Texas Parks and Wildlife cautions against swimming in the falls area. There is a swimming area in Pedernales Falls State Park, which includes a more difficult .25-mile hike with steep stairs.
TWIN FALLS
Location: 3917 S MoPac Expressway, Austin, Texas
More like a watering hole than a proper waterfall, Twin Falls is a favorite swimming destination for folks in Austin. Getting to the falls themselves is a few miles worth of hiking, though the trail is fairly accessible on foot.
There are also ways to paddle a canoe to the falls as well, if that's of interest. Plus, there is then nearby Sculpture Falls if you want to find another swimming hole (that is a little less frequented).
Read More: 36 BEST THINGS TO DO IN AUSTIN, TEXAS YOU'LL LOVE
HAMILTON POOL WATERFALL
Location: 24300 Hamilton Pool Road, Dripping Springs, Texas
The Hamilton Pool Preserve waterfall is one of the most popular waterfalls in Texas.
Reservations are required to visit the Hamilton Pool Waterfall located within the preserve. Because of falling rocks, only a portion of the swimming hole is available for swimming. The falls are amazing, though, and swimming here is a bucket list item!
The preserve is also a place where visitors can see all kinds of wildlife and flora beyond just the waterfall area.
Read More: 26 BEST SMALL TOWNS IN TEXAS YOU'VE GOT TO VISIT
GORMAN FALLS
Location: Colorado Bend State Park, Bend, Texas
In the heart of Texas Hill Country, you will find the Texan wilderness that is Colorado Bend State Park. Within the park, the mighty Gorman Falls invites visitors to witness the power of its cascading water.
To get to the falls, visitors must endure a 3-mile round trip hike through rocky, uneven nature. Once there, however, the falls are not for swimming. But not to fear, there is a nearby area in the river that you can swim in!
UPPER AND LOWER MCKINNEY FALLS
Location: McKinney Falls State Park, Austin, Texas
Upper and Lower McKinney Falls aren't giants by any means, though they are made up of wide rock sheaths. Getting to both is easy enough, the lower falls is only a ½-mile round trip hike, while the upper falls is a ¼-mile round trip hike. You can swim at these falls too, though reservations are currently required to visit.
While you're in Austin, you might also love these other fun things to do on the water!
Kayak through downtown to Barton Springs. Discover downtown Austin from the water on this guided kayaking tour to Barton Springs. See the Congress Avenue Bridge, explore Lady Bird Lake, and paddle into Barton Springs with high-quality gear.
Take a sunset boat cruise. Sail across Lady Bird Lake at sunset to admire Austin's skyline on a scenic boat tour before exploring iconic sites on a narrated drive with a guide. Join a bat-watching tour between March to October.
See the bats at sunset on a kayak. Embark on the ultimate bat-watching experience with a guided sunset kayak tour. See the stunning Austin skyline at dusk and encounter the local bat colony from below its famous bat bridge.
ZILKER BOTANICAL GARDEN FALLS
Location: 2220 Barton Springs Road, Austin, Texas
Lovingly referred to as the "jewel in the heart of Austin," Zilker encompasses over two dozen acres of greenspace in downtown Austin. Part of that includes, not just the falls, but Taniguchi Japanese Garden, The Mabel Davis Rose Garden, koi ponds and more!
Though these falls aren't found deep within nature like some others, there is still plenty to be appreciated in their aesthetic. The resident turtles certainly think so, anyway!
KRAUSE SPRINGS
Location: 424 County Road 404, Spicewood, Texas
Krause Springs is a unique entry on this list because it isn't just one water feature. The whole of the Krause Springs property includes nearly three dozen natural springs, as well as a man-made and natural pool too.
There are plenty of places here to swim, in addition to campsites, and even a butterfly garden.
MADRID FALLS
Location: Big Bend Ranch State Park, Terlingua, Texas
Nestled within the state's largest state park, the 100-foot Madrid Falls in Big Bend Ranch State Park towers over visitors into a pool hidden within the park.
Technically, the falls are accessible to the public, though there is over five miles of trail to get there.
WESTCAVE WATERFALL
Location: Westcave Outdoor Discovery Center, Round Mountain, Texas
At the Westcave Outdoor Discovery Center, visitors can visit the 40-foot waterfall grotto via a guided tour. The Westcave Preserve folks warn that the one mile round trip hike, though short, is difficult, and will take between 90 and 120 minutes.
These are small tours, so do check in advance to ensure space. Visitors cannot access the waterfalls or nearby areas — like the grotto or cave — without attending a guided tour.
WILDCAT HOLLOW WATERFALL
Location: Dinosaur Valley State Park, Glen Rose, Texas
Although not a very long hike, the 90 minutes round-trip hike to the 60-foot waterfall in Dinosaur Valley State Park is a more difficult trip. Still, it's a great stop in a state park with so much to see.
You can't swim here, though if you look closely in the various water spots within Dinosaur Valley, you might spot some giant footprints! (There is a reason they call it Dinosaur Valley.)
WICHITA FALLS
Location: Wichita Falls, Texas
Per the Wichita Falls website, the namesake falls of Wichita Falls, Texas were wiped away during a flood in the 1800s. So in 1987, a man-made waterfall was constructed.
The multi-level waterfall is 54 feet in height and is easily accessible from the road as there are parking areas nearby. It is about a one mile round trip walk to the falls from where you can park.
BOYKIN CREEK WATERFALL
Location: Boykin Springs Recreation Area, Zavalla, Texas
This waterfall/waterhole area in East Texas can be found via a five mile round trip walk through the Boykin Springs Recreation Area. Swimming at the fall itself is not permitted, though visitors are welcome to swim in nearby Boykin Springs Lake. Watercraft are also permitted at that lake as well.
WINDOW TRAIL FALLS
Location: Big Bend National Park, Brewster County, Texas
Not to be confused with the Window Falls in North Carolina, the Window Trail within Big Bend National Park will lead you to a seasonal stream along the cliffs. How long the trail is depends on which point you reach, but generally the trail is just over 2 miles, or just over 2.5 round trip if you go to the upper part of the trail.
The Window Trail, because of the unique window-shaped outcropping, is a popular one throughout the year, so expect other hikers.
CATTAIL FALLS
Location: Big Bend National Park, Brewster County, Texas
Like Window Falls, which is also located in Big Bend National Park, Cattail Falls is another West Texas waterfall. The Cattail Falls Trail is a moderately challenging hike, at just shy of 6 miles. Though the hike to the falls themselves is relatively easy, at just 1.5 miles.
Cattail Falls can sometimes run dry, though the pools nearby are still beautiful either way. Swimming in the pools is not allowed.
MEXICANO FALLS
Location: Big Bend Ranch State Park, Terlingua, Texas
A sibling waterfall to Madrid Falls at Big Bend Ranch, the 80-foot Mexicano Falls is the third tallest waterfall in Texas.
Despite being in a state park, Gaia GPS has no published hikes for the trek. The site also lists it as a moderate hike of just over 5.5 miles in length to get to the trailhead.
CHALK RIDGE FALLS
Location: Chalk Ridge Falls Park, Belton, Texas
Hiking to Chalk Ridge Falls is fairly simple on this easier hike. At just over 3 miles, the hike to the swimmable water is an easy feat, compared to some of the other hikes listed here. Perhaps because the falls are more of a swimming hole than cascading white water.
The leisurely walk ends with a relaxing dip in the calm waters of Chalk Ridge.
JAPANESE TEA GARDEN WATERFALL
Location: Brackenridge Park, San Antonio, Texas
The Japanese Tea Garden reopened in 2008, when the restored garden space was reinvigorated with new walkways, much needed repairs, and the 60-foot waterfall, among other improvements.
The garden is open every day from dawn until dusk and is wheelchair accessible. The waterfall area can even be rented for special events!
Read More: 16 AWESOME THINGS TO DO IN SAN ANTONIO WITH KIDS
AIRFIELD FALLS
Location: Airfield Falls Conservation Park, 200 Pumphrey Drive, Westworth Village, Texas
Airfield Falls is Tarrant County's largest natural waterfall, per Visit Fort Worth. The falls themselves are a short walk from the Airfield Falls trailhead, and are relatively easy to get to.
Walking the trail to the falls (or beyond) showcases the natural beauty of the area, as well through native flora and fauna. Monarchs are known to frequent the area as well, so be on the lookout!
TONKAWA FALLS
Location: Tonkawa Falls City Park, 524-550 E 4th Street, Crawford, Texas
Because Tonkawa Falls are found within a small town park, they're easy to get to after parking. A short walk takes you to this swimming hole that is loved by swimmers, kayak, canoers, and tubers alike.
The falls themselves do dry up from time to time, though the watering hole itself is still there (even if it's a little shallower in those drought times).
PRAIRIE CREEK PARK
Location: 2400 W Prairie Creek Drive, Richardson, Texas
Another easily accessible waterfall within a park, the falls at Prairie Creek (which are man-made) are fairly simple to find via the park trails. Besides the falls, there are also areas around the park for picnicking, relaxing or seeing local wildflowers as well. (It does not appear that swimming is advised at this location.)
SILVER FALLS
Location: Silver Falls Park: 221 W Main Street, Crosbyton, Texas
According to the city of Crosbyton, travelers have been recorded as visiting the Silver Falls since the 1800s. Now Silver Falls Park is one of the state's largest roadside parks.
Visitors are welcome to hike, backpack or picnic near the falls (with no mention of swimming).
HIDALGO FALLS
Location: Navasota, Texas
The land around Hidalgo Falls is privately owned by the Texas Rivers Protection Association. Access to the waterfall area is permitted for kayakers or canoers who are TRPA certified, but is not open to the general public.
Paddlers can receive certification via TRPA membership and be renewed with their certification yearly through the organization. See more information on the TRPA website.
LINK FALLS AT BULL CREEK
Location: 7872 TX-360 Loop, Austin, Texas
The full Bull Creek Trail is 4.5 miles and relatively easy (a 2 out of 5 stars for difficulty). Before reaching the falls, there is a swimming hole area by the Bull Creek trailhead, while the falls themselves are actually separate waterfalls found along the trail.
The site suggests that the Main Falls area is the best for swimming or wading, compared to the other falls along the Bull Creek Trail.
MORE INFORMATION FOR YOUR TRIP TO TEXAS
WHERE TO STAY IN TEXAS
Follow us here: Facebook | Twitter | Instagram | Pinterest | YouTube | MSN | TripAdvisor | Flipboard
All articles belong to 365 Atlanta Family LLC, and all photos belong to us as well, unless otherwise noted. It's all copyrighted. Please don't repost anything elsewhere without asking me first. All rights reserved. This site uses cookies to enhance your experience.
We make no guarantees of any price listed on our site. We are not responsible for content on external web sites linked from ours, including linked resources, an external blog post, any partner site, hotel property sites, or affiliate sites. We only write about places we love in an attempt to help you in your adventures, but we can't guarantee you will love them, too.
Posts may contain affiliate links at no cost to you. Several of our trips are also compensated by the respective tourism boards for the city or state we are visiting. This never impacts how we share the destination with you – opinions are always our own and we pride ourselves on that. We do not sell links or accept unsolicited guest posts under any circumstances. Don't even ask.
United States Copyright, 365 Atlanta Family, LLC
View our Privacy Policy | Subscribe to our Newsletter | Contact Site Owner | View Terms & Conditions | About Us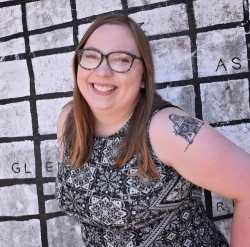 Latest posts by Amanda Finn, Staff Writer
(see all)