For an unexpected foray into Germany's Bavaria Region coupled with classic small-town America, plan a trip to Frankenmuth, Michigan. Despite having only a few thousand residents, Frankenmuth's themed restaurants, lodging and shops draw road trippers from around the state and the country.
Little Bavaria, as it is colloquially known, also has a lot to offer beyond its proud German heritage. Kid-friendly attractions meet artisan beer and wine, diversifying your experience and making sure the whole family is satisfied by this eastern Michigan enclave. Tour the town center and neighboring streets on foot, by horse-drawn carriage, or even via the Cass River, as locals explain Frankenmuth's longevity and devotion to its cultural roots.
Ready to learn more? Here are 17 things to do in Frankenmuth, Michigan that you don't want to miss!
TAKE THE PEDALE TROLLEY THROUGH LITTLE BAVARIA
For a two hour tour powered by you and a couple of friends, take a seat on Frankenmuth's PedAle Trolley and cruise through Little Bavaria at a cyclist's pace. Seated around a bar counter, you and your group can pedal at your own pace, stopping at shops, restaurants and bars along the way. City sightseeing and bar-hopping tours are available, or you can work with your driver to plan out a customized route to fit your interests.
The trolley bike seats up to 16 riders, and you can choose to have an on-board bartender to serve refreshments to you and your crew throughout the tour. Unobstructed by windshields or windows, you'll have a firsthand view as you pedal through Frankenmuth; once you get used to the motion, you'll feel like you just took a seat at your favorite bar.
PedAle Trolley tours can be booked in advance online.
SHOP BRONNER'S CHRISTMAS WONDERLAND
If you're going shopping in Frankenmuth, you have to make a stop at Bronner's. Open year-round, Bronner's Christmas Wonderland will have you scouring its shelves until you stumble upon the perfect keepsake.
As the world's largest Christmas store, Bronner's stocks classic holiday items including ornaments, stockings, trees, and miles of Christmas lights. With a particularly robust ornament selection, the store offers original designs, along with personalized, hand- painted items.
Outdoor decorations, home decor items, American-made products and more make Bronner's more than a novelty destination; while Christmas is front and center, many items in the store can double as gifts and one-of-a-kind souvenirs.
Open since 1945, Bronner's is as historic as it is memorable; you can easily spend an entire morning or more wandering its colorful aisles. A visit here is one of the best things to do in Frankenmuth. The emporium is located just south of town, off of Highway 83.
TEE UP OR COOL DOWN AT BAVARIAN INN LODGE
Overlooking the Cass River, the Bavarian Inn Lodge offers a comfortable stay for the whole family. The themed lodge continues your Bavarian adventure after a day spent exploring, while the hotel's restaurant treats guests to home-style meals a short walk away from your room or family suite.
Along with an indoor water park, the lodge is also home to the only Bavarian-themed indoor 18-hole mini-golf course outside Bavaria itself. The inn's Family Fun Center, complete with a mega arcade and cafe hosting nightly kids' events, is an easy way to spend a rainy day or cozy afternoon.
The Bavarian Inn Lodge takes your Frankenmuth experience far beyond the themed guest rooms and decor, making sure you and your family have plenty to do both within the resort and while out in town. Before settling on a room, check out the hotel's ongoing packages and specials to make sure you get the best out of your booking.
The lodge is located just north of Holz- Brucke Wooden Bridge, meaning you can easily reach downtown's shops and restaurants on foot.
CHOW DOWN AT THE BAVARIAN INN RESTAURANT
Located just across the river from the Bavarian Inn Lodge, the Bavarian Inn Restaurant is your go-to for filling, home-style dining in the center of Frankenmuth. Known for home-cooked chicken dinners, the restaurant has been serving the town since 1888.
All-you-can-eat dinners join familiar classics and authentic German specialties on the restaurant menu, which includes lunch, dinner, dessert, and vegetarian and kids' options. Meals are made with Michigan-sourced produce, and guests can also choose from a selection of beers and other drinks.
The restaurant hosts live music and other events, so keep an eye on the calendar throughout your time in Frankenmuth.
TAKE THE BAVARIAN BELLE RIVERBOAT
A cruise on the family-operated Bavarian Belle is a special way to learn about Frankenmuth's history while admiring its picturesque banks from the deck of a restored riverboat. With an open-air, covered deck and an indoor seating area for passengers, the Belle offers hour-long tours traveling the Cass River and operates seasonally from May to October. Off-season trips may be scheduled by calling the company in advance.
As you sit back onboard, your guide will tell the town's stories and point out sights along the way. The Bavarian Belle leaves from the Frankenmuth River Place Shops, where you'll also find the ticket kiosk. Tour schedules can be found online.
PICK UP STAPLES AT FRANKENMUTH CHEESE HAUS
Frankenmuth Cheese Haus is a must-stop on any walk down Main Street, especially if you're looking for local delicacies that will last you long after you leave town. Along with classic cheeses, the shop sells products in a variety of styles from around Europe, as well as curds, string cheese, spreads and aged products.
Along with snacks and meats, the store also has a specialty food section featuring local condiments, and Bavarian Inn products and spices. The Cheese Haus brand offers chunks of house-made Chocolate Cheese, apparel and gift boxes so you can bring a slice of Frankenmuth back to your loved ones.
Gift options include hand-selected sets, kitchenware and everything you need to become a true cheese connoisseur.
EXPLORE ON A HORSE DRAWN CARRIAGE RIDE
Discovering Frankenmuth from a horse-drawn carriage brings you a step closer to Bavaria's bygone eras, in the heart of Michigan. Both the New Frankenmuth and Fantasy Carriage Companies offer timed rides through town, focusing on attractions along the way. See the town's covered bridge, Main Street, and riverfront on a historic tour.
As the patter of hooves accompanies your guide's narrative, take in the sights from the comfort of a beautifully maintained coach. Both companies are headquartered on the south end of Main Street; take a carriage ride to get to know the town's small streets before touring it on foot.
TOUR AND TASTE AT ST JULIAN WINERY
Widely known thanks to its many locations throughout Michigan, St. Julian Winery was founded by an Italian entrepreneur who opened his first winery in the 1920's. After moving to Michigan a decade later, St. Julian Winery has remained a family-owned business with over a century of experience in the industry.
Committed to using local produce in its process, the winery has become an acclaimed recipient of multiple industry awards and expanded its production library to spirits and ciders alongside wines.
St. Julian's Frankenmuth location includes a store and wine tasting room where you can sample from a carefully selected menu. Choices include wine or cider served in a glass, slushies and cocktails featuring house-made rum vodka and more.
The winery hosts a number of events at its locations throughout the state, so keep an eye out for a special night in Frankenmuth. After discovering the flavor that speaks to you during your tasting, bring back a bottle to give to a friend or enjoy back home.
TOUR MICHIGAN'S OLDEST BREWERY
As the oldest microbrewery in the United States, Frankenmuth Brewery has been standing in the same spot overlooking the Cass River since its construction in 1862. These days, you can still sip a glass of Frankenmuth's best surrounded by history — and the brand's memorable Frankie the Dachshund logo.
With over 20 draft beers on tap, and a rotating selection and list of craft brews, the menu offers every style and flavor profile, and a taproom to enjoy it all in.
The brewery restaurant offers classic bites to go with your drinks, making for an easy dinner destination. Wine lovers will enjoy the brewery's seasonally updated Doxie Wein list, which features a variety of wines made from Michigan grapes.
Frankenmuth Brewery is a true pioneer of America's craft beer movement, and a pinnacle of Frankenmuth history on the banks of the Cass.
STUDY MICHIGAN'S GERMAN HISTORY
For an in-depth look at regional history, visit the Frankenmuth Historical Museum, located adjacent to the town Visitor Center on South Main Street. Housed in an intimate space that hides eleven galleries, your path through the museum begins in 1845 and traces the town's progress until the present day.
Displays and a collection of local artifacts share the stories of German settlers, famous residents and daily life in early Frankenmuth. Guided tours and all-access tours are available; seasonal tour schedules can be found online.
The museum also entails the Wolkensdorfer Log House, which is an original log home preserved to highlight local architecture and host public programming. Starting your visit to Frankenmuth with an afternoon spent at the museum will clue you into the town's intricacies and curiosities from the get go.
DON'T SKIP THE (NON-GERMAN) CHICKEN DINNERS
Along with plenty of German dishes, Frankenmuth is also home to world-famous chicken dinners, served at Zehdner's restaurant. Having won the 2020 James Beard America's Classics Award, a prize that honors the best takes on classic meals across the country, Zehdner's is built on nearly 100 years of culinary tradition.
Family-style chicken dinners are the main attraction, with appetizers, decadent main courses and desserts rounding out the menu. Visit on a Friday to catch Friday Night Flights, a weekly evening of live music, craft beer and letting loose hosted at Zehnder's Tap Room.
While bratwurst and pilsner are sure to define your Frankenmuth dining experience, don't miss your chance to try award-winning American fare at a town mainstay.
HONOR VETERANS AT HEROES MUSEUM
Located just south of Downtown Frankenmuth, the Michigan Heroes Veterans Museum has been honoring the state's servicemen and women since 1987. With honor and respect as dual goals, the institution preserves Michigan residents' stories, sharing them with locals and visitors from out of state.
More than 140 displays join extensive collections of artifacts and Medals of Honor. Uniforms, artworks, photographs and film footage are all featured as a method of documenting the state's role in military history. The museum is an ideal indoor destination for anyone looking for local stories as seen through a national perspective.
SAIL WITH FRANKENMUTH FUNSHIPS
Sailing the Cass River with Frankenmuth Funships allows you to take a tour of town from the water, watching the banks roll by while your captain narrates the journey. The hour-long Wine & Chocolate River Tour includes five wine samples, five artisan chocolates, and a glass of a wine of your choice, all aboard a quiet electric boat. The company's regular one hour and 30 minute river tours offer snacks and drinks available for purchase.
All tours are kid-friendly, meaning you can be accompanied by your whole crew. The company's storefront, located along South Main Street, takes the tour experience onto dry land, offering wine and chocolate tastings all year, any day of the week.
If you find that you just can't get enough of the Cass, FunShips offers kayak rentals by the hour. Book in advance to secure your spot on a specific tour.
BRING THE KIDS
As a family- friendly destination, Frankenmuth considers the little ones as much as it does the adults. There are a number of exciting attractions in and just outside of town that children will love for their originality and 'wow' factor.
GRANDPA TINY'S FARM
Grandpa Tiny's Farm, located just across the street from Bronner's Christmas Wonderland, is the oldest farm in the area. Celebrating its heritage with a series of public festivals and events throughout the year, the farm can be visited any day it is open, though you might want to have your visit coincide with a festival for double the fun.
A working farm to this day, Grandpa Tiny's has a Petting Barn, Coop, on-site farming museum, workshop, granary and corn-box play area.
The whole town looks forward to summer's Frankenmuth Flower Festival and the holiday-themed Santa's Reindeer Farm, both of which take place at Grandpa Tiny's. Smaller events are sprinkled in between, so be sure to check the calendar to make sure you're not missing out. Admission tickets can be purchased as you arrive at the farm.
FRANKENMUTH AERIAL PARK
Thrill-seekers of all ages will get a kick out of Frankenmuth Aerial Park's all-level adventure courses, where coming out of your comfort zone is your ticket to an unforgettable play experience.
Whether you're braving the ropes or the zip lines, your visit will be tailored to your skill level, both challenging you and keeping you safe at the same time. Zooming through the towering branches will transport you to a world where the whole forest is your treehouse and your playground.
Hours vary based on spring, summer and fall seasons, so be sure to check opening schedules before planning a visit.
If you have some busy days planned but still want to experience the aerial park as the sun goes down, you can book a twilight ticket at a discounted rate. Special Glow Night tickets are also available, along with group and standard admission. The park is open to all adventurers seven years old and older, and most visits entail a 15-minute training session along with 2-3 hours of exploring the courses.
WEISS CENTENNIAL FARM
Located a short drive west of Frankenmuth, Weiss Centennial Farm is a working dairy farm specializing in fresh, sustainably produced milk.
Open to curious visitors, the farm offers tours and classes that introduce you to the various figures and spaces that make Weiss Centennial unique. Baking and cooking-themed adventures focus on New Old World Foods, Pretzels, Chocolate and more; classes are added throughout the year.
Ring in the Christmas season with a Gingerbread Haus creating class or learn about the chores that go into maintaining a farm with a public dairy farm tour. Weiss Centennial also hosts Frankenmuth's Fall Corn Maze, featuring five acres of tall corn for visitors to explore and a treasure hunt to solve as you maneuver the maze's nooks and crannies.
Visits must be scheduled in advance, and you can book a time and date by contacting the farm by phone.
WILDERNESS TRAILS ZOO
Home to over 200 animals, the Wilderness Trails Zoo is a short drive south of Frankenmuth and an exciting destination for the youngest animal lovers. The zoo includes a Petting Area, Parakeet Encounter space, Reptile Sanctuary and Feed Stations, meaning you can interact with the animals, as well as admire them from afar.
The Rainforest Experience section takes guests on a walk through one of the world's most diverse ecosystems, before you go on to feeding more familiar animals like goats and deer.
A gift shop, picnic pavilion and picnic area invite you to have lunch at the zoo and pick up mementos before you drive back to town. If you're in the area to celebrate someone's special day, the zoo offers Birthday Party Specials to enhance your experience.
MORE INFORMATION FOR YOUR TRIP TO MICHIGAN
WHERE TO STAY IN FRANKENMUTH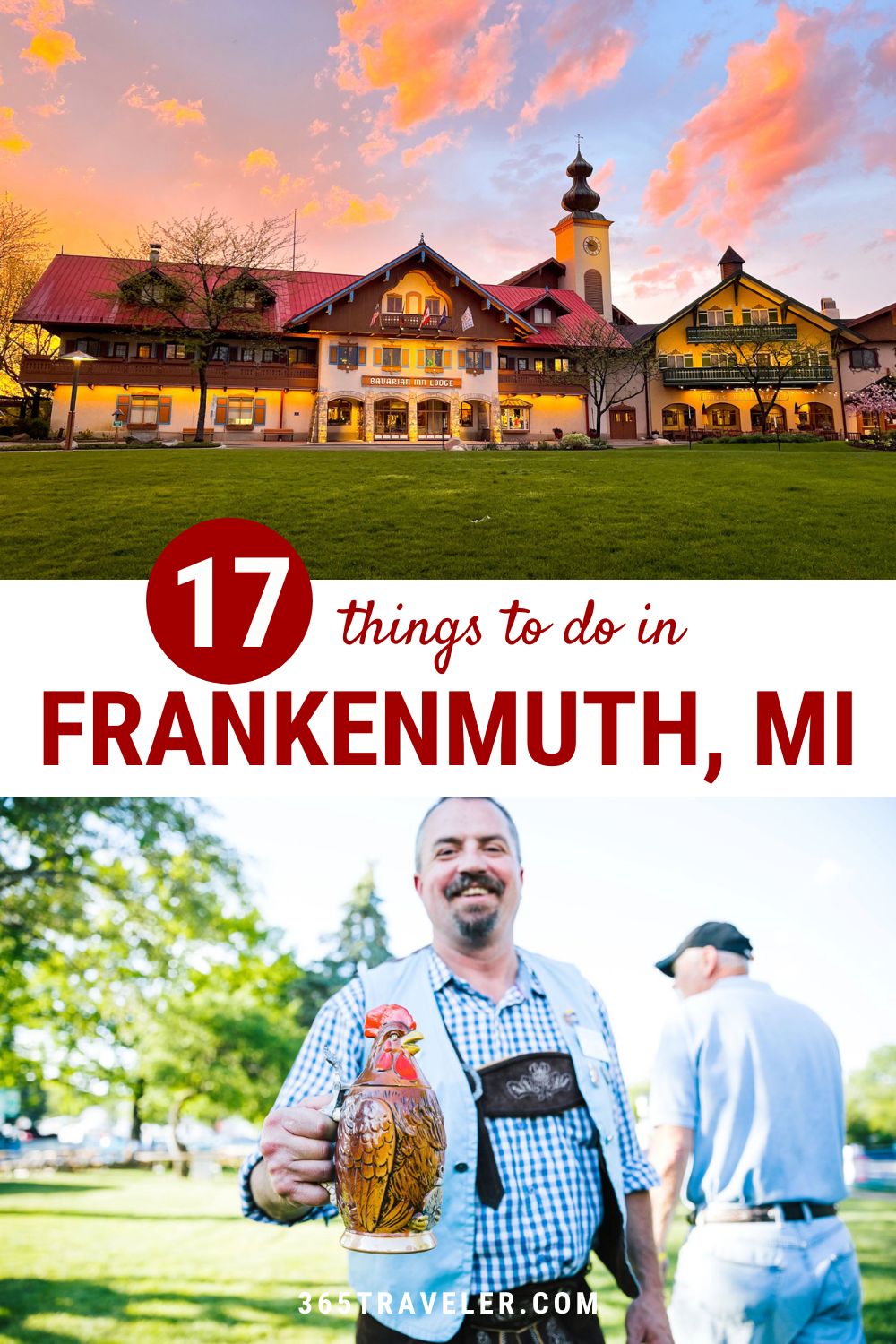 Follow us here: Facebook | Twitter | Instagram | Pinterest | YouTube | MSN | TripAdvisor | Flipboard
All articles belong to 365 Atlanta Family LLC, and all photos belong to us as well, unless otherwise noted. It's all copyrighted. Please don't repost anything elsewhere without asking me first. All rights reserved. This site uses cookies to enhance your experience.
We make no guarantees of any price listed on our site. We are not responsible for content on external web sites linked from ours, including linked resources, an external blog post, any partner site, hotel property sites, or affiliate sites. We only write about places we love in an attempt to help you in your adventures, but we can't guarantee you will love them, too.
Posts may contain affiliate links at no cost to you. Several of our trips are also compensated by the respective tourism boards for the city or state we are visiting. This never impacts how we share the destination with you – opinions are always our own and we pride ourselves on that. We do not sell links or accept unsolicited guest posts under any circumstances. Don't even ask.
United States Copyright, 365 Atlanta Family, LLC
View our Privacy Policy | Subscribe to our Newsletter | Contact Site Owner | View Terms & Conditions | About Us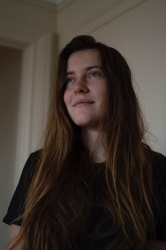 Latest posts by Anita Maksimiuk, Staff Writer
(see all)