With its rugged coastline and charming city life, Portland, Maine offers pure beauty for all to enjoy. From trendy breweries to wild mystery, you'll find something unique and special on your vacation. Whether you bike for miles upon miles or wander down to the sandy shores, Portland's landscape is like no other.
Go sunbathing on a warm summer's day, where you can escape the busy crowds, or find boutique shops and alfresco dining along the thriving neighborhoods of Portland. Be spoiled for choice and enjoy the simplicity of Maine living. Explore mountains, lakes or oceans and discover why locals love it and tourists keep coming back for more.
Eat plenty of lobster, enjoy outdoor living and create memories. Here are 20 things to do in Portland Maine that you and your crew are going to love.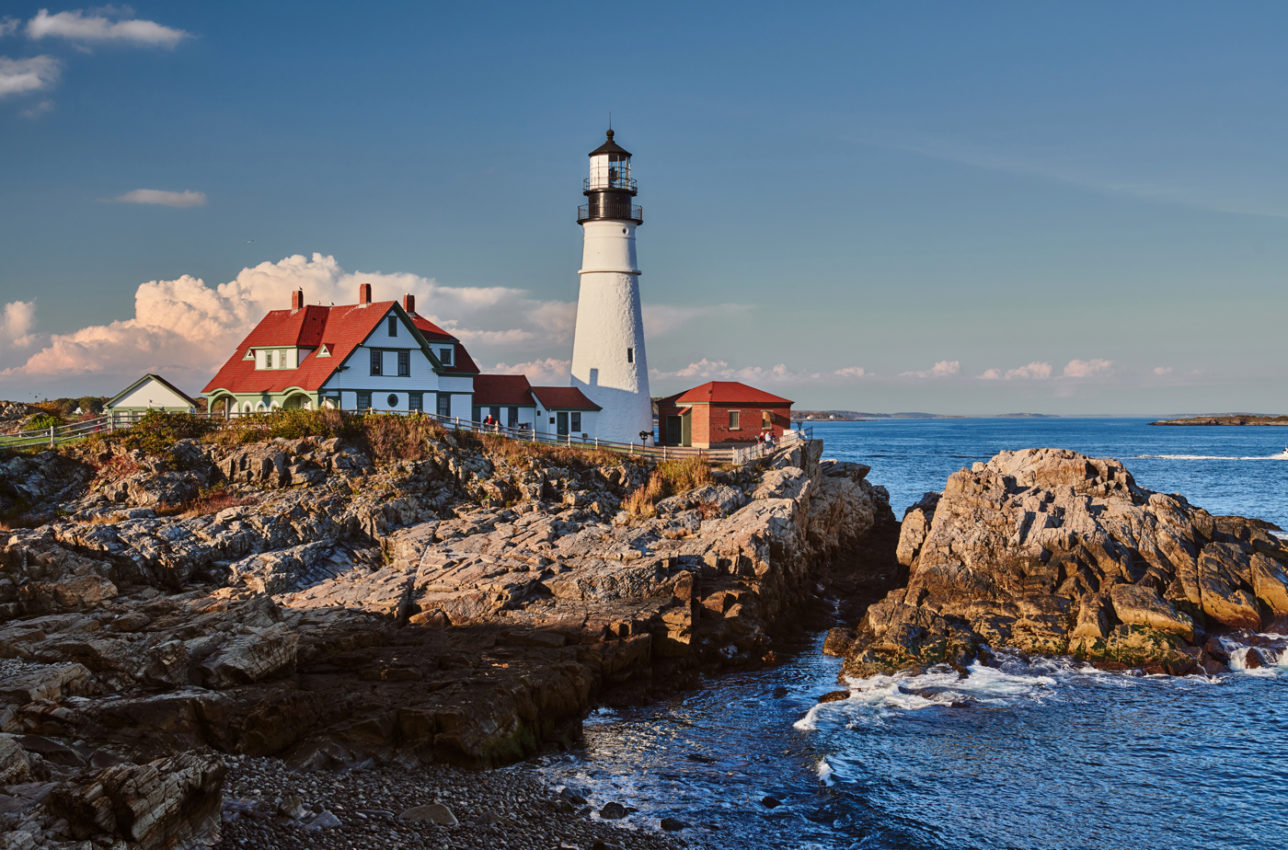 PORTLAND HEAD LIGHT
Visit the oldest lighthouse in Maine, for an iconic view overlooking the Gulf of Maine. This functioning lighthouse was built in 1791, and still aids sailors and seamen throughout New England today.
With stunning and captivating views, Portland Head Light is a beautiful lighthouse offering dramatic coastline and picturesque charm. While tours are not always available to the public, feel free to walk the grounds, climb the stairs, see the sights, watch boats on the horizon or enjoy a picnic overlooking a historic light.
Portland Head Light is situated within Fort Williams Park and gives you endless activities to choose from. Walk the shores, jump from rock to rock, or watch the stunning sunrise or sunset.
Read more: Beautiful Lighthouses in Maine to Visit, from Portland to the Canadian Border
PORTLAND MUSEUM OF ART
Portland is bursting with creativity, arts, and culture and it can't wait to inspire you. While the Portland Museum of Art is the largest and oldest art museum in the state of Maine, it truly offers guests a great outlook on World Art.
With an extensive permanent collection of American, Contemporary and European Art, see the world through a new curated lens. At the PMA, you'll find work from local artists, visions, experience and community placed all-round the exhibits. Staying true to their mission of "Art for All", come visit and see where art will take you in your lifetime!
Tip: On Fridays from 4pm- 8pm, the museum offers free admission to the public.
CHILDREN'S MUSEUM & THEATRE OF MAINE
Calling all brainiacs! Watch as children ponder their thoughts, react to new things and lead activities in an interactive and immersive museum. With the science of play, research activities, and hands-on exploration being the core elements of success at this museum, children will have every opportunity to show their true potential.
At the Children's Museum & Theatre of Maine you'll find exceptional STEM exhibits, a brand new theater and a community focusing on education and growth. All exhibits provide a hands on experience for its visitors, by allowing children to test new theories, take risks and explore in new environments.
Whether you play indoors, or discover the outdoor world, it's time to propel children's development and growth and get them excited to experiment with new ideas!
BUG LIGHT
Take a scenic drive out of Portland and come across a stunning little lighthouse at Bug Light Park. From a casual morning stroll to an evening jog, look out onto Portland Harbor and have an impressive look at Portland!
Otherwise known as Portland Breakwater Light, Bug Light allows its visitors to walk around its small but mighty structure and take in gorgeous panoramic views. It was originally constructed to mark the end of the rocky breakwater for the harbor, and today it still flashes white every four seconds. See the waters of Casco Bay and appreciate the rugged coastline that makes up Portland.
Tip: Go early to avoid crowds and catch a glimpse of a bright and vibrant sunrise. A visit here is one of the best things to do in Portland Maine.
PEAKS ISLAND
Plan your trip to the best holiday spot in all of Maine! Peaks Island is accessible by ferry only and offers a lovely paradise away from the crowds and city. Whether you go for long walks, go biking or take on the water by kayaks, experience a quiet escape on this picturesque island.
Are you looking for a quirky and unique museum? Then head over to the Umbrella Cover Museum. This small yet extremely fun museum has umbrella covers from all over the world, and offers lots of jokes and stories too.
While you'll have plenty to see and do when exploring the island, get around in style by renting a golf cart. From discovering lighthouses, old bunkers to shopping in boutique local shops, personalize your Peaks Island holiday to best suit your desires.
MACKWORTH ISLAND
Take time to visit Mackworth Island, one of the Casco Bay islands. With legends of fairies and other magical creatures throughout the island, all it takes is a short walk in the forest to see if the stories are true.
Admire scenic views with multiple walking paths that look out onto the bay or within beautiful woodlands. Stop for a quick visit at the Fairy Village, where you can create your own wood and metal house and place it around the island for fairies to find and future visitors to appreciate!
This quirky and unusual island is great fun for children, but it also has a bird sanctuary and the Baxter School of the Deaf that need to be seen. I highly recommend visiting between dusk and dawn for a lovely day.
PORTLAND OBSERVATORY
Portland is filled with original and interesting buildings of the past and you can easily see them! One cool and fascinating site is the Portland Observatory, which is an old-fashioned signal tower. This also happens to be the last signal tower of its kind in America, so soak it up while you still can!
Nowadays, this great building is used as a maritime museum, where guests can learn about Portland's history and heritage. See how the observation tower helped ships reach the wharf in the 19th and 20th century and why this was so important.
Be prepared to climb the 86 foot tower and appreciate beautiful views of Portland and the water. In my opinion, this is one of the best views of the city and if you get the chance to see it on a clear day, definitely stop off at the Observatory Tower! It's opened seasonally.
COASTAL MAINE BOTANICAL GARDENS
If you're looking for a mini road trip while in Maine, think about heading an hour north from Portland and visit the Coastal Maine Botanical Gardens! Not only is this a top attraction in Maine, but also all of New England, as the gardens sit upon miles of land, with forests, ponds, bright blooms, lush bushes and a gorgeous butterfly house.
Feel inner tranquility and peace within moments of stepping foot into the gardens and head out on a lovely boat tour for a new perspective of life through Coastal Maine Gardens. From the Dahlia Garden to permanent sculptures and the native bee exhibit, take your time and wander through miles of striking scenery.
Feel your five senses in the Lerner Garden, and make sure to look for creatures in the forest that will take you through different ecosystems and conservation practices. Come for an afternoon and leave feeling recharged from nature and be ready for more of Maine traveling!
PORTLAND ARTS DISTRICT
Let creativity and the wonderful world of art prosper throughout Portland's Arts District. With numerous art galleries stretching from Congress Street to the West End, see world class galleries, working artist studios, museums and art stalls flood the streets. Set within the arts district, is the Maine College of Art, where you can often find installations and creative individuals.
Whether you're looking for new artwork to take home with you, or you generally love the arts and the community who follows it, Portland's art district is beaming with vision and inspiration. From paintings, ceramics, photography and much more, find your niche or fall for a new art form here.
If you happen to be in town on the first Friday of every month in Portland, head to the arts district for First Friday Art Walk. From 5:00 p.m. to 8:00 p.m., locals, tourists and art lovers take part in a self-guided tour through the art district's impressive galleries and shops. If you're at all curious about life in Portland, its culture, society and community, I highly recommend coming here.
THE ALLAGASH BREWERY
Portland loves beer! If there is one thing you'll find out quickly about Portland, it's that it loves craft beers and breweries. With plenty to choose from, I recommend going to the "Godfather" of all Portland breweries — Allagash.
One could say that that craft beer movement and scene was created by Allagash and its creator Rob Tod. Whether you're a fan of the country wide favorite Allagash White, or are looking to try something completely different, a quick stop here is worth it. With a lengthy tap list, cool outdoor area and fun community, this needs to be included on your brewery list.
Tip: Allagash has a food truck available for those who get a little hungry while tasting flights. "Bite into Maine" offers a great lobster roll and snacks that I highly suggest trying!
HISTORIC VICTORIA MANSION
With beautiful architecture and simply stunning interiors, Victoria Mansion is a cultural and historic landmark that must be seen to be believed. During guided tours, you'll learn about the Morse Libby House and its design from pre-Civil War days in America.
Take a moment to admire the grand staircase, while wandering through the impressive and stunning home. With original interiors and artifacts, learn its story and how this has become an important mansion, not only in Portland, but the whole United States.
Tip: I highly suggest making reservations, as it can be quite busy in the summer and during holidays.
COMMERCIAL STREET
Take a stroll on the water's edge and take in the boats, salty air and bustling streets all around you. With eccentric shops, exciting bars and delicious restaurants aligned with the wharf, welcome to a great tourist attraction and happening spot in Portland.
Commercial Street couldn't be a better location, surrounded by the water and docks, lively fisherman and historic buildings. Eat fresh seafood, grab a lobster roll to go, and take in the charm of this amazing city on the water.
Have a taste of New England living on this fun and eclectic street. Within a beautiful setting and friendly local community, walk cobblestone streets, support local shops and pick up some souvenirs to take home!
OLD PORT
People from around the world flock to Old Port to see gorgeous cobblestone streets, wharves, and pretty boutiques. With quirky art galleries, exquisite restaurants and fun beer gardens, you'll find fun and joy on every corner. Wander from shop to shop and experience what life in Maine is really about!
It's hip, it's vibey and most of all, it's cool. Sit back and people watch as people stroll the streets, looking over Casco Bay and viewing the boats in the harbor. Old Port could be defined as the center of Portland, and with its quintessential charm, historic buildings, and outstanding food scene, it is definitely worth a trip.
Tip: To avoid busy crowds and packed streets, avoid going in the summer peak season. September is truly a beautiful month to visit with much less people.
FORE RIVER SANCTUARY
Stop off at Jewell Falls, and see the only natural waterfall in Portland, at Fore River Sanctuary. With its jagged wonder and stunning landscape, spend a day in Maine's natural untouched environment.
While Portland is a smaller city, it is still nice to get out and enjoy a day in nature with fresh air, wild animals and a bit of peace and quiet. Listen to the birds sing, and hear the sloshing of water and the leaves whistling in the wind. With plenty of trails to choose from, pick something that agrees with your experience level.
If you are looking for a wild landscape with rocky conditions, then this is the Portland park for you. See things in its original form, with the help of a few modern twists.
Tip: Wear comfortable walking shoes and bring lots of water.
HARBOR FISH MARKET
From fresh seafood to a vibrant atmosphere with a large community of educated fisherman, let all your seafood dreams come true at Harbor Fish Market! If you don't already have a local fisherman to get all your goods, this market is what you need.
Whether you're in the market for fish, oysters, lobsters or anything else to do with the sea, it will all be wonderful and fairly priced. Pick up dinner for the family and take it back for a lobster bake from this local community owned business that has been around for over 50 years!
Dare I say, you'll find the freshest fish in all of Maine!
PORTLAND SCHOONER CO
See Portland from the water on board one of three historic Schooners with Portland Schooner Co. Cruise on Casco Bay and take in the salty air, splendid scenery and great company. The fantastic windjammers can hold up to 45 guests, where you can relax on calm seas.
Learn and discover cool spots and attractions from the sailing crew, or pick up a new sailing skill that you can tank on your next schooner tour. Get the chance to steer the boat and relax with a nice cold drink among family and friends.
Tip: If you are prone to seasickness, you will probably be absolutely fine since this is on quiet waters. However, I would recommend purchasing a seasickness band. You can never be too careful!
LUCKY CATCH CRUISES
Become a Maine Lobsterman with Lucky Catch Cruises. Get lobstering with a small group of people and try your hand at catching some lobsters. Be prepared to get a little wet, become fully involved, and get your hands dirty while on the search for impressive Maine lobster!
Watch as guides and real-time lobstermen show what it's like to go out every day and reel in lobsters. Learn about the right spots, the lobster requirements, how to check a trap and daily routines. Maybe, if you're lucky, you'll get a family recipe for a lobster roll! This fantastic boat tour gives you great insight on the lobster industry, the people within it, and the life or some Mainers.
After a lobster catching experience, head to Eventide Oyster Company, Becky's Diner, or Portland Lobster Company for a lobster roll with family and friends. Rehash the day on the water and enjoy good food and nice cold drink. Try a Maine delicacy on your vacation!
DEERING OAKS PARK
Are you ready for an eventful summer at Deering Oaks Park? From casual walking trails, to thrilling playgrounds, come for a day at the park with family and friends and enjoy the great outdoors of Portland. This park is filled with fun from the moment you walk in, and every day offers something new.
Be prepared for farmers markets throughout the summer, Friday night movie nights and guided nature walks for sunrise. This isn't a regular park, it's a cool park! Whether you choose to play a quick game of tennis or let children run wild at the splash pond, take some time off of the busy city streets.
Deering Oaks offers you endless activities of choice within its 55 acres. Bring a picnic or a lobster roll and enjoy it in the park under blue skies, lush grass and great company!
THE WADSWORTH-LONGFELLOW HOUSE
The Wadsworth-Longfellow House in downtown Portland is a must-visit for history buffs. This structure was the home to four generations of the Wadsworth and Longfellow families, including poet Henry Wadsworth Longfellow.
Completed in 1786, the home was the first wholly brick building in Portland. This important architectural artifact is now listed on the National Register of Historic Places.
The home is almost completely furnished with original items that belonged to the Wadsworth and Longfellow families. Tour the home from June-October, and make sure to tour the Longfellow Garden on the property, too.
MAINE NARROW GAUGE RAILROAD & MUSEUM
All aboard! Take a ride on the Maine Narrow Gauge Railroad and enjoy scenic views of the waterfront along Casco Bay.
The 35-minute train rides take you along Portland's Eastern Promenade where you can enjoy amazing views from your comfortable seat. Afterwards, make sure to stop by the museum, where you'll find vintage train cars, kid-friendly activities, and fun exhibits.
In addition to their regular train service, they also host themed rides during the holidays. Open seasonally.
MORE INFORMATION FOR YOUR TRIP TO MAINE
WHERE TO STAY IN PORTLAND MAINE
Follow us here: Facebook | Twitter | Instagram | Pinterest | YouTube | MSN | TripAdvisor | Flipboard
All articles belong to 365 Atlanta Family LLC, and all photos belong to us as well, unless otherwise noted. It's all copyrighted. Please don't repost anything elsewhere without asking me first. All rights reserved. This site uses cookies to enhance your experience.
We make no guarantees of any price listed on our site. We are not responsible for content on external web sites linked from ours, including linked resources, an external blog post, any partner site, hotel property sites, or affiliate sites. We only write about places we love in an attempt to help you in your adventures, but we can't guarantee you will love them, too.
Posts may contain affiliate links at no cost to you. Several of our trips are also compensated by the respective tourism boards for the city or state we are visiting. This never impacts how we share the destination with you – opinions are always our own and we pride ourselves on that. We do not sell links or accept unsolicited guest posts under any circumstances. Don't even ask.
United States Copyright, 365 Atlanta Family, LLC
View our Privacy Policy | Subscribe to our Newsletter | Contact Site Owner | View Terms & Conditions | About Us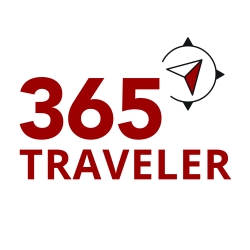 Latest posts by Beth Hoad, Staff Writer
(see all)