Dubuque, Iowa's location along the Mississippi River has earned it the nickname "Masterpiece on the Mississippi." In fact, Dubuque is known as the oldest city along the Mississippi. This Iowa town is filled with plenty of outdoor adventures, along with museums, breweries, family friendly activities, galleries, and more.
Who would have thought that such a small city would offer so much to do? Dubuque, Iowa is not only a historic city, but also full of fun activities for everyone in the family.
The city's scenic riverfront and grand architecture will take your breath away. So what are you waiting for? Add Dubuque, Iowa to your bucket list today! Here are 18 of the best things to do in Dubuque Iowa!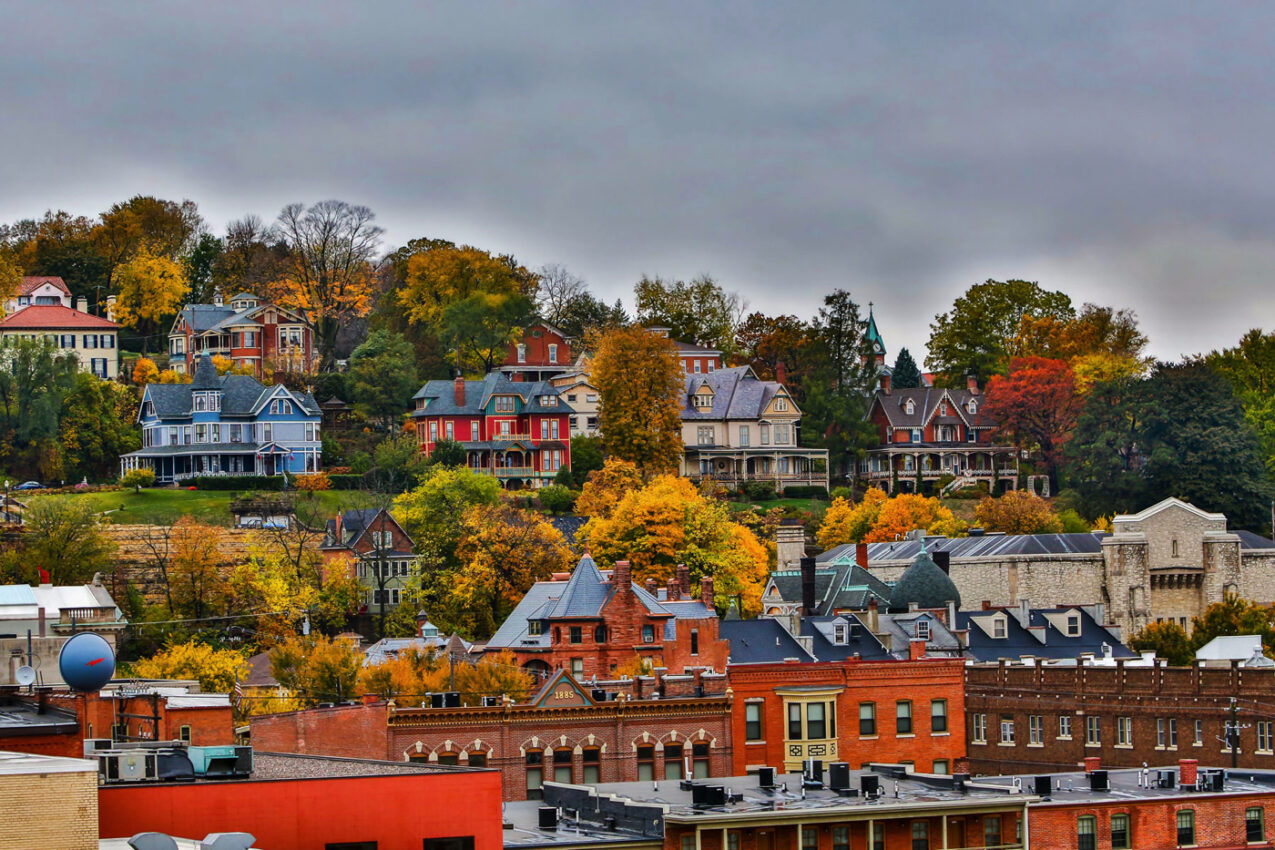 MINES OF SPAIN RECREATION AREA
The Mines of Spain Recreation Area is one of Dubuque's top attractions. This 1,439-acre state park is a great place to go if you love nature and wildlife.
In the past, residents used some parts of the park for animal grazing, cropping, mining, and logging. Today, the park is home to various wildlife, including bobcats, red-shouldered hawks, bald eagles, and flying squirrels.
You can explore the old trading posts and villages, check out the rock shelters that have been around for ages, and marvel at the 250-year-old oak trees on the prairie.
There's also an Interpretive Center and a monument dedicated to Julien Dubuque, the first European settler in the area. And if you're searching for some outdoor adventure, you can hike or ski along the 12 miles of trails through the limestone bluffs and forested lands.
JULIEN DUBUQUE MONUMENT
The Julien Dubuque Monument is located on a bluff inside the Mines of Spain Recreational Area and is a historic structure commemorating Julien Dubuque, the city's founder.
The monument is a popular tourist destination because of its historical significance and views. The monument area provides a broad vista of Illinois, the length of Dubuque, and the Mississippi River.
NATIONAL MISSISSIPPI RIVER MUSEUM AND AQUARIUM
Looking for a fun and educational attraction in Dubuque, IA? The National Mississippi River Museum and Aquarium is the place to visit!
This waterfront attraction comprises a history museum, science center, and state-of-the-art aquarium, all dedicated to celebrating the mighty Mississippi River.
You can explore two major campus centers at the museum that display different aspects of Mississippian life. Discover the natural wonders of the Gulf of Mexico, touch a stingray's back, or be fascinated by a 4D presentation while learning about riverboats on the great river.
After all the fun, you can recharge your batteries at River's Edge Café. With so much to see and do, the National Mississippi River Museum and Aquarium will surely be a hit with every family member.
DIAMOND JO CASINO
Looking for things to do in Dubuque at night? Boyd Gaming's Diamond Jo Casino is the perfect place to start. Try your luck at some slots or blackjack, or just enjoy a hearty, mouthwatering kitchen buffet.
This entertainment and casino complex has been operated and owned by Boyd Gaming since 2008, and offers a wide array of world-class entertainment. In addition to its energetic casino, Diamond Jo offers a variety of dishes in its various restaurants.
DUBUQUE ARBORETUM AND BOTANICAL GARDENS
The Dubuque Arboretum & Botanical Gardens is a work of love constantly changing. This 56-acre natural museum in Marshall Park is run and maintained solely by volunteers. Every time you visit the place, you will have a slightly different experience. Although there is a tiny park for children, the area is generally calm and tranquil.
The Dubuque Arboretum & Botanical Gardens consists of various themed gardens that merge and produce a vibrant mosaic of hues, scents, and views. Old garden roses, hybrids, miniature, and shrub roses are all on show at the Rose Garden, which has won awards for its displays. There is also a formal Japanese Garden and an even more formal English Garden.
While the Annual Gardens are beautiful with bursts of flowers, the Hosta Shade Garden offers an incredible display of 13,000 hostas in 900 different species.
The rare Bill Walter Dwarf Conifer and Hermsen Conifer Collections are worth checking out for those who love conifers. And don't forget to check out the charming Lagen-Buelow Gazebo!
Packard Pavilion Amphitheater hosts the events and festivities, and visitors may get assistance and information at visitors center. Whether you're a local or just passing through, the Dubuque Arboretum and Botanical Gardens is worth a visit.
CABLE CAR SQUARE
Looking for a unique spot to explore? Check out Cable Car Square! This lovely little pocket of the city is at the base of the Fourth Street Elevator (more below), along Bluff Street between Third and Fifth Streets.
The area is home to several distinctive stores, making it a great place to do some shopping or grab a bite to eat. The Square's unique appeal was previously under threat, but it has undergone a resurgence in recent years, thanks to Wayne Andrew NORMAN, Sr., and his seven partners, who founded the Cable Car Square.
FENELON PLACE ELEVATOR
If you're looking for an exciting attraction in Dubuque, IA, check out the Fenelon Place Elevator. Also known as the shortest and steepest scenic railroad in the world, this funicular train is a must-see for any visitor to Dubuque, thanks to J. K. Graves. This former state senator and mayor of Dubuque had to spend an hour a day crossing the bluffs between living on top of them and working below them, and he created this elevator so he could get a nap every day at lunchtime.
His time-saving device came in with a length of 296 feet, a 41-degree incline, and a vertical height of 189 feet. Its upper station is at 512 Fenelon Place, while its lower station is near Fourth Street's western terminus.
Riders will enjoy stunning birds-eye views of downtown Dubuque and the surrounding region throughout the journey from the lower to the upper station. And when the ride is over, you'll be greeted by sweeping views of Illinois, Wisconsin, and Iowa. A ride on the Fenelon Place Elevator is one of the best things to do in Dubuque Iowa!
DUBUQUE MUSEUM OF ART
The Dubuque Museum of Art is one of the city's most beloved attractions. Housed in its expansive collection are over 2,200 works of predominantly American art.
Highlights of the museum include a collection of Edward S. Curtis's Indian images, one of the world's significant Grant Wood collections, and several traveling exhibitions. The museum highly encourages school groups, group visits, and Boy Scout badge workshops because of its focus on arts education.
Kids can participate in summer and Saturday art camps, families can enjoy family-friendly matinees, and adults can take sketching, oil painting, and landscape painting lessons.
SKY TOURS AT YMCA UNION PARK CAMP
Sky Tours provides a two-hour guided ziplining trip, perfect for family outings, picnics, or team-building exercises with friends and coworkers on its nine zipline courses.
Each zipline provides a unique experience, and as a beginner zipliner, the first ones are shorter and closer to the ground to help you get comfortable.
As you switch between courses, the lines become more extended, quicker, and higher. A few famous zip lines include 'The Hawks Nest,' 'The Air Strike,' and 'The Dual.'
Among the activities on these courses are fun games, racing, and hiking. So if you're looking for an adrenaline-pumping good time, check out the Sky Tours at YMCA Union Park Camp!
SHOT TOWER
A must-see while in Dubuque is the Shot Tower. It is one of the few shot towers still standing in the United States, and is recognized as a National Historic Landmark.
Curious how shot towers work? Their purpose was to produce lead balls that were used as ammunition, especially during the Civil War. Water tubs are placed at the base, and the molten lead is poured from a great height. Balls are formed when the lead hits the water from such a considerable height.
EAGLE POINT PARK
Eagle Point Park is a 164-acre park that offers stunning views of the Mississippi River and the No. 11 Lock and Dam. You can also see three states from the park: Iowa, Illinois, and Wisconsin.
Eagle Point Park was established in 1908, and park superintendent Alfred Caldwell created most of the landscaping. Caldwell was a big fan of Frank Lloyd Wright's prairie style, and you can see elements of that style throughout the park. That includes the use of natural materials and structural designs. There's also a lot of craftsmanship on display.
While in the park, check out some of its standout features, like the Shiras Memorial Pavilion, the Riverfront Pavilion, the Veranda Rooms, and the Terrace Room. You won't be disappointed!
Add in around 1,200 events held annually in the park; there's always something new to see and do!
CRYSTAL LAKE CAVE
Nature took two million years to form the Crystal Lake Cave, and it's still doing so. The cave opened to the public in 1932 and consists of a network of passages and cave formations, like a stalactite named St. Peter's Dome, and a group of stalagmites on a stone shelf called the Cliff Dweller.
The cave was discovered in 1868 by lead miners, who were surprised to find an enormous underground cave instead of lead. Today, the cave is open to the public and features Anchorites, stunning flower-like white crystal clusters that hang from the cave's roof, as well as a small subterranean Crystal Lake. The cave descends 100 feet to its deepest point, making it a truly fascinating destination.
This is only a five-minute drive from Dubuque, making it the perfect activity to add to your list while in town. And if you're feeling adventurous, sign up for the Wild Cave Tour. This one-and-a-half-hour guided tour takes visitors through unknown and undiscovered pathways, giving you a whole new perspective of the cave.
SUNDOWN MOUNTAIN
Are you in town for the winter in Dubuque? Or maybe you're just looking for a great place to take a ski trip? Either way, you'll find that Dubuque is a year-round vacation location with some great skiing routes where the snow is deep and fluffy.
The skiing at Sundown Mountain is fantastic. There's no need to worry if you are a beginner, since there are professionals eager to teach you the fundamentals of skiing. If you wish to stay the night and ski in the morning, you may get a room at the lodge.
STONE CLIFF WINERY
The Stone Cliff Winery wine bar and tasting room are widely recognized as one of the city's best attractions. Both are located in the historic and beautifully restored Star Brewery Building.
The stunning aesthetics create a warm and welcoming environment, with vintage black and white images on the walls, exposed brickwork, original industrial pieces, and an ornate ceiling.
The lunch menu features paninis and salads to pair with their excellent wines from Stone Cliff's vineyard. The vineyard also hosts a murder mystery dinner once a month, a fun and popular entertainment that includes delicious cuisine and fine wines.
DUBUQUE WATER TRAIL
The Dubuque Water Trail is an 11-mile waterway that runs between the Mississippi River and Catfish Creek, and it's perfect for an afternoon of canoeing or kayaking. Along the way, you'll see some of Dubuque's most historic landmarks, including several buildings that date back to the city's early days.
You can visit the Dubuque Water Trail by boat or kayak. As you paddle downriver, you'll see remnants of the past along the shoreline. You may also visit tourist attractions, including Massey Marina Park and A.Y. McDonald Park.
Or, you can enjoy the peacefulness of being on the water and taking in the natural beauty of your surroundings. Either way, spending some time on the Dubuque Water Trail is a great way to experience all that Dubuque has to offer.
STAY AT GRAND HARBOR RESORT AND WATER PARK
Grand Harbor Resort and Water Park is a popular resort that offers a winning combination of service, amenities, and entertainment that families love. Plus, it's located by the Mississippi Riverfront and is close to some of Dubuque's best attractions, like the National Mississippi River Museum.
But the best part is that it has a waterpark, perfect for kids of all ages. In addition to the waterpark, other onsite amenities at Grand Harbor Resort and Water Park include an arcade, a fitness center, and a business center.
Moreover, they offer an airport shuttle, a complimentary breakfast, and onsite parking. With so much to offer, it's no wonder Grand Harbor Resort is one of the most popular places to stay in Dubuque.
FIELD OF DREAMS MOVIE SITE
While this isn't actually in Dubuque, it is only a short drive away and is perfect if you're looking for a place that embodies the heartland of America.
The Field of Dreams movie site means that baseball continues to be a beloved sport for people of all ages at the century-old family farm in Dyersville, Iowa, with its charming and instantly identifiable farm home.
Since its 1989 premiere, Field of Dreams has inspired countless people and been nominated for an Academy Award for "Best Picture" of the Year. The movie's iconic baseball field is now a popular venue for corporate and private events, such as weddings and nighttime ballgames.
The Field of Dreams House is open for tours every day from 10 am to 4 pm (closed on holidays), with a 30-minute live private tour that covers the museum.
NATIONAL FARM TOY MUSEUM
If you're a fan of farm toys, then you'll want to check out the National Farm Toy Museum while in Dyersville checking out the Field of Dreams. This facility features two levels of exhibitions focusing on different aspects of farm machinery.
And it's not just a museum — it's also home to the Ertl Company, TOMY Scale Models, and SpecCast. In fact, Dyersville has been nicknamed "The Farm Toy Capital of the World!"
Aside from hosting the Summer Farm Toy Show in June, and the magazine's National Farm Toy Show in November, the museum and Dyersville are also home to a rich culture.
MORE INFORMATION FOR YOUR TRIP TO IOWA
WHERE TO STAY IN DUBUQUE, IOWA
Follow us here: Facebook | Twitter | Instagram | Pinterest | YouTube | MSN | TripAdvisor | Flipboard
All articles belong to 365 Atlanta Family LLC, and all photos belong to us as well, unless otherwise noted. It's all copyrighted. Please don't repost anything elsewhere without asking me first. All rights reserved. This site uses cookies to enhance your experience.
We make no guarantees of any price listed on our site. We are not responsible for content on external web sites linked from ours, including linked resources, an external blog post, any partner site, hotel property sites, or affiliate sites. We only write about places we love in an attempt to help you in your adventures, but we can't guarantee you will love them, too.
Posts may contain affiliate links at no cost to you. Several of our trips are also compensated by the respective tourism boards for the city or state we are visiting. This never impacts how we share the destination with you – opinions are always our own and we pride ourselves on that. We do not sell links or accept unsolicited guest posts under any circumstances. Don't even ask.
United States Copyright, 365 Atlanta Family, LLC
View our Privacy Policy | Subscribe to our Newsletter | Contact Site Owner | View Terms & Conditions | About Us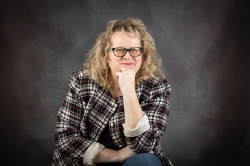 Latest posts by Dannelle Gay, Contributing Writer
(see all)