From its immense size, sheer beauty and grand stature, Niagara Falls offers captivating scenery that needs to be witnessed in person. Known as the oldest state park in America, Niagara is home to some of the most fantastic falls in the world. See the falls in a variety of ways, and be prepared to get a little wet.
Watch as the Lake Erie water plunges over 200 feet into Lake Ontario for a dramatic scene on the US/Canada border. With millions of visitors each year, a visit to Niagara Falls, New York is a must-do.
Here are 19 things to do in Niagara Falls NY that you're not going to want to miss.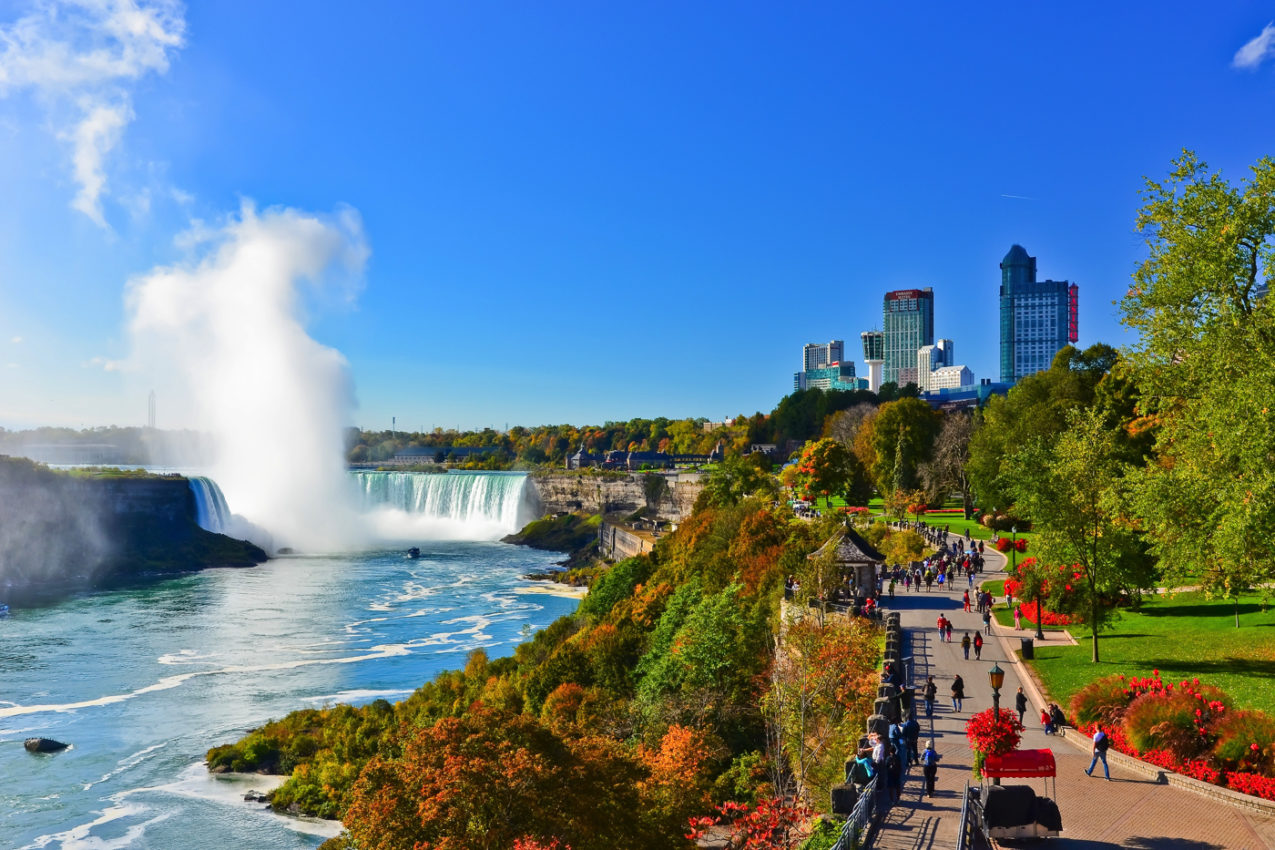 COOLEST PLACES TO STAY IN NIAGARA FALLS, NY
NIAGARA FALLS STATE PARK
Opened in 1885, Niagara Falls State Park is home to the Niagara River, three waterfalls and five islands. This impressive area is the oldest state park in New York, and in my opinion, the most impressive. Whether you view Bridal Veil Falls, American Falls, or Horseshoe Falls from land or sea, feel the power of water around you!
From biking, hiking and lots of picnic areas, enjoy this beautiful park with over 400 acres to explore. For those needing a break or looking to travel the park in style, use the Niagara Scenic Trolley to view the park's main attractions. This is a once in a lifetime experience, so get up close and see the spectacular wonder of the falls.
Tip: Horseshoe Falls is on the Canadian side of Niagara Falls, and highly suggest seeing it if you get the chance!
Read more: 10 of the BEST Waterfalls in the USA- Easy Hikes and Big Views
PROSPECT POINT OBSERVATION TOWER
With completely unobstructed views, head to the top of Niagara Falls for a dramatic and exciting view. The Prospect Point Observation Tower extends over Niagara Gorge and gives you an intense look into the raging water below. Peer over the edge of this architectural phenomena and look into a whole new world of mystery!
Looking for more adventure and thrill? Climb from the base of the falls to the Crow's Nest, where you'll encounter misty sprays and cool spits of air. For those interested in the wildlife, keep your eyes peeled for bald eagles, peregrine falcons and more. Get your cameras ready and start snapping!
Read more: Romance on a Niagara Falls Weekend Getaway
MAID OF THE MIST
Get ready to be soaked and feel the pressure of the falls, on a fantastic boat tour aboard the Maid of the Mist. Put on your poncho and welcome to the only boat service to unlock the wild and wonderful Niagara Falls. Head to the base of falls and be prepared to have a quick dip on this exceptional journey.
Start your journey at the observation deck before you get to the base of American Falls, which will take you on an adventure to Horseshoe Falls. This double decker boat will have you up close to strong white water, extreme rock formations and much more on your Niagara Gorge voyage.
CAVE OF THE WINDS
Get closer to Niagara Falls USA than you thought was ever possible while visiting Cave of the Winds, a daring and electrifying tour. Slip on your poncho, and follow the wooden paths and stairs to Hurricane Deck. Travel between American and Horseshoe Falls to see waters roar below you.
Listen to the noisy rapids of Bridal Veil Falls and take cover from the spray of brash water. Stay within meters of gushing water and deepen your connection within this rugged landscape. Please note that to enter Cave of the Winds, you must purchase timed-tickets directly at the attraction on Goat Island.
In my opinion, this is the best and most exhilarating way to see the falls!
AQUARIUM OF NIAGARA
Come to grips with the natural landscape and environment of Niagara Falls and learn about the wildlife in this picturesque area at the Aquarium of Niagara. From penguins to the tiniest of frogs, see this small yet impressive aquarium on your trip!
Hang out with seals, or spend the day with a trainer, at this great organization that holds conservation at the core of its beliefs. Learn about great aquatic wildlife, and enjoy a variety of interesting exhibits and shows when you stop by for a casual afternoon. This is a great activity for children and families looking to have an eventful and fun time in Niagara Falls, New York!
LUNA ISLAND
See two falls at once when you visit and explore Luna Island! Walk the very small island set right between American Falls and Bridal Veil Falls for spectacular views of the falls and Niagara River. Be within feet of the falls' extreme water, rugged edges, and intensive height at this great lookout point.
Luna Island is a great alternative to Cave of the Winds, especially if you're looking to save money. Be amongst the wild and ferocious water and experience first-hand the pure size and grace surrounding you!
OLD FORT NIAGARA
Walk the grounds of history and step back into one of the most important forts of the 18th century with a visit to Old Fort Niagara. With restored original buildings, exhibits, and lovely grounds, you'll get to understand the significance this fort had during the colonial wars.
During the summer and peak season, catch a live performance, demonstrating what life was once like back in the day, or join a guided tour to learn more about the Great Lakes. Check online for special events, reenactments and much more at this historic site.
NIAGARA GORGE RIM TRAIL
Running south to north along the top of the gorge sits a stunning trail that offers endless pleasure and fun for all its visitors — the Niagara Gorge Rim Trail. Start at the Trailhead Center and walk the six miles of trails to the Robert Moses Power Plant, enjoying impressive views and wildlife along the way.
With views of Whirlpool Gorge, see a naturally occurring whirlpool in the heart of Niagara. Watch as raging white rapids head into the Whirlpool State Park for an electrifying moment.
This moderate route gives you views of Bridal Veil Falls and Niagara Park on the Canadian side. Parts of the trail are accessible for bikes.
Tip: Bring plenty of water and pack a picnic for a day long excursion.
THREE SISTER'S ISLANDS
Once on Goat Island, head over to Terrapin Point Viewing Area where you can pop over picturesque bridges to Three Sisters Island. These islands are originally named after Asenath, Angeline and Celinda Eliza, the daughters of General Parkhurst Whitney. Take in the environment and find peace on these picturesque islands.
These islands are just upstream from Horseshoe Falls, and offer a gorgeous paradise with lush green shrubbery and colors. These small and intimate islands give great outlooks of Upper Falls, and offer charming walkways and trails for all to love and appreciate.
SCHOELLKOPF POWER STATION RUINS
Hop in an elevator and soar to new heights at Niagara Gorge where you will uncover the Schoellkopf Power Station. At one point in time, Schoellkopf was the biggest hydroelectric power station in the world, until water started flooding the walls and it eventually collapsed.
While some of the power station collapsed into the river, other parts were destroyed and lost forever. Kilowatts of power were never recovered, and this once standing building was partially gone.
DEVIL'S HOLE STATE PARK & DEVIL'S HOLE RAPIDS
Overlook Devil's Hole Rapids, where water rushes by and you're surrounded with natural and wild beauty at Devil's Hole State Park! Whether you're interested in fishing, hiking, or enjoying stunning views, this state park is the perfect location.
With plenty of picnic areas and scenic overlooks, enjoy a peaceful retreat within Niagara Falls. Overlook the lower Niagara River Gorge, where you can walk to the Devil's Hole Whirlpool or casually stroll amongst the parks.
Tips: Please bring lots of water, as some of the hikes can be a bit more strenuous.
BLACK WILLOW WINERY
Visit a boutique winery where you can learn about the grapes of New York, and taste a variety of rich wines, at Black Willow Winery. With artisanal creations featuring distinctive flavors, try delicious wines on your Niagara Falls holiday. From a beautiful tasting room to flavorful bottles, try it all or take it home.
Whether you're a sommelier or a novice wine drinker, relax and enjoy the simple things in life at this beautiful property. Sit, chat and unwind with wine connoisseurs, while spending time with loved ones at Black Willow Winery. For a unique experience, try tasting their very own traditional mead wine — the taste is exceptional.
810 MEADWORKS
Watch as locals and tourists alike flock to 810 Meadworks for a tasting menu and delicious drinks in a historic shirt factory. Admire the old flair of this gorgeous building, with red bricks, an outdoor patio and tasty mead! With plenty of variety and choice, try something special and take it home.
Stop off at the first and best Meadery in New York for a journey through the mead time! Next door, have the time of your life at the 810 Meadworks ax throwing rooms. Whether you come being a lover of mead, or have never tested the mead waters, get sipping and find your favorite flavor.
ART ALLEY NIAGARA FALLS
While Niagara brings in many visitors each year to its magnificent falls, its downtown offers an artistic alternative that brings creativity and inspiration to all who see it. Art Alley showcases amazing murals for pedestrians to stroll by on their way to the state park. Submerge yourself in self-expression, art and imaginative glory within Art Alley!
Located on 425 Third Street, find a little public artist gallery holding unique art. Bring your selfie stick or be prepared to take some pics with funny and eclectic murals on the walkway. All you need is 20 minutes to take it all in, and it's one of the best things to do in Niagara Falls NY.
ON THE CANADA SIDE
THE TUNNEL AT NIAGARA PARKS POWER STATION
Check out the newest addition attraction in Niagara Falls with a visit to the Niagara Parks Power Station.
The Niagara Points Power Station was the first major power plant on the Canadian side of the river, and for 100 years, it harnessed the energy from Horseshoe Falls and turned it into electricity. In 2021, the power station reopened as an amazing attraction, featuring awesome exhibits during the day, and an immersive light experience each night.
Now, there's even more to see! The second phase of the attraction opened in July 2022 — The Tunnel. Guests can travel down 180 feet in the Tailrace Tunnel in a glass-walled elevator, before emerging beside the base of Horseshoe Falls. Take in the spectacular views from the viewing platform that extends into the river.
WALKS BY CITY CRUISES
If you want to see it all in an amazing way, Walks provides some of the best tours of Niagara Falls attractions.
Consider taking the Exclusive First on the Boat Tour, which allows you to be among the first to board the tour boat so you're sure to get a great spot. In addition to the boat, you'll also enjoy a guided walking tour that features Rainbow Bridge, Table Rock, and more. The tour ends with an exclusive look behind the falls!
Another great tour choice is the Illumination Tower Experience. This fun evening experience lets you enjoy local wines while overlooking the falls. When it gets dark, you can choose your favorite colors and flick the switch to shine them on Niagara Falls. How cool is that?
Walks also offers tours of the Niagara Parks Power Station.
DAY TRIPS FROM NIAGARA FALLS
FRANK LLLOYD WRIGHT'S MARTIN HOUSE
Step into an architectural wonder and view the historic Martin House in nearby Buffalo, NY. Frank Lloyd Wright's Martin House was created for Darwin D Martin, and was inspired by spatial openness, pier constructions, natural colors and wood.
It is believed to be Frank Lloyd Wright's most important work and legacy. Today, you can choose between different tours to learn about the house, designer, and family. With its deep and rich history, stop by this cultural and historic site for a walk through New York's architectural past.
CORNING MUSEUM OF GLASS
Watch, learn and discover the art of glass at the Corning Museum of Glass. From live demos and galleries, see how glass comes to life by master blowers and students. This is the world's largest glass museum, and I highly suggest taking your time exploring over 3500 years of glass work and history.
From small and intricate designs to large pieces of work, see some of the best glass in the world.
Do you fancy your hand at blowing too? The Corning Museum offers classes and workshops for visitors, where you can learn how to work with glass with professionals. The museum is located about 3 hours away from Niagara Falls.
LUCY-DESI MUSEUM
Get ready to howl with laughter and fall head over heels for I Love Lucy! If you're a Lucille Ball fan or classic tv show enthusiast, you will be absolutely thrilled walking around the Lucy Desi Museum.
Honoring Lucille Ball with set replicas, Emmy awards, and creative costumes, walk into a room of showbiz. With lots to read and see, find memorabilia props and much more throughout your visit. The Luci-Desi Museum is about 2 hours away from Niagara Falls.
MORE INFORMATION FOR YOUR TRIP TO NEW YORK
WHERE TO STAY IN NIAGARA FALLS NY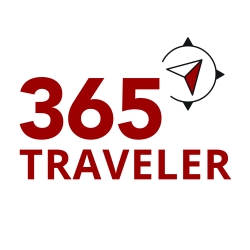 Latest posts by Beth Hoad, Staff Writer
(see all)