Surf culture. Picturesque views of the California coast. Artsy districts. Trendy restaurants and boutique shops. It's easy to see how Laguna Beach embodies the Southern California lifestyle the moment you arrive.
Although sitting approximately midway between Los Angeles and San Diego, Laguna Beach lets you trade in the busy city life with laid back beach town vibes. It feels like California's VIP section with only three driving routes to get in or out of town, making it great for a getaway.
Here are 20 things to do in Laguna Beach that you're going to want to check out!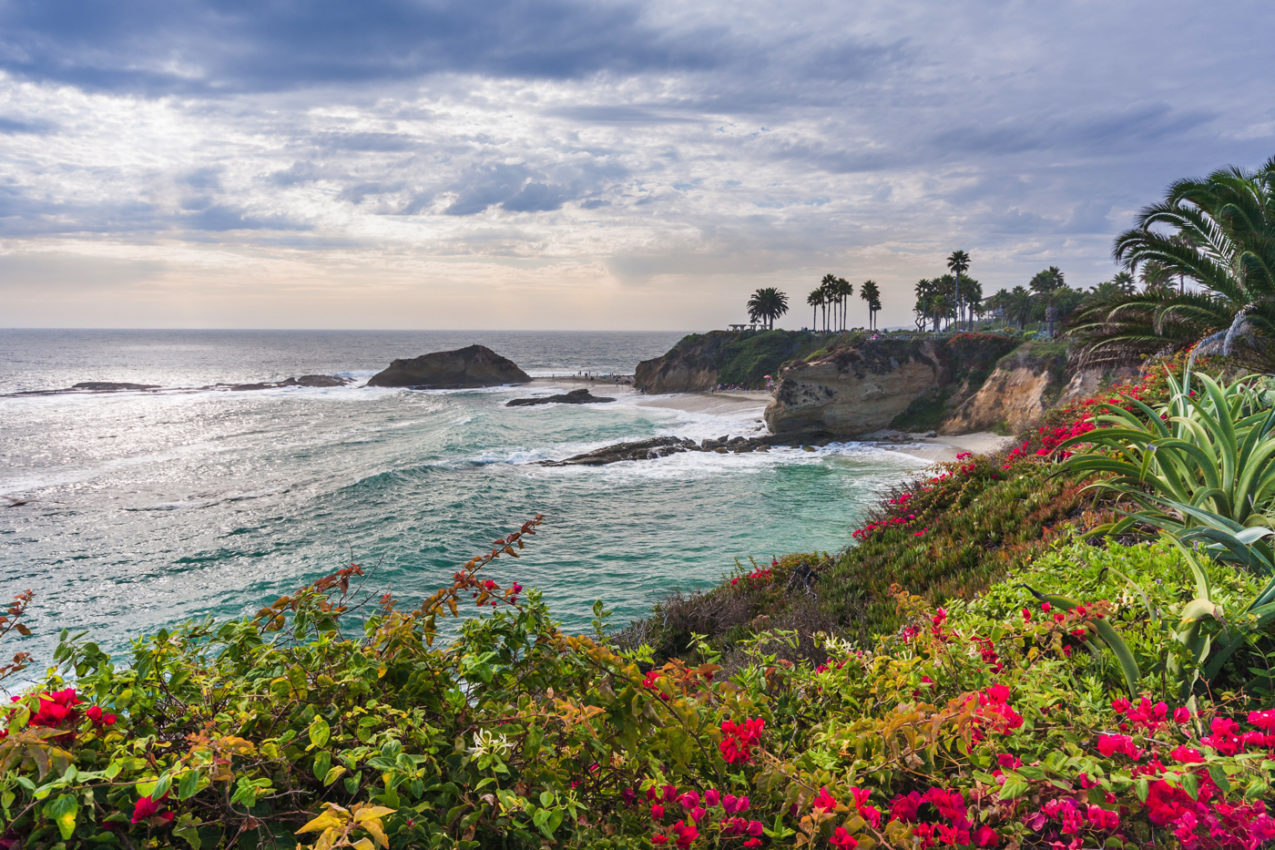 BEACH ADVENTURE
Orange County is home to what many people consider the most beautiful section of the California Coastline. The juxtaposition of picturesque scenery along the rugged coasts, golden sand shorelines, swim- and surf-friendly waters, and bluff overlooks with views of the ocean, makes it one of the best places to visit in Southern California if you're looking for a beach adventure.
Laguna Beach is home to several fun-filled beaches. There's a beach for everyone, whether you're looking for family fun, a secluded place to enjoy the California sunshine, and thrilling water activities like snorkeling, diving, and kayaking.
Check out some of the best places on the shore for your next day at the beach.
VICTORICA BEACH
Victoria Beach is one of Laguna Beach's most famous beaches (it's Insta famous), but it's still has a secretive feel to it, too.
Located along the Pacific Coast Highway, you'll follow Victoria Drive until you reach the steps. Victoria Beach is home to volleyball courts, caves, and the circular, man-made pool called the Pirate Tower. You can surf, swim, and snorkel here, and skim boarding is also a popular pastime.
CRYSTAL COVE STATE PARK
From land to the sea, Crystal Cove State Park makes an excellent destination for outdoor recreation in Laguna Beach. You can explore the vast backcountry wilderness before arriving at the scenic, rugged coastline, as you experience every corner of the park's 2,400 acres.
Spend a couple of hours hiking thru the El Moro Canyon Loop Trail, before ascending to the perimeter ridgeline for one of the best views in the park. Then, wander through the Crystal Cove Historic District to admire the 46 vintage beachfront houses preserved from the 1920s to 1930s.
Make a splash in the Pacific Ocean at the Crystal Cove Beach, extending 3.2 miles along the California coastline for swimming, surfing, and diving.
ALISO BEACH PARK
Exit off the Pacific Coast Highway and park your car right on the side of Aliso Beach Park, where you'll step right onto the warm, sandy beach. You can nearly jump from your car into the ocean at high tide, making it a popular place for water sports.
Sunbathe on the sun-drenched Aliso Creek Beach as you watch surfers catching the white-trimmed waves, and spot scuba divers emerging from the surface after exploring the vibrant underwater world off the coast. Experiment with a few unique water sports, like skim boarding and bodyboarding.
When the sun begins to set, walk over to the Aliso Beach Pier for a few scoops of ice cream and return to the beach to enjoy the sunset while sitting at the beach fire pits.
LAGUNA COAST WILDERNESS PARK
Breathe in the fresh coastal air while exploring the Laguna Coast Wilderness Park. Its 40 miles of trails dedicated to hiking, biking, and horseback riding attract outdoor lovers to experience the park's diverse landscape, ranging from lakes to grassy ridges to canyons sitting on the coast.
Laguna Coast Wilderness Park sits in the San Joaquin Hills, offering elevated views upwards of 1,000 feet, or trek to the Laurel Canyon floor. Set off on one of the many exciting hikes, like Willow Trail Loop or Bommer Ridge. Go sightseeing to discover famous landmarks like Ghost Rock.
And after a day of exploration, finish off the experience by heading down the hillsides onto Laguna Beach.
MAIN BEACH
Colorful umbrellas line Main Beach, shielding beach-goers from the bright sun in preparation for their fun day in the sand and water. Its central location near downtown Laguna Beach makes it easily accessible for everyone.
Whether you want to go swimming, surfing, kayaking offshore, or diving beneath the surface at Diver's Cove to the north, Main Beach has water activities for everyone. However, on-land activities can be just as exciting.
Rent electric bikes and cruise with views of the coast, play a round of beach volleyball, and even take guided tours with tide pool docents to learn about the sea creatures thriving in the shallow pools.
THOUSAND STEPS BEACH
The secluded shores of Thousand Step Beach feel like a pleasant reward after making it down the infamous steps that give it its name. But, there's a reason why it's rarely as crowded as other places along the Laguna Beach shoreline, even with it being one of the most well-known in the area.
Insider tip: pack light because you'll have to survive the glute-burning, hamstring-toning stairs that lead to and from the beach. Unless you're counting each strenuous step, you'll feel like you've descended 1,000 steps to reach the golden shores (although it's more like 223). And only a dip in the ocean will cool you off from the workout.
And don't forget that what goes down must go up!
CRESCENT BAY POINT PARK
Everyone loves a great viewpoint, especially in a place as scenic as Laguna Beach. Enjoy the cool ocean breezes blowing in while standing at Crescent Bay Point Park overlooking the Pacific Ocean.
Panoramic views of the crescent-shaped shoreline give plenty to gawk at while perched atop the bluff. Below, you'll see the golden sand shores of Crescent Bay Beach, that's always an excellent place to check out after snapping endless photos.
Plan your visit in December or January to spot migrating whales in the distance swimming up the coastline. And all year round, you'll have perfect views of the barking sea lions and seals lounging on Seal Rock.
OTHER WAYS TO GET OUTSIDE
Located an hour south of Los Angeles, Laguna Beach will impress you with its mild year-round climate. It's never too cold, and the coastal breezes always keep the heat bearable for everyone. With temperatures ranging from the 70s to the mid-80s, and sunshine hours peaking over 10 hours per day in the summer, you'll likely spend lots of time outside during your visit to Laguna Beach.
And while you'll have plenty of time living out your dreams of being a beach bum for a couple of days, there are several other activities you can do away from the water to enjoy the countless beautiful days you're sure to experience.
WHALE WATCHING CRUISES
Cruise the Pacific Ocean with your trusted sea captain for a chance at an up-close encounter with the world's biggest animals! Whale watching is one of the top things to do in Laguna Beach that you can enjoy all year round.
The krill-filled waters offshore of Laguna Beach are like an open buffet for whales. Head down to the port at Dana Point Harbor for your private or group tour cruising on a catamaran boat.
During the summer, blue whales, the largest whale species, and finback whales populate the waters. During the winter and spring, gray whales are seen migrating along the coast.
HORTENSE MILLER GARDEN
Property doesn't come easy (or cheap) in Laguna Beach. So, to see the expansive 2.5-acres of the Hortense Miller Garden overlooking the coastline shows how dedicated she must have been to one of her life's greatest works.
Hortense Miller was a successful horticulturist and author. Her home was built in the mid-1950s, a period when she began to develop the garden. She donated her mid-century-furnished home and gardens to the City of Laguna Beach long before she passed, and now, they are open to the public to admire.
Tours of the garden reveal more than 1,500 species of plants, such as roses, bamboo trees, and several native species to the coastal SoCal region.
ROCKPILE AMPHITHEATER
The wooden sign marking Heisler Park is a style you'll find around Laguna Beach in front of other shops, restaurants, etc. However, this eco-feature is just the beginning of the park's natural beauty, perched atop the cliffside overlooking Rockpile Beach and the Pacific Ocean.
From May to September, visit the park's Rockpile Amphitheater to attend the popular annual summer concert series. These sunset live music performances will fill your ears with melodies ranging from genres like acoustic, blues, and cultural music from around the globe.
In addition to music, Rockpile Amphitheater is also used for theatrical performances, like Shakespeare's Fool.
BETTE DAVIS HOUSE
On days when the late Bette Davis wasn't performing at iconic Laguna Playhouse, the "All About Eve" actress resided in her beachfront Mansion at Woods Cove. Her impact on the Hollywood movie scene and achieving feats, including two Academy Awards, have preserved her legacy at the home, as locals still call it the Bette Davis House.
The multi-million dollar Bette Davis House was originally built in 1929 and is valued for its unobstructed views of the Pacific Ocean and stairs leading directly to the beach.
Drive up to 1991 Ocean Way, where you're likely only to see the gated mansion, but make not of unique architectural details, like the "D" designed into the chimney.
LA VIDA LAGUNA "COUNTER CULTURE" TOURS
Laguna Beach's history is a tale of where hippies, psychedelics, and surf culture collided. It sparked a unique "counter-culture" that La Vida Laguna tour company helps you uncover. So if you have two hours to spare, take the "Counter Culture" tour to go for a walk through Laguna Beach's golden era.
The La Vida Laguna "Counter Culture" Tour is a group tour around town on a route extending two miles. A local expert accompanies you on the route, where you'll learn about the "Hippie Mafia," and its mission to spread love, the anti-war movement, discover the roots of West Coast Reggae music, and an art scene fueled by psychedelic visionaries.
BIKE RIDE AT NIX NATURE CENTER
Biking is one of the best ways to get outside and enjoy Laguna Beach. So, take a break from the village and venture into the Laguna Coast Wilderness Park to explore a remote part of the region. The park's more than 20,000 acres is far too much for a day of biking, but start at the Nix Nature Center to find some of the best biking trails.
Step inside the "Nix" to learn about Laguna Beach's natural history before heading out on the trails. Bike the Barbara's Lake Trail, whose shoreline loops around for more than three miles. Or ride the Little Sycamore Trail through the woodlands filled with sycamore trees.
MUSEUMS, ART, AND CULTURE
Laguna Beach is a city that's always been a favorite for the artsy crowd in Southern Los Angeles. Drawn to the city by its beauty, laid back atmosphere, and thriving art scenes, Laguna Beach has maintained its reputation as a hotspot for art lovers, both young and old.
There are tons of ways to experience art and culture in Laguna Beach. Everywhere you look, you'll see gallery-lined streets, museums exhibiting world-class artwork created by Laguna artists of the past and present, and festivals happening around the calendar which cultivate a lively art scene even to this day.
Immerse yourself into Laguna Beach's art culture by checking out these local venues and activities.
LAGUNA ART MUSEUM
The best of California art awaits you at the Laguna Art Museum. Its large collection of more than 3,600 works has grown exponentially since opening in 1918 as the Laguna Beach Arts Association. Laguna's creative art scene helped kickstart the museum's success, and it continues to spotlight local art.
As California's oldest museum, it's built a reputation for exhibiting amazing works of art. Large art galleries inside the museum show everything from fine art depicting California's rich history, to creative contemporary pieces designed by the blossoming talent in Laguna Beach. It also hosts events, art, talks, and programs, so check its calendar to stay updated on the latest!
PAGEANT OF THE MASTERS
Laguna Beach's art scene presents works of art through various mediums—paintings hanging in galleries, graffiti decorating local buildings, and public installations lining the coast. However, its annual Pageant of the Masters festival brings world-famous paintings into the third dimension with live costumed actors recreating historic masterpieces created by art masters.
Hosted by the Festival of the Arts, Pageant of the Masters exhibits 40 famous works as live paintings elegantly referred to as "tableaux vivants." In a 90-minute show, you'll see featured art like "El Jaleo" by John Singer and the headlining "The Last Supper" by Leonardo da Vinci, which routinely closes out the festival.
PACIFIC MARINE MAMMAL CENTER
For more than five decades, the Pacific Marine Mammal Center has made progress in its mission of rehabilitating marine life unfit for going back into the wild. The facility opens its doors to the public to learn about the story of their rescued wildlife and see them happily in recovery.
A trip to the Pacific Marine Mammal Center will let you encounter native coastal wildlife, including California sea lions, Pacific harbor seals, and northern elephant seals. You'll hear about various rescued missions that have successfully rehabilitated marine creatures caught in fishnets, injured animals, or creatures stranded at sea. And it's always worth the celebration when they release recovered sea lions back into their natural habitats.
NORTH GALLERY ROW
The success of the artist-run Laguna Art-A-Fair helped solidify the area now called North Gallery Row as a hub for Laguna Beach's art scene. Today, it's a place where local Laguna Beach artists get a chance at becoming discovered, and visitors can admire works you might not see in the nearby Laguna Art Museum.
North Gallery Row sits on the North Coast Highway between the 300 and 400 blocks. It's one of the best sections of Gallery Row to find everything from contemporary to fine art.
Take a walk inside 484 North Gallery, the first gallery established on Gallery Row, browse works created by 36 local artists inside Kelsey Michaels Fine Art, or try to interpret the imaginative works hanging inside the JoAnne Artman Gallery.
SAWDUST ART FESTIVAL
Held every summer for nine weeks, the Sawdust Arts and Crafts Festival is the place to go to see amazing, local artwork and more.
Walk the sawdust-covered paths of the village and shop for fine art and more. Many different mediums are represented here, from ceramics and paintings to sculpture and woodworking. All of the art featured in the summer are made by local artists.
In the winter, the village is transformed into a winter wonderland. The arts and crafts featured during their Winter Fantasy include international artists, and you can find it available during five weekend in November and December.
Year-round, Sawdust offers art programs, classes, workshops, and more.
PUBLIC ART DISPLAYS
Download the Laguna Beach Public Art Map and take yourself on a self-guided tour to see the city's famous public art displays. This artistic coastal village exhibits more than 75 sculptures and installations.
Ranging from works from the Laguna Art Museum collection and creations by Laguna Beach artists and international talent, you're never too far from encountering the subsequent work of art in the street.
Must-see works include the iconic lifeguard tower on Main Beach relocated and preserved from the nearby gas station for its historical value. Or visit 509 S. Pacific Coast to see the massive scale model whale on the Whaling Wall stretching to 12-ft in height and 130-ft long. Later, see the decorative colors and shapes decorating the Bluebird Park Gate.
ST FRANCIS BY THE SEA
As confirmed in the Guinness Book of World Records, St. Francis by the Sea ranks as the second of the world's smallest cathedrals. But even though it only has space for up to 42 people in its approximately 1,000 square-foot size, that doesn't stop people from treating this distinctive Catholic Church like it is ten times its size.
The beautiful white façade and orange-shingled roof have been preserved since it was built in 1934, landing it a place on the National Register of Historic Places. On any given day, you'll see tourists snapping photos outside of it, couples tying the knot, and groups attending Mass every Sunday.
MORE INFORMATION FOR YOUR TRIP TO CALIFORNIA
YOU MIGHT ALSO ENJOY
WHERE TO STAY IN LAGUNA BEACH
Follow us here: Facebook | Twitter | Instagram | Pinterest | YouTube | MSN | TripAdvisor | Flipboard
All articles belong to 365 Atlanta Family LLC, and all photos belong to us as well, unless otherwise noted. It's all copyrighted. Please don't repost anything elsewhere without asking me first. All rights reserved. This site uses cookies to enhance your experience.
We make no guarantees of any price listed on our site. We are not responsible for content on external web sites linked from ours, including linked resources, an external blog post, any partner site, hotel property sites, or affiliate sites. We only write about places we love in an attempt to help you in your adventures, but we can't guarantee you will love them, too.
Posts may contain affiliate links at no cost to you. Several of our trips are also compensated by the respective tourism boards for the city or state we are visiting. This never impacts how we share the destination with you – opinions are always our own and we pride ourselves on that. We do not sell links or accept unsolicited guest posts under any circumstances. Don't even ask.
United States Copyright, 365 Atlanta Family, LLC
View our Privacy Policy | Subscribe to our Newsletter | Contact Site Owner | View Terms & Conditions | About Us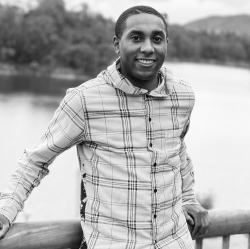 Latest posts by Bryan Shelmon, Staff Writer
(see all)